Modern Drummer Festival 2002
Part Two: Sunday Performances
15th Annual MD Festival – Sunday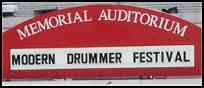 No matter how early you get to the MD Fest, there's always a line.
Last week I featured artists from Saturday's Modern Drummer Fest (see sidebar), this week I conclude with the Sunday scoop.
The Reyes Family
Walfredo Sr., Walfredo Jr., and Danny Reyes opened the Sunday festivities. Danny came on stage first and played some rhythms on his cool new invention called the One Shot (from LP). One Shots are similar to maracas in sound but allow you to play more complicated rhythms with no unwanted maraca bead bounce-back sounds.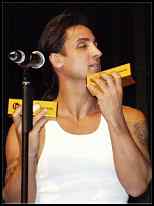 Danny grooving with his "One Shots."
Once Danny got the audience going with his percussive prowess, his brother Walfredo Jr. took his turn soloing on the drum kit. Last, but certainly not least, father Walfredo Sr. delighted the crowd with an extended solo on his setup, which included various Latin percussion instruments and a traditional kit.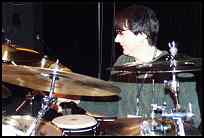 Walfredo Reyes, Jr.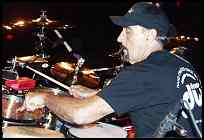 Walfredo Reyes, Sr.
Altogether, the Reyes family made for a powerful opening performance.
International Showcase:
Furio Chirico
Famous in Italy for over 20 years, this was Furio's first major US appearance.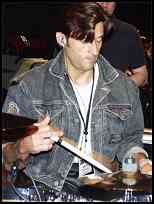 Furio during his backstage soundcheck.
Furio played a solo complete with floor tom pitch changes unusually produced by blowing air in and out of the drum's airhole from a rubber tube in his mouth. (See photo below.)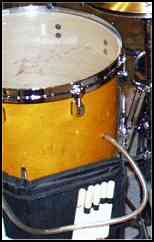 Furio's pitch-modifying tube.
After the solo, Furio took questions from the audience (with help from his translator).
Thomas Lang
Originally from Austria but currently living in London, Lang has worked with greats like Geri Halliwell, Robbie Williams, Ozzy Osbourne, Bonnie Tyler, Mick Jones, Suicidal Tendencies and many others.
He immediately impressed me as having a terrific mix of Monster Chops and Showmanship. Lang's performance was truly a high point of this year's MD Fest.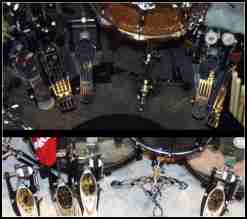 Foot Gear at the MD Fest: The norm seemed to be a minimum of four pedals (Note five in the top photo). Makes you wonder how many feet these guys have?
Jimmy DeGrasso
Metal maestro Jimmy, best known for his work with Megadeth, was next up and impressed the crowd with a particularly intense solo.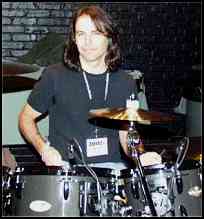 Jimmy caught during his backstage soundcheck.
Billy Cobham
Exploding on the musical scene over 30 years ago with the Mahavishnu Orchestra, Billy has always combined impressive chops with innovation and creativity. His performance at the MD Fest earned him another notch on his belt.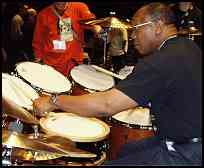 Billy performing his soundcheck using his four-drumstick technique, backstage.
Rick Marotta
No matter what kind of music you're into, I'm sure you've heard Rick's drumming. He has recorded with Aretha Franklin, Carly Simon, Linda Ronstadt, Jackson Browne, John Lennon, Paul Simon, Steely Dan, and the list goes on.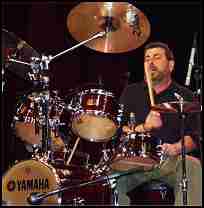 Rick getting into it, during the closing performance of the MD Fest 2002.
A composer and inventor (who played a large part in the development of the Yamaha HipGig drum kit he plays), Rick closed the MD Fest Weekend with a crowd pleasing performance featuring bassist/vocalist Will Lee (who plays in the David Letterman Band and has performed with many artists including like Frank Sinatra, Bette Midler, Barry Manilow, and Boz Scaggs) and guitarist Ross Bolton (who has worked with The Beach Boys, Sheena Easton, Al Jarreau, David Benoit and many others).

Will Lee performing with Rick.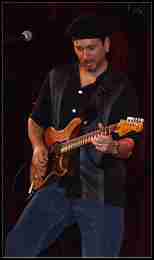 Ross Bolton rounds out the trio.
As if there wasn't enough talent on stage already, Rick brought out special guest artist Tom Scott to join in the fun.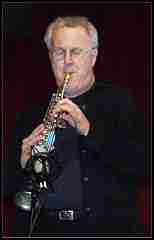 Special Guest Tom Scott.
And, for the grand finale, both Ross and Will each jumped on one of the three HipGig drumsets on stage and joined Rick in a three drumset ensemble!
The closing number brought the crowd of more than a thousand DrumHeads to their feet and rightfully so.
Ron and Isabel Spagnardi, Rick Van Horn, and the rest of the MD crew had done another fine job, for the 15th year in a row. I'd say that's an enviable track record.
Here's looking forward to the next 15! I'll be there, how about you?
Stay Loose.
Click the following link for MD Festival 2002: Saturday Performances!
Become a Free Member of the largest, most Comprehensive Drum Site on the Web
Learn TigerBill's Innovative Tension Free Drumming and take your chops to the next level
Get TigerBill's Free Info-Packed Newsletter, Monthly Chances to Win Valuable Drum Stuff
& Much More...