Famous Drummers From A to Z

Born in Havan, Cuba, this drummer/author has worked with Afro-Cuban greats Cuarto Espacio, Herman Lopez, Gonzalo Rubalcaba, Issac Delgado, and more. In the USA he has worked with the Sheila E band, the L.A. Latin Jazz All-Star Big Band, Russell Ferrante, Airto Moreira and Flora Purim, Luis Conte, Mike Turre, and many more including his own Jimmy Branly Band.
Click the above link for the latest info at Jimmy's own Web site.
Click this link for a review of Jimmy great book The New Method for Afro-Cuban Drumming.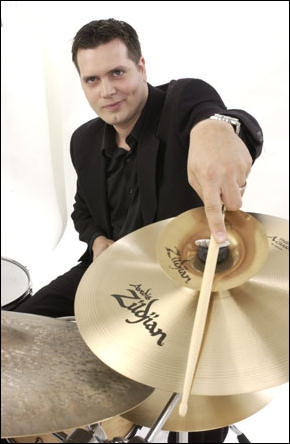 Jimmy Branly
(Photo: www.jimmybranly.com)


Wanna Be Famous? You Can!
But not without taking care of business first. Click the above link and find out how.

Join the largest, most Comprehensive Drum & Percussion site on the Web and
Learn TigerBill's Innovative Tension Free Drumming techniques designed to take you to the next level!

You'll also receive TigerBill's free, informative Newsletter with Monthly Chances to
Win Valuable Drum Stuff & Much More...
Drum Lessons
Win Valuable Drum Stuff
Access the Web's Best Drum Forums
Learn Pro Tricks
Post Your Web Page
Informational Newsletter
All Free of Charge...
How? Register Now!


Already Registered?
Thanks!
Famous Drummers
~~ A ~~
Dave Abbruzzese
Larry Aberman
LaDell Abrams
Alex Acuna
Jotan Afanador
Airto
Tommy Aldridge
Steve Alexander
Tim Alexander
Rashied Ali
Don Alias
Carl Allen
Rick Allen
Robby Ameen
Billy Amendola
Scott Amendola
Animal
Charly Antolini
Carmine Appice
Vinne Appice
Kenny Aronoff
Billy Ashbaugh
Marc Atkinson
Mike Avory
~~ B ~~
Ginger Baker
Jeff Ballard
Paul Barbarin
Travis Barker
Barrimore Barlow
Joey Baron
Ray Baretto
Ray Bauduc
Eddie Bayers
Carter Beauford
Louie Bellson
Charlie Benante
Ronnie Benedict
Brian Bennett
Han Bennink
Denzil Best
Curt Bisquera
Gregg Bissonette
Cindy Blackman
Ed Blackwell
John Blackwell Jr
Brian Blade
Hal Blaine
Michael Blair
Art Blakey
Jason Bonham
John Bonham
Terry Bozzio
Tom Brechtlein
Don Brewer
Tony Brock
Gerry Brown
Bill Bruford
Mark Brzezicki
Ron Bushy
Kenny Buttrey
~~ C ~~
Will Calhoun
Clayton Cameron
Matt Cameron
Danny Carey
Bun E Carlos
Terri Lyne Carrington
Adrian Cartwright
Lenny Castro
Big Sid Catlett
Andrea Centazzo
Jimmie Chamberlain
Matt Chamberlain
Dennis Chambers
Joe Chambers
Ndugo Chancler
Jim Chapin
Gary Chester
Furio Chirico
Bobby Christian
Ronnie Ciago
Anthony Cirone
Kenny Clarke
Mike Clark
Jimmy Cobb
Billy Cobham
Vinnie Colaiuta
Cozy Cole
Phil Collins
Bobby Colomby
Luis Conte
Stewart Copeland
René Creemers
Peter Criss
Larry Mr Sticks Crockett
Adam Cruz
Mickey Curry
Andrew Cyrille
~~ D ~~
Paulinho DaCosta
Dino Danelli
Mike D'Angelo
Zach Danziger
Alan Dawson
Chet Doboe
Barrett Deems
Jimmy DeGrasso
Jack De Jonnette
Dennis Delucia
Les DeMerle
Kenwood Dennard
John Densmore
Liberty DeVitto
Wim DeVries
Fred Dinkins
Warren Baby Dodds
Virgil Donati
Paul Doucette
Bernie Dressel
Martin Drew
Spencer Dryden
DrummerGirls
DrummerWorld
Billy Drummond
Drums of Black Bottle
Aynsley Dunbar
Frankie Dunlop
Nick D'Virgilio
~~ E ~~
Shiela E (Escovedo)
Roger Earl
Graeme Edge
Phil Ehart
Blas Elias
Stuart Elliott
Sonny Emory
John Engels
Joe English
Peter Erskine
~~ F ~~
Dom Famularo
Ricky Fataar
Pierre Favre
Sherman Ferguson
Steve Ferrone
Anton Fier
Anton Fig
Sammy Figueroa
Jeremy Fisher
John Fishman
Mick Fleetwood
Richie Flores
DJ Fontana
Vernel Fournier
Al Foster
David Panama Francis
Josh Freese
~~ G ~~
Steve Gadd
Camille Gainer
David Garibaldi
Jerry Gaskill
Mel Gaynor
Arnoud Gerritse
Gregg Gerson
Leonard Doc Gibbs
Billy Gladstone
Evelyn Glennie
Paul Goldberg
Jim Gordon
Danny Gottlieb
Lou Grassi
Rick Gratton
Eric Kamau Gravatt
Milford Graves
Sonny Greer
Rayford Griffin
Freddie Gruber
John Guerin
Trilok Gurtu
~~ H ~~
Wolfgang Haffner
Omar Hakim
Foreststorn Chico Hamilton
Lionel Hampton
Jake Hanna
Thom Hannum
Buddy Harmon
Haskell Harr
Beaver Harris
Joe Harris
Billy Hart
Mickey Hart
Sib Hashian
Steve Hass
Fritz Hauser
Roger Hawkins
Scotty Hawkins
Louis Hayes
Roy Haynes
Richie Hayward
JC Heard
Albert Tootie Heath
Levon Helm
August Gus Helmecke
Don Henley
Joey Heredia
Horacio El Negro Hernandez
Raymond Herrera
Giovanni Hidalgo
Billy Higgins
Hip Pickles
Jon Hiseman
Rodney Holmes
Steve Houghton
Daniel Humair
Ralph Humphfrey
Gary Husband
Zakir Hussain
Greg Hutchinson
~~ I ~~
Sonny Igoe
Tommy Igoe
Tris Imboden
Eric Ineke
Jack Irons
~~ J ~~
Al Jackson
Duffy Jackson
Gene Action Jackson
Jaimoe Johnny Lee Johnson
Bobby Jarzombek
Akira Jimbo
Gus Johnson
Elvin Jones
Harold Jones
Hilary Jones
Kenney Jones
Papa Jo Jones
Philly Joe Jones
Rufus Speedy Jones
Steve Jordan
Joey Jordison
Jonathan Joseph

~~ K ~~
Eric Kalb
Laurence Kaptain
Manu Katche
Connie Kay
Jim Keltner
Will Kennedy
Lee Kerslake
Billy Kilson
Joey Kramer
Bill Kreutzmann
Gene Krupa
Russell Kunkel
~~ L ~~
Abe Laboriel Jr
Gene Lake
Don Lamond
Thomas Lang
Roman Lankios
Rick Latham
Ricky Lawson
Chris Layton
Tommy Lee
Paul Leim
Stan Levey
Mel Lewis
Victor Lewis
Vito Luissi
Pete Lockett
Dave Lombardo
Larrie Londin
~~ M ~~
Pete Magadini
Mike Mangini
Shelly Manne
Bryan Brain Mantia
Cole Marcus
Art Mardigan
Sherrie Maricle
Jerry Marotta
Rick Marotta
John Marshall
Billy Martin
Harvey Mason
Dave Mattacks
JoJo Mayer
Marilyn Mazur
Nico McBrain
Ray McKinley
Russ McKinnon
Nick Menza
Buddy Miles
Butch Miles
Marco Minnemann
Mitch Micthel

~~ M ~~
Pete Magadini
Mike Mangini
Shelly Manne
Bryan Brain Mantia
Cole Marcus
Art Mardigan
Sherrie Maricle
Jerry Marotta
Rick Marotta
John Marshall
Billy Martin
Harvey Mason
Dave Mattacks
JoJo Mayer
Marilyn Mazur
Nico McBrain
Ray McKinley
Russ McKinnon
Nick Menza
Buddy Miles
Butch Miles
Marco Minnemann
Mitch Mitchell
Joseph Zigaboo Modeliste
Jonathan Sugarfoot Moffett
Dom Moio
TS Monk
Keith Moon
Stanton Moore
Richie Morales
Airto Moreira
Joe Morello
Rod Morgenstein
Paul Motian
Alphonse Mouzon
Jonathan Mover
Famoudou Don Moye
Idris Muhammed
Larry Mullen Jr
Sunny Murray
~~ N ~~
Lewis Nash
Sandy Nelson
Mark Nemer
Tony Newman
Andy Newmark
Arno Von Nieuwehuize
Gary Novak
Adam Nussbaum
~~ O ~~
Burhan Ocal
Babatunde Olatunji
Jamie Oldaker
Nigel Olsson
John Otto
~~ P ~~
Ian Paice
Carl Palmer
Earl Palmer
Leon Parker
Brian Pastoria
Vinnie Paul
Sonny Payne
Neil Peart
Shawn Pelton
Armando Peraza
Karl Perazzo
Doane Perry
Charlie Persip
Ben Perowsky
Ralph Peterson
Nick Petrella
Pat Petrillo
Simon Phillips
John Pochee
Jeff Porcaro
Mike Portnoy
Cozy Powell
Bobby Previte
Yvette Baby Girl Preyer
Tito Puente
Bernard Pretty Purdie
~~ Q ~~
Alvin Queen
Marc Quinones
~~ R ~~
Johnny Rabb
Raul Rekow
Daniel De Los Reyes
Walfredo Reyes Jr
Walfredo Reyes Sr
Buddy Rich
Mike Richards
Dannie Richmond
Alex Riel
Marilyn Rife
Ben Riley
Herlin Riley
John Riley
Chip Ritter
Max Roach
John JR Robinson
Rob The Drummer
Bobby Rock
Rikki Rockett
Mickey Roker
Joel Rosenblatt
Bill Rotella
Tony Royster Jr
Ilan Rubin
Phil Rudd (Rudzevecuis)
~~ S ~~
Antonio Sanchez
Poncho Sanchez
Mongo Santamaria
Chris Scherer
Peter Schmidlin
Gina Schock
John Bermuda Schwartz
Mark Shulman
Danny Seraphine
Paco Sery
Chad Sexton
Ed Shaughnessy
Michael Shrieve
David Silveria
Pete LaRoca Sims
Eric Singer
Mark Singer
Arthur Zutty Singleton
Chad Smith
Marvin Smitty Smith
Steve Smith
Kevin Soffera
Ed Soph
Matt Sorum
John Jabo Starks
Ringo Starr
Bill Stewart
Clyde Stubblefield
~~ T ~~
Jeremy Taggert
Grady Tate
Art Taylor
Mel Taylor
Roger Taylor
Liam Teague
John Tempesta
Brennen Temple
Mike Terrana
Ed Thigpen
Chester Thompson
Efrain Toro
Tico Torres
Dave Tough
Nathaniel Townsley
Scott Travis
Tre Cool (Frank Edwin Wright III)
Butch Trucks
Ron Tutt
~~ U ~~
Lars Ulrich
David Uosikkinen
Ed Uribe
~~ V ~~
Christian Vander
Alex Van Halen
Ron Van Stratum
Roland Vazquez
Nana Vasconcelos
Carlos Vega
Glen Velez
Tony Verderosa
Art Verdi
Johnny Vidacovich
Butch Vig
Robert Vilera
Jimmy Vincent
~~ W ~~
Chad Wackerman
Narada Michael Walden
Bill Ward
Billy Ward
Kenny Washington
Charlie Watts
Jeff Tain Watts
William Chick Webb
Glenn Weber
Dave Weckl
Max Weinberg
Klaus Weiss
Paul Wertico
George Wettling
Alan White
Lenny White
Ron Wikso
Tony Williams
Matt Wilson
Kenny Wollesen
Sam Woodyard
Frank Edwin Wright III (Tre Cool)
Dony Wynn
~~ XYZ ~~
Peter York
Adrian Young
Mark Zonder
Zoro