If You Are Looking For Free Expert Drumming Advice Including:
~ Free Written and Video Drum Lessons
~ Monthly Chances to Win Valuable Drum Gear
~ Free No-Nonsense Educational Drum Forums
~ Detailed Text and Video Product Reviews
~ Exclusive Video Performances & Interviews with Legendary Drummers
~ The Lowest Prices on the Best Drum Gear
~ The largest drumming resource on the Web
This is the place!
Just scroll down the left hand column and click any link for Free information on the subject of your choice. There's no catch, it's entirely Free!
Plus, if you want to participate in our 24/7 drum chats with Pros from around the world or you would like to receive TigerBill's popular monthly educational DrumBeat Newsletter, become a site member. That's Free too!
Click Here for your Free Registration!
Tiger Bill has been on the Web for 10 years and never sells or trades your email or other contact information to anyone!

Featured Hot Spots
Check out our Giveaway Contests This Month!
Click Here to see What You Can Win!
If you want the chance to win cool Drum Books, DVDs, and other valuable Drum Gear - Click the above link for a listing of this month's prizes. No contest on the Web is easier to enter and win!
This month's prizes courtesy of
Click the link below for Your Free Drum Lessons, courtesy of TigerBill
---
Click the link below to view our Drum Forums. If you're looking for no-nonsense talk with drum pros from around the world, you won't find better Forums anywhere!.
They are free and open to the general public for viewing. If you want to join in the conversation, you'll need to become a member - but that's free too!
Click Here to Visit Our Popular Drum Forums
---
Have your drum skills evaluated by Tiger Bill himself and find out exactly what you need to do to take your drumming to the next level!
Have Your Drum Skills Evaluated by a Pro!


Featured Drum Tip
Drumming Speed Requires Fast Reflexes!
And anything you can do to build your reflexes, can be a valuable addition to your drumming. For example, there are certain games on the market that can help you build incredible reflexes, if played regularly. BOP-IT is one of the best!
Click Here for more Drum Tips and Tricks
An archive to all of the past drum tips and tricks.

Featured Solo Spots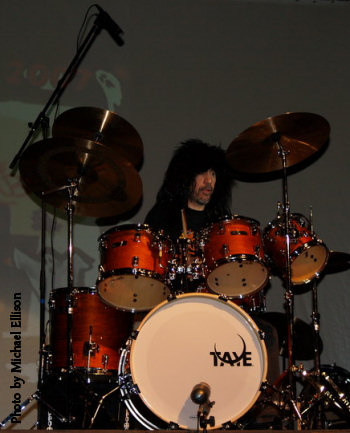 NEW - DrumBeat Fest Video featuring Billy Ward!

NEW - DrumFest Video featuring Tiger Bill with Rock Legend Vince Martell!
Don't miss the Complete DrumBeat Fest 2007 Electronic Download Version - Coming Soon!

---
Tension Free Drumming
TigerBill has spent more than 30 years in search of drum technique that would provide the ultimate in speed, power, endurance, and precision. What he found is that a combination of traditional methods, such as the Moeller and Gladstone technique worked best and even better when they were executed without any muscular tension at all.
In 2004, Bill proved the effectiveness of what he calls Tension free Drumming by winning the NAMM World's Fastest Drummer Competition for Fastest Hands. At the same time, he set a record for Fastest Feet proving that anyone correctly applying his techniques can become one of the world's fastest drummers with both hands and feet. The ultimate in power, endurance, and precision are an additional bonus of learning to play Tension Free!
Drummers searching for the finest in technique regularly travel the globe to study privately with Tiger Bill. Now, for the first time, serious drummers everywhere have an alternative.
TigerBill's Concepts of Tension Free Drumming: Hand Technique Volume 1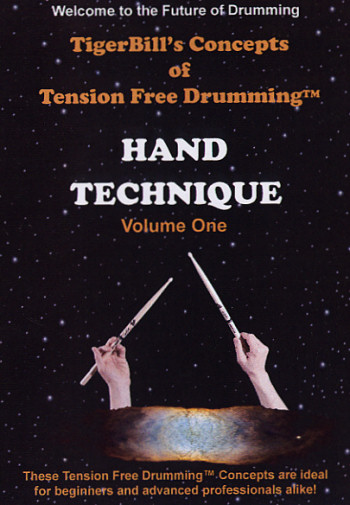 TigerBill's Tension Free Drumming DVD for the Hands is a hit!
Here's what drum pro Ed Soph has to say:
"TigerBill's Concepts of Tension Free Drumming: Hand Technique series is an invaluable compendium of stick techniques and stroke systems that will expand your own techniques no matter what your level of playing. And, unlike most materials on the subject, Tiger Bill demonstrates how NOT to as well as how to.
Simply put, this is a great resource."
Ed Soph
The Future of Drumming is here!
Once you experience TigerBill's latest techniques, you will never go back to the old traditional methods.

Video Excerpt from Tension Free Drumming!
Volume One of this long awaited DVD is now in stock and shipping!
Click Here to purchase your copy today and save $5.00 off the regular price when purchased through TigerBill's Online Drum Shop!
Click Here to learn what DrumHeads from around the world are saying about TigerBill's Tension Free Drumming DVD!
---
Take Private Lessons with Tiger Bill and Learn his Exclusive System of Tension Free Drumming!
Click Here for Info or to Schedule an Initial Lesson with Tiger Bill!
(or Call 908-343-3768)
---
Visit TigerBill's Online Drum Shop for the lowest prices on earth for Drum DVDs, Books, and accessories including Axis Pedals, Pintech eDrums, and much more!
Click Here for Lowest Prices on Drum Gear at TigerMix.com
(or Call 908-343-3768)
---
Get Info on the Latest Drum News, Clinics and other Events!
Click Here for the Latest Drum News and Events!

Tiger Bill's Bottom Line Reviews
Review: Funkifying The Clave DVD by Robby Ameen and Lincoln Goines
Review: Playing with Precision and Power featuring Chris Coleman DVD
Review: On The Beaten Path: The Drummer's Guide to Musical Styles and the Legends Who Defined Them by Rich Lackowski Book/CD from Alfred Publishing

Video Review of Pintech Practice Lids and Hot Lids along with Hansenfutz Practice Pedals


Video Review: Kelly SHU Bass Drum Microphone Mount System!

Video Review: SHURE Drum Microphone Kit DMK 57-52


Video Review of Hansenfutz Practice Pedals
Click Here for More Tiger Bill Reviews!
---
---
And this is just the beginning of our journey through the world of drums and percussion. Scroll back to the top of this page and explore the many links that are listed down the left side.
Just click away and enjoy.
Thanks! Have Fun and Stay Loose!
I'll see you online!
TigerBill.

Become a Free Member of the largest, most Comprehensive Drum Site on the Web
Learn TigerBill's Innovative Tension Free Drumming and take your chops to the next level
Get TigerBill's Free Info-Packed Newsletter, Monthly Chances to Win Valuable Drum Stuff
& Much More...