Evolution of Jazz Drumming:
A Workbook for Applied Drum Students
By Danny Gottlieb
Book with CD and DVD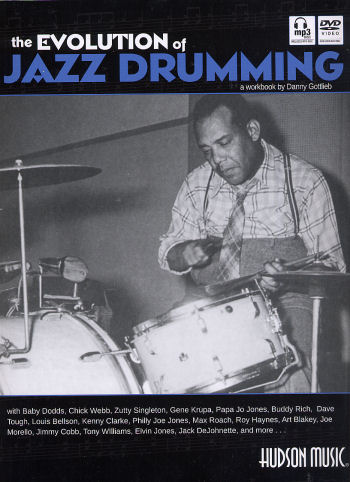 I've always believed that you can't really be the best you can be without some knowledge of those who came before you. That not only goes for drumming but for all fields of endeavor. Without a solid understanding of existing techniques and styles, you will be wasting too much time reinventing the wheel as opposed to learning, modifying and improving on the existing methods so you can make them fit your own style.
This book by Danny Gottlieb, long time friend and fellow drumhead who has played with artists too numerous to mention, was created as a college-level workbook for students of jazz drumming.
Let's check it out.
The Drummers
Thirty-one innovative drummers were selected to represent jazz drumming from the early jazz era to swing to bebop and hardbop styles.
Each chapter features a specific drummer and includes a brief biography followed by one of more of the following:
Video and Etude 1A: A video featuring the specific drummer (on the included DVD) along with a drum chart written in the book in the style of that drummer.
Practice Exercises (Etude 1B): Various rhythmic patterns written in standard music notation, which have been derived from the specific drummer's most commonly used rhythmic figures.
Audio Interpretation and Etude 1C: Written drum chart inspired by the audio track contained on the included MP3 CD.
Video and Drum Chart: In some cases a video clip is featured along with a drum chart written in that drummer's style.
Throughout the book the charts, style interpretations, and exercises have been written by Danny with some inclusions by Phillip Gillette and Mike Tillis.
Study Method
Danny originally designed this book as an introductory-level study of jazz drumset history for the college-level applied drumset student. But it's equally useful to the high school or middle school student preparing for entry to a university as a jazz drumset major and to the private drum instructor as well.
Danny suggests studying one drummer per week, so the 31 drummers in this course will take one-year of college to complete. Private drum instructors can use this material to assign one drummer every week or two to their students.
For Further Study
Included is a list of recommended performances for each of the 31 featured drummers for further study.
Wrapping up the package is a section on Performance Pitfalls and Practice Tips, which will be of benefit to those who are having problems with the jazz feel and include suggestions for improving Ride Cymbal Sound, Phrasing, Swing Eighth-Note Feel, Bass Drum Balance, and more plus a worksheet of exercises that Danny uses with his own students.
The Evolution of Jazz Drumming Book, CD, and DVD: The Bottom Line
If you're already have the following four Hudson Music compilation DVDs: Classic Drum Solos Vol. 1 and 2, Classic Jazz Drummers, And Gene Krupa: Swing, Swing, Swing you won't find any new video clips here. That said, the power of this book, CD, and DVD package is in its structure.
Danny Gottlieb has done a great job of introducing us to each of the 31 featured drummers not only through the video clips but audio as well. And although the audio has been taken directly from the video clips, it is included on a CD in MP3 format so it can be looped. Most aduio clips are also available in a variety of slower speeds up to the original tempo to make it easy to analyze and study each drummer's style. The video/audio combined with the written drummer-specific exercises and charts make this package an ideal tool for the study of jazz drumming.
Every drumset style on the planet from Rock and Pop to Heavy Metal can be traced to origins in jazz. As such, this package should be required reading for every drummer on the planet, regardless of preferred musical style. I highly recommend it.
Retail price of this Hudson Music book, including CD and DVD, is $29.99 but it is also available at a substantial discount online:

Stay loose!
Tiger Bill
Become a Free Member of the largest, most Comprehensive Drum Site on the Web
Learn TigerBill's Innovative Tension Free Drumming and take your chops to the next level
Get TigerBill's Free Info-Packed Newsletter, Monthly Chances to Win Valuable Drum Stuff
& Much More...