Tiger Bill's Bottom Line Reviews
How to Write A Fast & Easy Drum Chart
Book/CD
by Liz Ficalora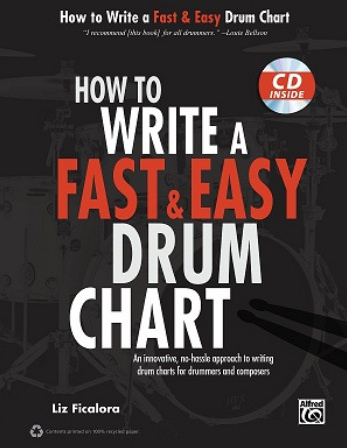 How Write a Fast & Easy Drum Chart in 7 Chapters

Chapter 1: The 12 Steps
The author's easy 12 step method for quickly writing a drum chart for any song.
Chapter 2: Basic Drum Patterns
This chapter includes the most commonly found combination snare, bass, and hi-hat patterns used in the most common musical styles of today.
Chapter 3: Sample Drum Charts
Here you'll find sample charts of popular songs that use the basic patterns you learned in the previous chapter.
Chapter 4: Practice Charting
This is your homework chapter, which is to listen to a track on the audio CD. Then write a chart for it, using the included blank chart template. You'll find the correct answers online so you can verify whether or not you are on the right track!
Chapter 5: Advanced Charting Techniques
Covers techniques for keeping your charts organized and easily accessible, adding vocal cues to your charts, rehearsal preparation, techniques for "counting in the band," advanced bass and snare drum patterns, and advanced combination patterns.
Chapter 6: More Sample Drum Charts
This chapter includes examples of drum charts for popular songs that use the advanced patterns you learned in the previous chapter.
Chapter 7: How to Chart a Medley
Covers a simple approach to charting a song medley and includes four blank chart templates for you to copy and use for your own charting needs.
The included audio CD contains demonstrations of the examples in the book.
Bottom Line: How to Write A Fast & Easy Drum Chart Book/CD
Author Liz Ficarola has come up with a system that allows any drummer or composer to quickly write drum charts that can be easily "read" by anyone, even those who cannot read actual music notation. Her shorthand drum chart system will also be useful to more advanced musicians who can read music but need to compose charts very quickly on the fly!
While $19.99 is a good value for this package, you can get this book/CD at a discount online. Just click the following link:

Stay loose!
Tiger Bill
Become a Free Member of the largest, most Comprehensive Drum Site on the Web
Learn TigerBill's Innovative Tension Free Drumming and take your chops to the next level
Get TigerBill's Free Info-Packed Newsletter, Monthly Chances to Win Valuable Drum Stuff
& Much More...