Black Potatoe Music Festival 2001
(continued)
Other Festival Artists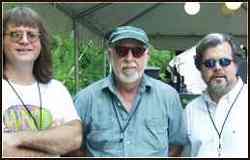 Walt Bibinger, Glenn Davis, Dave Antonow
Walt Bibinger Trio
Walt provided some cool jazz sounds. If you live in the New Jersey-Pennsylvania area, tune in Walt's radio show "The Jazz Listener," on WNTI 91.9 FM. Walt's drummer Glenn Davis, who was a student of Henry Adler, has played with Phil Woods, Stan Getz, Marian McPartland, Urbie Green, and many others in his 40 plus years behind the kit.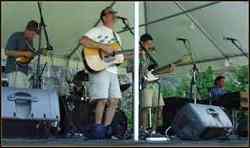 Bob Lowery Band
This band (out of Philly) offered some cookin' originals, courtesy of Bob Lowery (acoustic guitar/harmonica/vocal), Steve Wheelock (electric guitar), Todd Barneson (mandolin/background vocal), Steve Goodsell (bass/background vocal), Lee Schusterman (keys/background vocal), and Fred Berman (drums).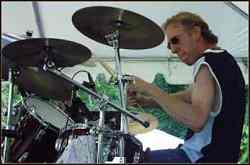 Drummer Fred Berman (in the above photo) had a good groove going and no wonder - it turns out he studied drums with Bernard Perdie! Fred's tip to beginning drummers - "You can either choose to be a versatile player or you can master one style but the most important thing in drumming is to KEEP TIME!" Check out Bob Lowery's debut album "Yellow Light" on Cayman Records (see the sidebar).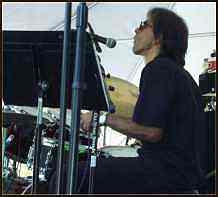 Randy Cialante with The Honky Tonk Gurus
Jim Weider and The Honky Tonk Gurus
Jim added the proper amount of funk to the festivities. Jim and drummer Randy Ciarlante are former members of The Band. For more on Jim Weider and The Honky Tonk Gurus, check out the official Jim Weider Web site (see the sidebar).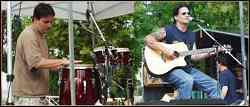 Rick Lee and Mike Hennessy
The Hennessy/Lee Project
This was a cool duo featuring music that was a cross between folk and alternative style music.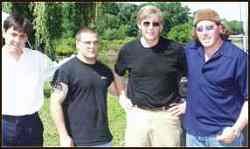 Joe Carlen (keys), Tommy Wolber (drums),
Henry Doss, and Eric Cohen (guitar).
Henry Doss
This was an interesting act with an interesting story behind it. It seems Henry is a 48-year-old banker from Pittsburgh turned musician who writes his own songs and has been playing music for a whole year and a half! I guess it just goes to show that it's never too late to learn. Cool!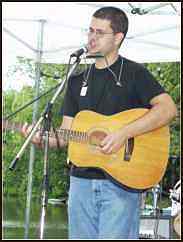 Southpaw Jones
Southpaw Jones
Here is a talented singer/songwriter who kept the audience entertained and amused with his original compositions.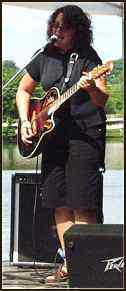 Christine Martucci
Christine Martucci
When I first heard sing I thought Janis (Joplin) had come back to life. And Christine writes her own songs too. I predict great things ahead for this newcomer.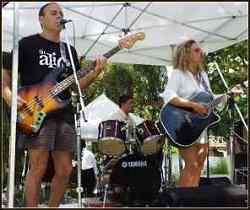 The Alice Project:
Al Greene, Scott Strunk, and Alice Leon
The Alice Project
Smart and slick describes Alice Leon, her voice, her music, and her band - The Alice Project. Take a look at Alice's Web site and you'll realize that this is one lady who means business (see the sidebar).
The Bottom Line
In addition to the acts I already mentioned, there were appearances by KC Cary, The Sled Dawgs, Steve Parker, Future Brings, Private I, Mark Turner, Patrick Fitzsimmons, Skeptics, Alfonzo Velez, and Octane. My apologies if I left anyone out.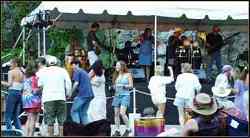 As you can see from the photo above, the Black Potatoe Music Festival 2001 was a huge success. Three days may seem like a long time but when it was all over, I found myself wanting more.
I congratulate Matt for having the guts to go against the tide by starting his own record label and for having the foresight to put the Music Festival together. Not only has he created an entertaining annual event but he has developed a forum where even unknown, up-and-coming musicians can have a chance to ply their trade in front of the public.
My thanks to Matt, Kristen, and Jack for allowing me access to their Festival and all of the artists. And hey, all of you musicians out there, does your town have anything as cool as the Black Potatoe Music Festival? If not, why not start a Music Fest of your own? For that matter, why not start a record label of your own?
Until next time: Stay loose!
Become a Free Member of the largest, most Comprehensive Drum Site on the Web
Learn TigerBill's Innovative Tension Free Drumming and take your chops to the next level
Get TigerBill's Free Info-Packed Newsletter, Monthly Chances to Win Valuable Drum Stuff
& Much More...