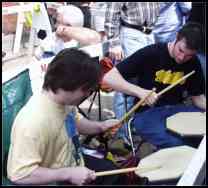 What DrumHeads Do While Waiting in Line

I began my review of Modern Drummer Festival 2001 last week with the Saturday performances (See the sidebar). This week I conclude my review with Festival Sunday. For those of you who haven't been lucky enough to make it out to an MD Festival yet, I'll try to recreate a little of the atmosphere for you. Although the doors don't open until 12:30 PM, people start lining up more than an hour earlier outside the entrance to the Memorial Auditorium at Montclair State University, where the annual Festival is held. And what do Drumheads do while waiting in line? What do you think? Sure, they whip out folding chairs and practice pads, like the guys I caught in the photo above!
Many of the Drumheads who attended Saturday's performances were back again on Sunday. The air was supercharged with their excitement and anticipation, as they discussed music and chops while waiting to see and learn from some of their favorite drummers. Because I had backstage privileges, I got to see what the average attendee doesn't.
Prior to opening the doors, the MD staff is busy setting up for the day's activities while the musicians and their tech crews set up their gear and complete their sound checks on stage. I used this time (and every in-between moment all day long) to chase down the performers who were only too happy to sit down (or even stand outside on the loading dock) and grant me an interview. (Stay tuned. Over the weeks to come I'll be bringing you these in-depth interviews with newcomers and drumming legends alike.)
Once the doors opened at 12:30 PM, the Drumheads rushed in and were given a bag of goodies that contained catalogs, brochures, and stickers from the companies that sponsor the MD Festival. Each ticket holder also received a free MD Festival 2001 T-shirt. In fact, I saw many people wearing shirts from past MD Fests.
After milling around the hall just outside the main auditorium checking out the CDs, books, and videos for sale, the crowd of a thousand drummers moved inside the auditorium to find seats prior to show time, which started precisely at 1 PM. First up were the winners of the Modern Drummer 2001 Undiscovered Drummer contest.

Instant Fame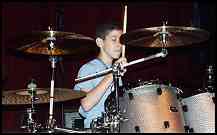 12-year-old Ilan Rubin
Last year's Undiscovered Drummer contest was so popular, Modern Drummer magazine decided to do it again. Two winners, one under 19 and one over 18, were chosen based on a 2-minute solo drum performance sent into MD magazine on either audio cassette or videotape. In addition to a fully paid trip to the MD Festival including a solo spot in the show, the two winners received $500 in cash, a featured write-up in Modern Drummer magazine, an award plaque presented at the Festival, and other cool free stuff. (If you'd like to be the next winner, check out Modern Drummer in the sidebar.)
This year's winner in the under 19 category was Ilan Rubin, a 12-year-old from California.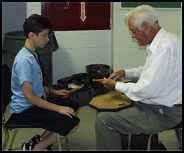 Backstage Ilan gets a lesson
from the master - Jim Chapin
I caught Ilan between his sound check and his performance and got to ask him a few quick questions:
TB (Tiger Bill): What made you decide to try out for the Undiscovered Drummer?
IR (Ilan Rubin): I saw the video of a previous MD Festival and so I got as good as I could and sent in a tape.
TB: How long have you been playing the drums?
IR: I've been playing for four years. I started when I was 8 years old.
TB: Are you self-taught?
IR: No, I've had three instructors. Since September of last year, I've been taking lessons from Travis Barker of Blink182. He has been getting me into rudiments and reading but, because of Blink's busy schedule, I haven't been able to take lessons on a regular basis.
TB: Do you play in a band?
IR: I'm a founding member of the band F.o.N., which came together when I was 9. (For more info, see Ilan Rubin in the sidebar.)
I had one last question that I asked Ilan's dad, Nate:
TB: Has Ilan received any offers as a result of winning the MD Undiscovered Drummer contest?
Nate Rubin: Ilan was a Remo, Paiste, Kit Tools and Orange County Drum & Percussion endorser prior to winning the contest. DW helped in getting hardware and pedals to the show, after they found out that Ilan was one of the undiscovered drummers. I will be talking to them in the next couple weeks about a hardware and pedal endorsement contract. Also, the organizers of the Montreal Drum Festival have expressed an interest in having him play in 2002, or possibly 2001 if a spot opens up.
Soon after the interview, Ilan was called up on stage and gave an impressive drum solo performance, complete with double bass drum chops. This young performer impressed even the veterans in attendance, including Carmine Appice, who later called Ilan an "animal." (That's a huge compliment, by the way.)
Next up on stage was the winner of the Undiscovered Drummer in the over 18 category. His name is Gustavo Meli and, at 28 years old, he's a professional drummer in his home country of Argentina. He's also the first Argentinian to win this contest. I caught up with Gustavo in his dressing room just before his performance:
TB (Tiger Bill): What was your reaction upon hearing that you won the MD Undiscovered Drummer contest?
GM (Gustavo Meli): At first I couldn't sleep. Then I began to relax and started to feel good about it. This is a big step for me.
TB: How long have you been playing drums?
GM: I've been playing for 13 years. I started playing drums late in life, at the age of 15.
TB: Did you have formal instruction?
GM: I'm mostly self-taught. Lately, I've been studying from volume one and two of The New Breed, by Gary Chester.
TB: Do you have any plans about what you'll be doing after the MD Festival?
GM: I will do the same things I've always done; Work hard, love my family, love my friends, and love the instrument. I want to be better day by day. I'm not in a hurry to be famous. I want to take things step by step. The most important thing to me is to feel good within myself about what I'm doing.

Gustavo Meli
Shortly after the interview, Gustavo went up on stage and played his heart out, and the audience loved him. He was one happy Argentinian that day.
Stanton Moore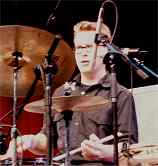 A new guy on the block straight from New Orleans, Stanton Moore currently plays with the New Orleans funk band Galactic, who have three records to their credit. Plus, Stanton has his own slammin' solo album called All Kooked Out. (See sidebar for more info on Stanton.) For the MD Festival, he treated the crowd to a clinic along with a performance by his hometown band Moore & More, which featured Brian Seeger on guitar, Charlie Dennard on organ, and Brent Rose on sax.
The crowd dug Stanton's playing style, which was heavily influenced by Mardi Gras brass bands, funk, and street beats. Moore gave a good clinic complete with examples written out on a blackboard. If you ever get the chance to catch a Moore drum clinic, don't miss it. He has a cool, creative approach to drumming. (I'll have an in-depth interview with Stanton in an upcoming feature.)
Billy Martin with G. Calvin Weston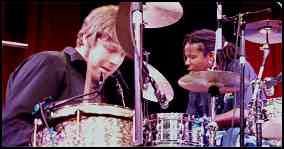 Next up was the percussion duet of Billy Martin and G. Calvin Weston who treated the audience to a session of improvisation that encompassed jazz, funk, Brazilian, and West African rhythms. It was very interesting. (To experience Martin and Weston's work for yourself, see Percussion Duets in sidebar.)
Carmine Appice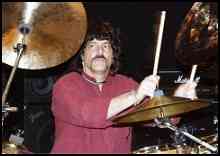 In 1967 Vanilla Fudge the first heavy rock group was born and it was driven by the first power rock drummer in history - Carmine Appice. In 1971 Carmine taught his very first drum clinic at the University of Miami in Florida. Actually, it was a solid week of clinics and Carmine was there along with Joe Morello (and me and Danny Gottlieb who flew down with Joe as his students), Marvin Dalgreen, and others.
Carmine said he owes his drum clinic training to the things that Joe Morello taught him during that week thirty years ago. "Joe," he said, "taught me three things: Play good, teach them, and keep them laughing." I was impressed by Carmine's clinics thirty years ago and he has only improved with age. Today he treated the audience to a dual drum clinic/performance that had everyone on their feet, shouting for more. And when Carmine noticed Joe Morello watching from backstage, he immediately stopped and dragged Joe out to take a bow.
Many of the younger clinicians of today could stand to take a lesson from Carmine (and Joe Morello). It's fun to dazzle an audience with chops, nobody likes it more than I do, but the whole point of a drum clinic is to teach, not simply to show off. At Carmine's clinics, you get the perfect balance of both.
After Carmine completed his clinic portion, he answered questions from the audience. One drummer jumped up and thanked Carmine for all the inspiration he's given over the past three decades. Then Carmine was asked if he thought the feet were the foundation of rock drumming. Carmine said: "Yes. Today they probably are more than the hands. As long as you've got a backbeat and the bass drums are doing thirty-second notes, it's cool! [audience laughs] In my day, it was sixteenth-notes, now it's thirty-seconds!"
Another drummer asked Carmine about the special Shade cymbal that he uses. (You can see it clearly in the above picture of Carmine, just below his hands.) Carmine told the story behind it: "I was playing in North Carolina with Edgar Wynter and had just finished my sound check when I heard a drummer in the other band playing a strange sounding crash cymbal. [Carmine hits the cymbal.] When I asked him where he got it, he said he had made it. When I asked why, he told me that his guitar player was always hitting his good crash cymbals with his guitar and he made the specially shaped cymbal to give the guitar player something that could stand up to a beating."
Carmine said he tried to get cymbal manufacturers to distribute it for the guy but no one was interested. But Carmine uses it as do other famous drummers and Carmine even sells it through his Power Rock Web site (See "Power Rock" in the sidebar.)
For the final question, someone asked Carmine why he holds his right stick between his forefinger and middle finger instead of the usual forefinger and thumb grip. Carmine responded: "That was a kind of mistake. I was playing with the Vanilla Fudge in Arizona. It was about 110 degrees and every time I went to twirl the stick, it'd fly out of my hand. So I tried grabbing it between my forefinger and middle finger and found I was able to hold onto it better. Plus it was easier to twirl. So I just kept it going."
Then Carmine treated us to another Joe Morello story: "I was doing a symposium with Joe Morello and he yells out "Hey, Apache!" (that's Joe's nickname for me), and he told me he had my stick method down and he held his sticks in both his hands (using my forefinger and middle finger grip) and played a blindingly fast single stroke roll. I said Joe, I hate to tell you this but I only play my right hand like that! And Joe said "Well, you better learn the other one because I got 20 students now going through your method!" [audience roars]
Carmine wanted to continue the teaching portion of the clinic but was informed that his time was running out. So, to close his segment, he brought out some friends of his to perform with - The Vanilla Fudge! With Tim Bogert on bass, Vince Martell on guitar, and Mark Stein on organ, the original members played some of their biggest hits like "You Keep Me Hangin' On," and "Shotgun," and when it was over the audience screamed for more. But, due to time constraints, Carmine came out to thank the crowd and apologized, saying that they would not be able to play an encore.

Lenny White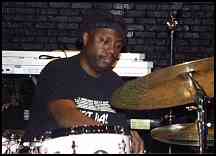 The final act of the day was Lenny White. Lenny has the ability to switch between jazz and funk and literally helped define fusion. In addition, this drumming legend has worked with some of the greatest musicians in the business: Miles Davis (Lenny recording Davis' classic album "Bitches Brew" when he was only a teenager), Freddie Hubbard, Stan Getz, Gato Barbieri, Joe Henderson, Chick Corea, Wallace Roney, Michel Petrucianni, and many others.
Instead of starting off with a clinic, Lenny chose to devote his entire segment to performance, to the delight of the audience. First he started off the proceedings with some straight ahead jazz numbers during which he showed off his solo ability. Then, he switched drumsets (and band members) to display his powerful fusion chops.
Lenny's musical guests were Wallace Roney on trumpet, Buster Williams and Jerry Brooks on bass, Benard Wright and Donald Blackmon on keyboards, Nick Moroch on guitar, and Anton Roney on sax.
Lenny's performance of jazz and fusion rhythms topped off the fourteenth annual Modern Drummer Festival Weekend 2001 with a bang. After this, I'm really looking forward to next year. How about you?
Until next time: Stay loose.
Click here for coverage of the Saturday performances from the Modern Drummer Festival 2001.