PAS Connecticut Day of Percussion 2004
PAS Organization
Every DrumHead on the planet should belong to the Percussive Arts Society (PAS). It's a great organization that's involved in promoting percussion education and performance not just in the U.S. but around the world. I'm a member. If you're not, I highly recommend that you look into joining up today. The most inexpensive way to get in on all of the benefits is to join as an online ePAS member. (See the sidebar for more details.)
Connecticut Chapter of the PAS
This was the second year I was invited to cover the Connecticut PAS Day of Percussion event and I wasn't disappointed. The lineup of artists was varied and interesting and everyone who attended seemed to have a great time. Plus, I had the chance to catch James Walker in clinic and performance. (James is the expert percussionist who moderates our online Mallet Percussion Forum.)
This year the event, held at Western Connecticut State University in Danbury, CT, was hosted by Jim Royle who is the President of the Connecticut chapter of the PAS and owner of the Jim Royle Drum Studio in cooperation with Dave Smith and the WCSU Music department.
Note: All video clips that follow require Windows Media Player, which is normally installed with the Windows OS or you can download a free copy here. There is also a version that runs on the Mac. All audio clips require the RealPlayer, which you can download for free from here.
1-Z's Drum Club
Dave Wonsey is the founder of this African-style drumming club and, along with three of his high school students, he puts on an extraordinary performance that speaks for itself. See the video clip that follows. (Appearing with Dave Wonsey are Andrew Spollett, Mercedes Koehler, and Liz Grilli.)

Video excerpts of 1-Z Drum Club
Contact Dave at drum1z@aol.com for more information.
Sherrie Maricle - Drumset Clinic
Sherrie got started in music, as many of us did, in the fourth grade band program. At age 11 she went to hear Buddy Rich and his Big Band and knew, from that moment on, that she wanted to be a jazz drummer. Not only has she accomplished that goal through her own big band, The DIVA Jazz Orchestra and her quintet FIVE PLAY, but she teaches at New York University, plays classical musician with the New York Pops, and is a composer and arranger. (Following Sherrie's clinic, the Western Connecticut State University Percussion Ensemble performed "Street Beats," one of Sherrie's original compositions. Click here for excerpts from that performance.)
Although drum clinics are sometimes nothing more than show-off fests, not so with Sherrie's. It was a well-rounded offering of valuable tips and tricks useful to drummers of any experience level. Her clinic included a handout that covering the 'cutting' of common swing figures, Chops, and various examples on how to make your exercises into practical musical ideas. Click the video link that follows for a sample.

Video excerpts of Sherrie Maricle
See the sidebar for more on Sherrie or, to be politically correct, Dr. Sherrie Maricle, Ph. D.
Western Connecticut University Percussion Ensemble (WSCU)
This group of talented young performers, a number of whom are students of Jim Royle, played a number of works including Sherrie Maricle's percussion composition "Street Beats." Ensemble conducted by Jim Royle. WSCU also performed with Dave Smith as the conductor.

Video of WSCU "Street Beats"
The Connecticut Valley Field Music (CVFM)
This group offered an introduction to the instruments, playing techniques, and performances of the traditional form of military rudimental drumming exactly as it was in colonial times. Jim Clark, director of the CVFM, gave an impressive demonstration of the use of 'straight-arm' technique used in rudimental style drumming and hadnouts containing drum parts with the original sticking notation where they wrote notes above and below a single staff line to denote right and left hand sticking patterns.

Video excerpts of CVFM
For more information on traditional fife and drum music, including recordings and events, contact: fifeonthegreen.com, fifeanddrum,com, www.cooperman.com, or companyfifeanddrum.org.
James Walker - Mallet Percussion Clinic
James, the Mallet Percussion Forum Moderator on this site, proves that he is as fine a performer as an instructor as he presents a class that covers both Classical and Jazz improvisation.

Video excerpts of James Walker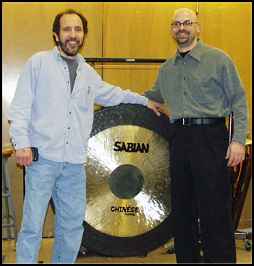 Tiger Bill and Dr. Nick Petrella
See the sidebar on this page for more on James Walker and look for Jim on our Drum and Percussion Forums, as he is a seasoned drumset player as well.
Airto Moreira - World Percussion Clinic
Known more commonly as simply Airto, I have witnessed his clinic performance before (see my review of the Modern Drummer Festival 2003) and he is always a treat. Airto doesn't just play the music, he becomes the music. Airto professes that energy is music and music is energy and, when he plays, you can literally feel the energy in the air.
Airto is more than simply a master percussionist but you have to witness a performance in person to fully appreciate him. Check out this excerpt from his clinic and you may begin to get the idea.

Video excerpts of Airto
The boy who interrupts Airto's performance on the above video clip is Danny. He has Atypical Autism and, according to his mom, he is still exuding the positive energy that Airto imparted to him and allowed him to directly participate in during his clinic. On behalf of Daniel and his mom, I'd like to request that you donate what you can to the National Alliance for Autism Research (NAAR).
Jonathan Haas - Timpani Clinic
This clinic offered a different take on timpani and a very interesting one at that. Check out the video excerpts.

Video excerpts of Jonathan Hass
Cindy Blackman - Drumset Clinic
I caught Cindy's performance at PASIC 2003 (video clips will soon be posted from that event) and she never fails to amaze me. At PASIC, she was performing under the 'handicap' of having only one hand, due to a bicycle accident. But, thanks to lots of hard work and physical therapy, Cindy is back in shape and playing as good as ever. She opened her segment with a 24 minute drum solo and she was barely breathing heavy at the end.
Door Prizes
And last, but certainly not least, there were lots of cool drum gear giveaways. There were also a number of vendors at the event including a gentleman by the name of Bill Rotella long time instructor from the Connecticut area.
The Connecticut Day of Percussion 2004 was sponsored, in part, with support from numerous percussion companies including Premier, Drummers Workshop, Pearl/Adams, SABIAN, Gretsch, Zildjian, Remo, Vic Firth, Pro-Mark, Latin Percussion, Audix, Mike Balter, Yamaha, and Cooperman Fife & Drum.
Jim Royle Drum Studio & WSCU Percussion Ensembles with Special Guest: Liam Teague
This concert performance included talented students from Jim Royle's Drum Studio (refer to the sidebar for more info), the WSCU percussion ensemble, and Liam Teague. Liam, currently on the faculty of Northern Illinois University, is an expert in Steelpan and has been called the "Paganini of the Pan." Check out the Liam Teague Steel Drum Clinic in part 2 of this feature article for my interview with Liam.
This concert showed the results of hard work, as it literally defined the word "ensemble," with all players in perfect precision. Impressive. Here are some sample audio clips:

Audio Clip of Liam Teague performing with the Jim Royle Drum Studio and WSCU.
(Don't have RealPlayer? Download it free)
Dave Smith & the Western Connecticut State University Percussion Ensemble
Dave Smith and the Western Connecticut State University Percussion Ensemble were next up and they gave a terrific performance, with solid support from Trevor Somerville on the drumset.
Become a Free Member of the largest, most Comprehensive Drum Site on the Web
Learn TigerBill's Innovative Tension Free Drumming and take your chops to the next level
Get TigerBill's Free Info-Packed Newsletter, Monthly Chances to Win Valuable Drum Stuff
& Much More...