PAS New Jersey Day of Percussion 2002
Part Two: Performances

Ludwig and Morello Together Again
The final two sessions of the day featured Bill Ludwig and Joe Morello. Joe played Ludwig drums for many years and during that time, Bill and Joe became good friends. It was great to see them appearing at the same event.
William F. Ludwig II
Bill presented a program called "A History of Percussion." This gave us insight into the use of percussion from the Colonial times through three wars and into the silent movie era of the roaring '20s.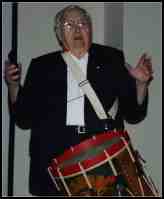 Bill Ludwig and his rope snare

Streaming audio clip:
Bill Ludwig playing Rope Snare
(Don't have RealPlayer? Download it free)
Not being a particular fan of history, I thought this portion of the program was going to be dull, but Bill's sense of humor (at 85 years of age, no less) made it highly enjoyable. You'll hear what I mean in this audio clip of Bill demonstrating how percussionists created movie sound effects in the old silent film days:

Streaming audio clip:
Percussion Sound FX
(Don't have RealPlayer? Download it free)
The Master: Joe Morello
The DrumsetHeads in attendance were all waiting for Joe to appear and his was the final performance of the day.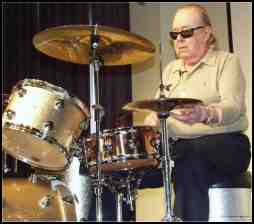 Joe Morello at his DW drums & Sabian Cymbals

Streaming audio clip:
Joe says 'Hey' and solos
(Don't have RealPlayer? Download it free)
Unfortunately, Joe wasn't feeling too well and although his playing was as great as ever, he kept it to a minimum while answering questions from the audience.
When asked about his grip preference, Joe explained that although he prefers traditional grip, he also uses matched grip. In response to a question about rudiments, Joe stressed that there are really only four basic rudiments upon which all the others are built. They are the Single Stroke, Double Stroke, Flam, and Grace notes.
When asked about the importance of chops, Joe commented on how boring a drum solo would be if a drummer were to play even the fastest single stroke roll for 20 minutes, non-stop! "The most important thing is how musical you play, not how fast or how loud.
Joe also stressed the importance of listening to drummers of all styles, regardless of your favorite or chosen style. He brought up Danny Gottlieb's versatile playing as an example of a drummer who is both comfortable and well-versed in many styles.
When asked about his own gear, Joe said that he now plays DW drums and Sabian cymbals. He prefers a metal snare, like his DW copper drum, because of the "sharp" sound.
When asked about his career and why he chose to switch from his first instrument (which was the violin) to drums, he explained: "I realized I wasn't cut out for the violin so I started practicing drums and I got all of the brush beats down and stuff, but I never really thought I'd be able to make a living at it or get as far as I did. People just started hiring me and one gig led to another and here I am."
And, for those of you who have been asking me about Joe's second volume of Master Studies (like Ed Pierce), the answer is yes, Joe is working on it but it's not finished. (I offered to help him with it, so I'll keep you posted.)
At just about every clinic, someone asks Joe to explain his unique finger technique and this one was no exception. After a demonstration, Joe added a quick explanation of the basic arm movement he uses, which is based on the Moeller system: "Did you ever hear a good joke and slap yourself on the knee? That's the correct motion for your right arm. The left arm motion is exactly the same motion a nurse would use to shake a thermometer down. It's that simple."
On the subject of jazz Joe said, "it allows a musician total freedom within two basic rules. The first rule being that you play harmonically correct. And the second rule being that you play rhythmically correct. Other than that, anything goes."
A discussion of Polyrhythms is another common topic at a Morello clinic. Joe gave a quick demonstration by playing 3 on his bass drum against 5 with his left hand on the snare against 4 with his right hand on a tom. Joe demonstrates the 3-4-5 polyrhythm:

Streaming audio clip:
Joe demonstrates a Polyrhythm
(Don't have RealPlayer? Download it free)
Time flies when you're having fun and before I knew it, seven hours had flown by and the Day of Percussion had come to an end.
It was an educational and enjoyable day and you couldn't beat the price: Free! What more could a DrumHead ask?
My thanks to Glenn Weber and his crew for allowing me access to cover their event. I'm already looking forward to next year's lineup.
I strongly suggest that you look up the Percussive Arts Society in the sidebar on this page and check out what's happening at your local chapter.
Until next time: Stay loose.
Click the following link for PAS New Jersey Day of Percussion 2002: Part 1!
Become a Free Member of the largest, most Comprehensive Drum Site on the Web
Learn TigerBill's Innovative Tension Free Drumming and take your chops to the next level
Get TigerBill's Free Info-Packed Newsletter, Monthly Chances to Win Valuable Drum Stuff
& Much More...