New Jersey Chapter of PAS Day of Percussion 2005
An Educational Day of Percussion
I always try to cover various Percussive Arts Society (PAS) events through feature articles on my site because the PAS does a lot to advance the art of drumming and percussion. This year, I was honored to have been asked to perform at the NJ Chapter Day of Percussion event. As you'll see in the video clips that follow, I had a terrific great time as did all of the DrumHeads who came out in support of the event.

Roman Lankios Clinic Video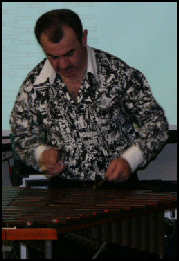 Roman Lankios
First up was the virtuoso xylophonist Roman Lankios who astounded the audience with his mastery of an extremely difficult instrument known as the Continental Xylophone. Check out our exclusive video and then click on Roman's link in the sidebar to the right of this column for more on Roman.

Tiger Bill Meligari Clinic Video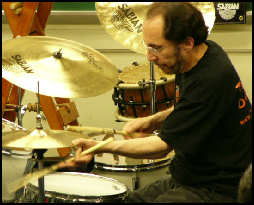 I was up next and, as you'll see in the video that follows, I'm demonstrating my Dual Speed Sticking Technique (using special dual-tipped sticks provided by Pro-Mark and a 16" hi-hat specially designed for me by Cymbal Specialist Mark Love of SABIAN), HansenFutz practice pedals, and Pintech electronic drums and triggers.

Glenn Weber & Rurie Furukaki Taiko Clinic Video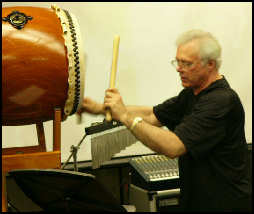 Glenn Weber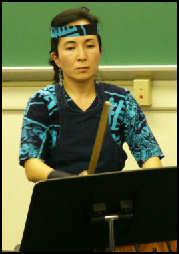 Rurie Furukaki
Glenn and Rurie gave a Taiko drum demonstration that was both impressive and enlightening. And, as you'll see from the video clip, only those who are in good physical condition should attempt Taiko drumming!

Zoro Clinic Video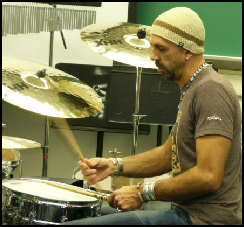 Zoro
The Funk-Meister himself, Zoro, closed the show with a clinic that offered lots of useful information on grooving, bass drum technique, how to get a great sound from your drumset, and more. Check out the exclusive video.
Why I am a Member of the PAS
The Percussive Arts Society (PAS) was established in 1961 as a non-profit, music service organization, to promote percussion education, research, performance, and appreciation throughout the world. The organization currently has more than 8,000-members with chapters located across the United States (including Puerto Rico), and 23 chapters in 19 other countries.
In addition to its many local chapter activities (like Day of Percussion), the PAS holds an annual event that is the largest percussion convention in the world! Over four days, PAS members get to hang together and witness live clinics and performances by dozens of the greatest drummers and percussionists in the world!
I am a member of the PAS because I do everything I can to support music and drumming and I feel that the PAS is definitely a worthwhile organization that every drummer and percussionist should support. I hope you will consider becoming a member. For more information, go to the Official Percussive Arts Society Web site and check out the low annual cost of ePAS memberships for Students and Pros.
Many Thanks!
In closing, I'd like to thank all of the above artists for giving us permission to capture and release their performances. I'd also like to thank Glenn Weber, who is the President of the NJ Chapter of the PAS, and also Damon and George for all of their hard work in making this event a success.
And many thanks to all of the DrumHeads who came out in support this event.
I'll see you next year.
Stay loose!
Become a Free Member of the largest, most Comprehensive Drum Site on the Web
Learn TigerBill's Innovative Tension Free Drumming and take your chops to the next level
Get TigerBill's Free Info-Packed Newsletter, Monthly Chances to Win Valuable Drum Stuff
& Much More...