Welcome to
Tiger Bill's DrumBeat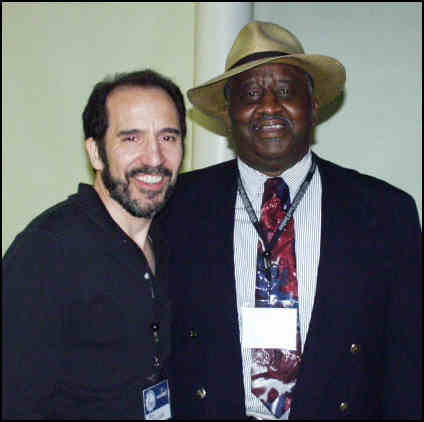 "Ugly" Tiger Bill Meligari with Bernard "Pretty" Purdie
Welcome to TigerBill's DrumBeat, the most educational Drum and Percussion site on the Web! Feel free to browse around all you like. There are free drum lessons, free forums, free expert advice, the lowest prices on drum gear and educational products, and much more. All designed to help you become the best drummer you can be.
In addition to that, we have one or more giveaway contests where you have the chnace to win valuable Drum Gear, DVDs, and Books.
Hi. I welcome you to look around my site. I'm a drum pro with more than 30 years of experience and I'll guide you to the best, most exciting products, services, and free stuff on the Web.
They call me Tiger Bill, and you might recognize me as your guide to Drums and Percussion from the About.com network. Although I'm still the resident Drum Expert under the Musicians.About.com site, About has decided to no longer support a dedicated Drums and Percussion site. The good news is that all of the great info from my original "About Drums" site is here at TigerBill.com, plus a whole lot more!
Oh, and if you're curious about how I became known as TigerBill, read on!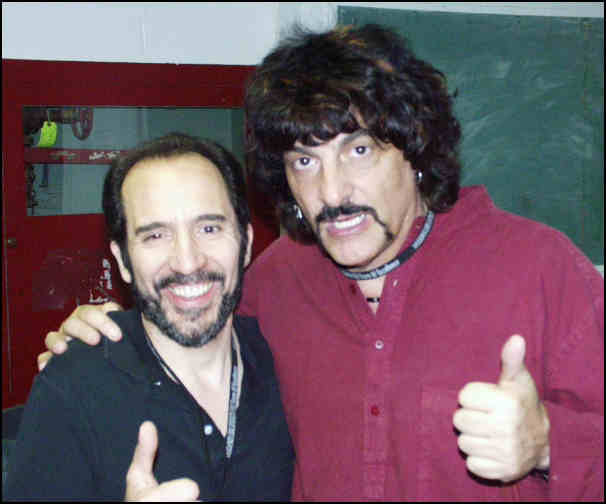 Don't Blame Me
You can blame Joe Morello for my nickname "Tiger." Joe likes to nickname people. He calls Carmine Appice (on the right in the above photo) "Apache" and he calls me the "Tiger" (that's me on the left).
The first time I saw Joe play, his chops knocked me out. At that moment, I knew I had to learn his technique. So, I put everything I had into it and in one month, I was playing all of his left-handed triplets and sixteenths runs at respectable speeds: Triplets were up to 208 and groups of four-sixteenths were 168, although I'm faster now.
I was also Joe's first student to make it through his book "Off The Record," which is a collection of transcriptions of his most famous (and most technically challenging) drum solos. This is how Joe came to call me the "Tiger."
The name must have grown on me because three decades later, I'm still using it. (People seem to remember Tiger Bill easier than Bill Meligari. I wonder why?)
Anyway, that's how I got the name.
I Love It
Since I first began teaching (in my early teens), I've always tried to provide quality instruction yet still keep things fun and exciting. Everyone learns better when they're having fun. When I started working on the Internet, I carried over that same philosophy.
Now, with my own company, I have the opportunity to develop educational materials, products, and services that can make learning easy, entertaining, and more effective than anything previously available. And, through the wonderful World Wide Web, I can reach students in all corners of the globe, including those not fortunate enough to have a good instructor in their local area.
My Custom Internet Drum Lesson Courses are now being ported over into print, CD, and DVD formats and will make learning at home without the help of a "live" instructor easier and more effective than ever before.
In addition to lessons, I'm in the process of revising my highly-reviewed drum book, DoubleDrum: A Double Bass Drum Text,which has been endorsed by Louie Bellson and Roy Haynes. I'm also working on a DVD that will teach you my method of hand technique (based on various systems including those of Gladstone and Moeller), a new series of Monster Chops Expert Drum Guides, and I'm only just beginning to scratch the surface.
Plus, I'm constantly updating this site, to keep you coming back for more. To say that I'm busy, is an understatement. But, hey, it beats being out of work! (It also beats the heck out of working a real job!)
So, check out the site. Enjoy the hundreds of free links and feature lesson articles I've written and, when you're ready to take your drumming skills to the next level, check out the products in my Online Drum Shop.
We make ordering easy too by accepting credit cards over the Web, as well as checks (personal, business, certified, or money orders) and PayPal.
What's TigerMix?
TigerMix is the name of my "official" corporation. How'd I arrive at that name? I guess I was just tired of being the only "Tiger" around!
Navigating Your Way Around The Site
This site is setup for easy navigation. Below are the links that will lead you to everything on this site, including the finest in free drum lessons, drum software, reviews, interviews with world famous drummers, free giveaways, and more. Everything you need to know about drums and drumming.
Left Column: Beginning in the top left column, click on the View Cart button to view the contents of your shopping cart. This site is PayPal Certfied and you can use any credit card or your PayPal account to purchase any of my products.
Enter any word or phrase in the Search box to quickly find what you're looking for. For more detailed search options, click on the Advanced Search option just under the Search box.
Home: This button takes you to the home page and is the default page you reach when you type in the site URL (either www.tigerbill.com or www.tigermix.com).
Each and every week this page will contain a new feature article among other goodies, but I'll let you check that out for yourself.
Under the Home button, you'll also find links to Site Registration, Advertising Info, contact info, privacy policy, FAQ, and more.
Subjects: Clicking on this button describes what you'll find in the subjects listed below it. Namely, tons of FREE info, including just about everything you'd ever want to know about drums and percussion. These links are both internal and external to this site. All of the external links have been handpicked by me, Tiger Bill, from the best sites on the Web. Check 'em out and enjoy!
Right Column: The top right hand column contains a link to free site registration, followed by the Whassup column, which contains info on the latest breaking events that you'll want to know about. Be sure to check it out every week.
The Whassup column is found on every page of the site except the Featured Article pages, which have a sidebar that lists links that contain additional information on the subject of the particular article.
That's about it for the site navigation thing. I said it was easy. Now go ahead and start clicking away.
I'm having a great time, doing what I love. I hope you enjoy my work. You're feedback, both positive and negative, is a great help to me. Don't hesitate to let me know what you think, so I can bring you more of what you want.
Have fun on the site and Stay Loose!
Tiger Bill
Join the largest, most Comprehensive Drum & Percussion site on the Web and
Learn TigerBill's Innovative Tension Free Drumming techniques designed to take you to the next level!
You'll also receive TigerBill's free, informative Newsletter with Monthly Chances to
Win Valuable Drum Stuff & Much More...