Tiger Bill's Events:
Clinics, Master Classes, Concerts!
WANTED!
Store owners, music instructors, drumming event producers, and drummers of all ages and experience levels!
View the video below, then click here to contact us today for information on scheduling Tiger Bill to appear at your event or for taking private lessons with Tiger Bill.
Tiger Bill's Drum Clinic Demo
Experience TigerBill's Tension Free Drumming™ Techniques Today!
Tiger Bill performs Drum Clinics, Master Classes, Drum Events, and Private Lessons for drummers of all experience levels.
Here's Information on the Tiger's Latest Events:
More Clinic Dates coming soon - stay tuned!
What's the difference between a clinic and a master class?
1) Drum clinic: Where the Tiger alone performs and teaches drumming skills to an audience of drummers.
2) Master Class: A kind of up close and personal drum clinic where a limited number of students have the chance to perform and study with the Tiger.
3) Concert: This is usually a combination music clinic/concert where the Tiger brings along his band. TigerMix is the name of Tiger Bill's band and although the personnel may change periodically, the performance level remains at a constant high.
Contact Us for More Details
Students, faculty members, troop leaders, music professionals, and anyone who would like to see the Tiger perform live at your school, business, or event, click the link below and send us your particulars.
Tell us:
Type of facility you have
Audience size
Audience type (drummers, musicians, non-musicians or combination)
Your location
Your email and phone number
We will custom design a program that's right for you and send you a rate schedule and availability information.
Send an email to info [at] tigerbill.com for more info on having Tiger Bill appear in your school or business.
OR
If you would simply like to be notified when the Tiger comes to your town, click here and we'll put you on the emailing list!
OR
Now you don't have to wait for Tiger Bill to come to a location near you.
Now you can take a private online one-on-one lesson with Tiger Bill himself!
Follow this link to schedule your lesson today!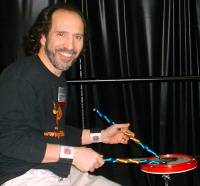 Become a Free Member of the largest, most Comprehensive Drum Site on the Web
Learn TigerBill's Innovative Tension Free Drumming and take your chops to the next level
Get TigerBill's Free Info-Packed Newsletter, Monthly Chances to Win Valuable Drum Stuff
& Much More...