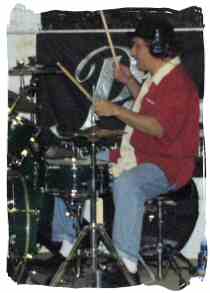 Pat Petrillo
(Photo by Bill Meligari www.TigerBill.com)
Pat Petrillo is a versatile drummer whose career extends from Broadway shows such as A Chorus Line, Grease, Footloose, and the national tour of Dreamgirls, to work with R&B legend Patti LaBelle, jazz guitarist Jeff Hamilton, and pop singer Glen Burtnik. He also leads his own group, Grooveallegiance.
In addition, Pat is a clinician and endorser for Maryland Drum Company, Zildjian Cymbals and Drumsticks, Attack Drumheads, Gibralter Hardware, and Shure Microphone. He is also the author of the instructional videos Snare Drum Rudiments (Warner Bros.), the Complete Drum Workout, and the Complete Drum Workbook (on Pat's own label).
I was fortunate enough to catch Pat in a drum clinic at Glenn Weber's New Jersey School of Percussion. Click the video link below for exclusive video of Pat's opening performance.

Video Clip of Pat Petrillo in Clinic
Entertainment Plus Education
Those of you who know me know I'm not big on drummers who profess to be clinicians when, in reality, their clinics are made of up of nothing more than a series of extended drum solos. The result? The audience may be initially impressed but they don't really learn anything. Judging by this clinic, however, Pat is definitely NOT in that category. Pat's clinic, which concentrated basically on classic R&B Grooves, was both entertaining and informative.
Starting with the great R&B drummers of Motown and James Brown fame and bringing us up to the present, Pat covered the material in a way that helped beginners in the audience while keeping things interesting for the more experienced players.
Whenever you get the chance, I would recommend that you attend a Pat Petrillo clinic.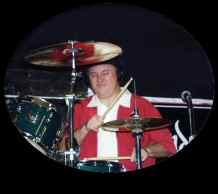 For an in-depth review of Pat's Complete Drum Workout Video and Complete Drum Workbook, see the sidebar.
Thanks to Pat Petrillo and Glenn Weber for allowing us access to videotape Pat's clinic.
Until next time: Stay Loose.
Become a Free Member of the largest, most Comprehensive Drum Site on the Web
Learn TigerBill's Innovative Tension Free Drumming and take your chops to the next level
Get TigerBill's Free Info-Packed Newsletter, Monthly Chances to Win Valuable Drum Stuff
& Much More...