The Tiger Interviews Ron Spagnardi on Modern Drummer's 25th Anniversary
"It was just a crazy idea"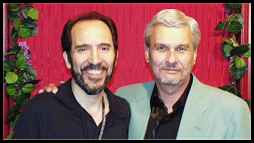 Tiger Bill with Ron Spagnardi
On May 19th and 20th I had the opportunity to attend the Modern Drummer Festival 2001. For those of you who don't already know about it, the annual Modern Drummer Festival has become THE place for drummers to meet.
Over a two day span, you'll have the chance to hang out and make friends with other drummers, you'll attend drum clinics and performances, and you'll even get the chance to rub elbows with some of the greatest drummers on the planet. What could be better? And, indirectly, this annual event takes place all because a drummer had a "crazy idea" 25 years ago and he acted on it. He had no formal business plan and no money, just a love for the drums.
His idea was that drummers should have a magazine they could call their own – a magazine about drumming. That magazine became Modern Drummer and the man behind the idea is editor/publisher Ron Spagnardi.
I first met Ron and Isabel (his wife and business partner) when they were just starting their publishing venture – in the basement of their house! I wrote some articles on drumming technique for the magazine but, to be honest, I never dreamed it would still be around 25 years later, let alone become "The World's Most Widely Read Drum Magazine."
Back then, all I could think of was "a publishing company set up in the basement of a house? I don't see how they'll ever make that work." Well, man was I wrong! And I couldn't be happier about it.
Modern Drummer magazine and the MD Festival have become staples of the drum community. The magazine is read and the Festival attended by beginners and pros alike. As busy as he was at the Festival, Ron found a few minutes to give me the scoop on his success.
So here it is, the story of how one man's dream became reality through commitment, persistence, determination, and - most important of all - pure love for drumming.

TB (Tiger Bill): Where did you get the idea to publish a magazine specifically for drummers?
RS (Ron Spagnardi): That's a good question. All my life, all I ever did was play and teach the drums. The idea was just something that I always had in the back of my mind. I saw guitar and keyboard magazines and I thought that drummers should have a magazine of their own. So like a nut, foolishly, I said I'm going to try it. I'll put it out quarterly.
The first one was 32 pages and when we sent it out the reactions were like: "Hey, where's this been all this time", "This thing is great", "It's about time!" Drummers finally had their own magazine. They could be on the cover of SOMETHING! And it just took off from there. It was just a crazy idea.
TB: I remember when I first met you and began writing articles for Modern Drummer, you and your wife Isabel were setting up your office in the basement of your house. How did you find time for the magazine and your normal workload too?
RS: It wasn't easy. I was teaching and gigging and I was doing the magazine in-between. It got to the point where I didn't know where I was going first. I was all over the place.
TB: Did you start out with some type of a business plan for your new venture?
RS: We just winged it; we just flew by the seat of our pants. We didn't know if we were even going to have enough money to do a second issue. The money we made on the first issue determined whether we would be able to put out a second one or not.
TB: In the early days, was there ever a time when you wondered whether you might have made a mistake getting into the publishing business?
RS: Never, because it just caught on and it was so much fun. The professional drummers loved it and were with us from the start. Then the readers started coming on and the advertisers and it just grew until it became all-consuming.
TB: In the beginning, did you find advertisers as eager as the drummers were about your magazine?
RS: Advertisers took a little bit of a wait-and-see attitude. They wanted to wait and just see if we were going to actually be serious about this. It took them about a year but as they saw the circulation growing, they started to come onboard.
TB: How long did it take for you to outgrow your basement office?
RS: It took two years before we couldn't fit in the basement anymore. That's when we moved to offices at 1000 Clifton Avenue in Clifton [New Jersey]. Then, in 1984, we moved to Canfield Office Park in Cedar Grove where we stayed for 10 years. In 1994 we moved to our current offices on Old Bridge Road in Cedar Grove.
Hopefully, this will be the final move. I'm getting tired! Seriously, if we need more room, we have two acres of land here and we can always add on to the existing building.
TB: What gave you the idea for an annual Drum Festival?
RS: Actually, the Drum Festival was not my idea it was Rick Van Horn's idea. Rick came to me one day and said I have this idea about having an all day clinic, where we would bring in four or five drummers. I said let's give it a shot. So Rick became the festival coordinator and, for the first couple of years, we held it for one day. Later, we turned it into a full weekend. So, although I'd like to take credit for it, it's really Rick.
TB: Your annual Festival always seems to sellout way ahead of time. Has it always been that way?
RS: Yes. This is our fourteenth Drum Festival (we started in 1987), and we've always held it at Montclair State University and it has always sold out. As a matter of fact, now it sells out before anyone even knows who's going to be here. This year, for example, we sold out in March and the festival isn't held until May. It's amazing.
TB: To what do you attribute the great success of your Modern Drummer Magazine?
RS: I think it's real simple Bill, I think the timing was right and it filled a need. I think there were drummers out there that wanted something of their own and nobody was really doing it. There were a couple of publications at the time but they were created in-house by drum companies specifically to advertise their own products and their own endorsers. We needed something that was going to talk to all drummers, interview all drummers, and talk about products across the board.
TB: Ron, a lot of drummers who visit my Web site are trying to "make it in the business" as players. Can you offer any advice?
RS: It's a tough business. You have to practice to gain the ability, you need to make contacts, be persistent, and just go for it!
TB: Because you've been so successful in the business world, Ron, what advice would you give to people who want to start their own business?
RS: My first recommendation would be don't do it the way we did it. We were pretty crazy. We didn't have enough money to start and we had no business plan. We just had a love for the instrument and a belief that drummers out there wanted something. We filled a need and found out we were right and that's really how it all came together. I don't know if we could start a national magazine today, the way we started it 25 years ago. It would be a little riskier now. You can get into big trouble if you aren't careful. We were just fortunate. We were very lucky.
End of Interview
In Retrospect
Whether Ron was, as he says, simply lucky or not, the fact remains that he has built an extremely successful company in Modern Drummer Publications.
It's not easy to keep a company going in today's volatile business climate but Ron and his staff are doing it. I'm sure that a part of Ron's success has to do with his choice of employees. You can't build a business without quality employees and Ron seems to have a corner on that market too. After hanging out with them at the Festival for two days, they seem more like family. (In fact, some of his employees are husband and wife.)
So, Ron's got himself a quality company whose magazines and instructional drum books bring vital information to drummers all over the world and his annual Festival is an experience NO drummer should miss. And on top of all this success, Ron has managed to remain the same humble guy I met 25 years ago in that small basement.
Congrats!
My congratulations to Ron, Isabel, and the entire staff of Modern Drummer Publications and continued success. Here's to the next 25 years!
Until next time: Stay loose.
Update:
The above interview, unfortunately, turned out to be Ron's last. He passed away on September 22nd, 2003, at the age of sixty after a five year battle with cancer. Follow this link for my Reflections on Ron.
Become a Free Member of the largest, most Comprehensive Drum Site on the Web
Learn TigerBill's Innovative Tension Free Drumming and take your chops to the next level
Get TigerBill's Free Info-Packed Newsletter, Monthly Chances to Win Valuable Drum Stuff
& Much More...