The Tiger Interviews Walfredo Reyes Sr.
Father Reyes Speaks Out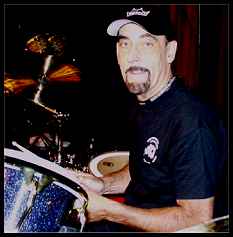 Born in Cuba and raised in New York City, Walfredo Sr. (father of percussionists Walfredo Jr. and Danny Reyes) has worked with many of the greatest names in music both in the US and abroad including Julio Gutierrez, Cuban bassist Israel Lopez (Cachao), Zoot Sims, Denny Drew, Philly Joe Jones, Tito Puente, Tito Rodriguez, José Fajardo, Sammy Davis Jr., Paul Anka, Jerry Vale, Milton Berle, Bobby Darin, Liberace, Wayne Newton, and the list goes on and on. I caught up with Walfredo at the Modern Drummer Festival for this interview and found him an extremely interesting personality. I think you will to.
TB (Tiger Bill): Who were your greatest influences when you were first starting out in the business?
WR (Walfredo Reyes): When I started playing in New York City at the age of 14, the big band drummers like Louis Bellson and Buddy Rich were my favorites.
TB: You've worked with so many great musicians over the years, I know it's impossible for you to discuss all of them but is there any single gig that stands out in your mind as a great experience?
WR: I worked on the staff orchestra for Channel 4 in Havana, Cuba from 1954 until I left Cuba in the '60s and during that time, I got the chance to back up many of the great Cuban artists, Mexican artists, Spanish Flamenco dancers. Many, many great musicians.
TB: Do you feel the drummers of today have the same opportunies you had when you were growing up?
WR: The music scene is quite different today. The players of today don't have access to all of the live music that we had. We used to walk down 52nd street in New York and hear Joe Morello and Philly Joe Jones and so many great players at the many clubs that had live music back then. There isn't as much live music happening today. But on the other hand, we didn't have access to the electronic music and drum machines that the drummers of today have. I'm very proud of the young drummers of today. I feel that they are extremely talented.
TB: You have two sons who are also percussionists and because of my own experience trying to teach my own two sons, did your sons always listen to what you were trying to teach them?
RM: No, they didn't listen to dad. They do respect me and they've very good kids and very good musicians but I let them go their own way and let them think their way. If you do that, they'll pick up right things and wrong things but you just have to let them try things out and think for themselves.
TB: It must have been a terrific experience to work on an album with your sons. How did the album San Rafael 560 come about?
WR: It was Danny's project. He handled everything. In addition to Danny, Walfredo Jr., and myself playing on the album, we also have cousin Rafael De Los Reyes from New York singing and drumming. Kamar de los Reyes, a star on One Life To Live, is on it too.
TB: Did you write any original tunes for the album?
WR: My uncle wrote one of tunes but most of the others are free jamming improvisions. I pioneered that type of music in Havana. The music becomes very free and you're not bound by a click track or anything like that.
TB: Speaking of click tracks, what do you think of working with a click track?
WR: You need a click track when you're playing in a big orchestra for a movie soundtrack but most Latin music, the Clave is the click track.You must learn to follow the Clave. I feel that it's okay to rush the tempo a little or hold back in certain places, according to the music. That's what gives the music feeling.
TB: You've done so much in your career and you've worked with so many great artists. Do you feel that there's anything left for you to do?
WR: I constantly listen to world rhythms from every country and I'm always learning something. I feel that drummers and percussionists are in a planet of our own, with our own language. When we play together we don't care about ethnic background or anything else. You're a human being, period. When you talk through your drums, no matter if you're playing a drumset or hand drums or whatever, that's your expression. If we had more percussionists in our political world, the world would be a better place. I'd vote for a drummer for President anytime!
TB: So would I!
TB: Do you have a favorite musical style?
WR: I like to always keep pushing the envelope and challenging the normal ways of playing, like the great Tony Williams did, always changing and trying to add something new. Young drummers of today are picking up the folklore from each of their countries and that's what makes today's music so challenging. And it's what makes the young musicians coming up today so great.
TB: Do you have any tips for up-and-coming drummers?
WR: Yes. Travel a lot. Go to other parts of the world and meet other drummers and study their ways. Not only their musical ways but study other cultures of the world. It makes you a better person as well as a better player. Go to Africa, Brazil, South America, and anywhere you can. When you get together with other drummers and musicians, it's like you're all speaking the same language no matter where you're from. That's why I say if everyone in the world would do that, we'd all be better off. Practice and study other instruments, not just drums and percussion. Learn to play piano and study harmony. That's my advice. Oh... and listen to your father!
End of Interview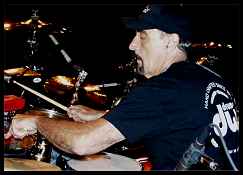 Following the interview Walfredo was explaining how the Salsa dance developed from the mating ritual of the chicken and rooster. Unfortunately, I didn't have my tape recorder with me for that interesting conversion, but I promised I'd get him to discuss it in detail next time!
Thank you Walfredo, for sharing a small portion of your vast experiences with us.
Until next time: Stay Loose.
Become a Free Member of the largest, most Comprehensive Drum Site on the Web
Learn TigerBill's Innovative Tension Free Drumming and take your chops to the next level
Get TigerBill's Free Info-Packed Newsletter, Monthly Chances to Win Valuable Drum Stuff
& Much More...