Kenny Aronoff
Laying it Down: Basics of Rock Drumming
DVD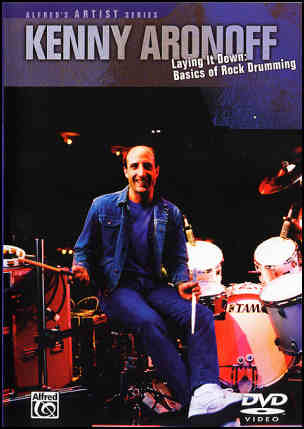 Kenny explores the fundamentals of rock drumming on this DVD. Let's check it out.
Part 1: Meet Kenny Aronoff
Kenny introduces his approach to selecting the beat for a song.
Part 2: What You Will Learn
Listed are the four basic concepts that will be covered on the remainder of the DVD.
Part 3: The Characteristic Beat
Kenny explains and demonstrates the beats he has played with a number of artists including John Mellancamp and Bruce Springsteen.
Part 4: Time
Covers the benefits of practicing both with and without a drum machine.
Part 5: Groove
Kenny demonstrates his approach to grooving to a song.
Part 6: Being Creative
Being creative while maintaining the basic foundation of the characteristic beat.
Part 7: Practicing Four Concepts
Kenny shows how to practice the four main concepts covered in the previous sections by playing a basic characteristic beat while getting creative with each of the four limbs in turn. He then puts it all together and demonstrates his ideas with the help of John Cascella on keyboards and Sandy Williams on guitar.
Part 8: Hand Exercises
When Kenny works on hand exercises he always works on feet at the same time. Here he demonstrates his approach to wrist technique (and briefly covers wrist/finger combinations) and heel down pedal playing. Although he normally plays heels up, Kenny has found that practicing heels down gives him more power and control for heels up playing. There is a nice use of split screen during Kenny's demonstration of these exercises with one half of the screen showing the stickings and the half divided into upper and lower halves showing with his hands on top and his feet on the bottom.
Part 9: Foot Exercises
Kenny demonstrates his favorite foot exercises and explains how, regardless of whether he's concentrating on his hands or feet, he always practices using all four limbs to simulate a drummer playing on a drumset.
Part 10: Putting It All Together
This final chapter begins with a drum solo followed by some grooving along with John and Sandy on keyboards and guitar.
Special Features
This section features Kenny soloing at a Drum Clinic in San Luis Obispo, California from 2005; On tour with Melissa Etheridge from 2004; Awards Gallery; Photo Gallery; and DVD-ROM features including printable PDF files of the exercises covered on the DVD.
Kenny Aronoff Laying It Down - Basics of Rock Drumming: The Bottom Line
Although Kenny provides ample demonstrations of his concepts he doesn't include many detailed explanations, which isn't a problem if you catch on easily by watching but may give you trouble if you're the type of person who requires explanations to understand new concepts. With that reservation, I recommend this DVD for beginning rock drummers of all styles. This DVD, from Alfred Publishing, retails for $29.95 but can be purchased at a discount online: Kenny Aronoff: Laying it Down

Stay loose!
Tiger Bill
Become a Free Member of the largest, most Comprehensive Drum Site on the Web
Learn TigerBill's Innovative Tension Free Drumming and take your chops to the next level
Get TigerBill's Free Info-Packed Newsletter, Monthly Chances to Win Valuable Drum Stuff
& Much More...