Carter Beauford: Under the Table and Drumming
DVD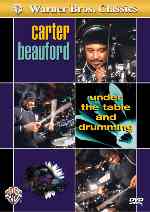 Carter Beauford, world famous drummer for the Dave Matthews Band, performs along with the rhythm tracks from six of the bands's best songs. Let's check it out.
Featuring Music from Under the Table and Dreaming and Crash
This DVD is divided into Volumes One and Two. In each volume, Carter plays a section of the featured song and then breaks down what he's playing so you can clearly see what's happening. In addition to that, there is a booklet included that contains the written drum parts covering most of what's on the DVD.
There is a Special Features section that contains the performances only, minus the instructional portions; teasers from Neil Peart and Zoro videos; and an interactive section detailing Carter's extensive drumkit setup.
In addition, putting the DVD into your PC will give you access to additional Internet Features.
Under the Table and Drumming: The Bottom Line
Carter Beauford is a very creative drummer with ample chops and a deep, funky groove. This DVD provides drummers of all experience levels with detailed insight into many of Carter's favorite grooves and licks. The included printed drum charts are a useful bonus.
I highly recommend it.
At a retail price of $59.95 this package from Alfred Publishing is not inexpensive but it does provide you with a great deal of practical, useful information. You can purchase this DVD for the lowest price on the Web by following this link: Under the Table and Drumming

Stay loose!
Tiger Bill
Become a Free Member of the largest, most Comprehensive Drum Site on the Web
Learn TigerBill's Innovative Tension Free Drumming and take your chops to the next level
Get TigerBill's Free Info-Packed Newsletter, Monthly Chances to Win Valuable Drum Stuff
& Much More...