Tiger Bill Reviews
Dennis Chambers: Serious Moves
DVD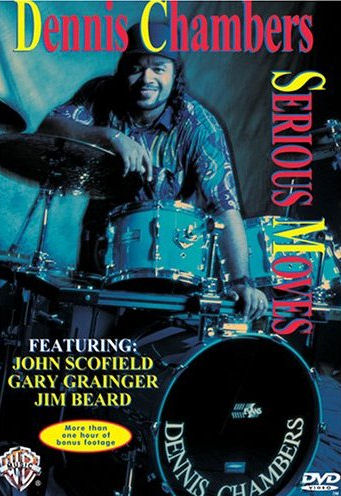 When it comes to drummers, Dennis Chambers has all the right stuff - musicality, chops, and groove, which is why he has recorded with the likes of Parliament-Funkadelic, John Scofield, Mike Stern, Bob Berg, George Duke, and others. This DVD, which features Dennis performing alone and with former bandmates John Scofield on guitar, Gary Grainger on bass, and Jim Beard on keyboards, should prove very entertaining and educational. Let's check it out.
Main Chapters
1 - Trim: Dennis Chambers performs this tune with John Scofield, Gary Grainger, and Jim Beard.
2 - Trim Drum and Bass Groove: Dennis and bass player Grainger demonstrate some of the grooves from the previous tune.
3 - Serious Moves: Throughout the DVD, Dan Thress interviews Dennis prompting him to answer some serious questions about his patented moves. In this segment, Dennis explains his approach to fast single stroke rolls around the drums, discusses the techniques that he borrowed from his influences and how he modified them to make them his own.
4 - Open Solo: Dennis applies his arsenal of chops to an extended solo while maintaining a constant quarter note pattern with his left foot on the hi-hat.
5 - Soloing: Dan gets Dennis to explain his approach to soloing and Dennis plays one of his favorite moves where he plays a straight pattern at a set tempo with his feet against a hand pattern that varies in tempo from fast to slow and back again.
6 - Practicing: Dennis explains how his practice of playing patterns against a drum machine helped him to perfect his click track feel. Followed by a demonstration of Dennis playing patterns against a drum machine.
7 - Wabash: Another tune with the band.
8 - Bass and Drum Improv: Dennis talks about the give and take between his drumming and Gary's bass patterns. Following is a demo of the interaction between Gary and Dennis as they lay down some funky grooves.
9 - Listening: Dennis discusses the importance of listening to other musicians while playing so you sound like you're making music and not like you're practicing.
10 - Time Marches On: Dennis kicks a laid back tune with band.
11 - The Nag: An up tempo number.
12 - Make Me: Dennis plays a laid back funky tune to take it home.
13 - Closing: Dennis is featured soloing over the closing credits.
Special Features
1- Drum Solo from Clinic in Japan 1996
2- Drum Solo from Clinic in Brazil in 1998
3- Photo Gallery
4- Additional Products Preview
5- Performance Only version of Serious Moves DVD
6- Internet connectivity
Serious Moves: The Bottom Line
Whether you're a Dennis Chambers fan or simply a fan of serious drumming, I highly recommend this DVD. It will provide you with insight into the mind of one of the great drummer's of our time while allowing you to add some serious moves to your own drumming bag of tricks.
Follow the link to buy this DVD online at a discount: Dennis Chambers: Serious Moves.

Stay loose!
Tiger Bill
Become a Free Member of the largest, most Comprehensive Drum Site on the Web
Learn TigerBill's Innovative Tension Free Drumming and take your chops to the next level
Get TigerBill's Free Info-Packed Newsletter, Monthly Chances to Win Valuable Drum Stuff
& Much More...