Best Products at the
Lowest Prices



TigerBill's Unique
Drum Lessons



Advertise With Us
Contact Us
Link to Us
Newsletter
News & Press Room
Order Info
Permissions & Reprints
Privacy Policy
Products
Register for Free
Welcome




Auctions
Books for Fun
Books for Education
Business
Buying Drum Gear
Chops Challenge
Clinics & Events
Concerts & Tours
Contests
Discount Drum Shop 1
Discount Drum Shop 2
Drum TV Show
Drum n Bass
Drum Skills Evaluation
Fame & Fortune
Famous Drummers
Forums
Fun With Drums TV Show
Gear & Accessories
Gladstone Technique
Healthy Drumming
Hip-Hop / Rap
History & Culture
How To Guides
Interviews
Laugh It Up
Lessons for Free
Loops & Samples
Magazines
Member Links
Merchandise
MIDI Files
Moeller Technique
MP3
Newsgroups
Radio
Record Your Own
Reviews
Schools
Sit-in & Play
Software
Sponsors
Store
Tabs
Tension Free Drumming™
Ticket Sales
TigerBill and Friends
TigerBill's Bio
TigerBill's Gear Picks
TigerBill's Clinics & Events
TigerBill's Drum Shop
TigerBill's Lessons
TigerBill's Place
Tips and Tricks
Videos
Vintage Gear
WFD

Tiger Bill Reviews
Classic Drum Solos and Drum Battles
DVD Volume One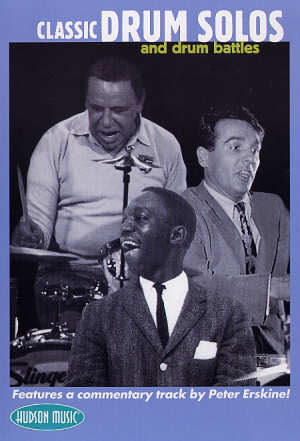 Classic Drum Solos and Drum Battles Volume 1 features 15 drumming greats performing solos and rare drum battles. It contains:
Sonny Payne from 1959: The Count Basie band exits the stage leaving Sonny to play his extended solo, which features single and double strokes on snare and toms along with some kick drum substitutions.
Sam Woodyard from 1962: Plays a tom-tom solo including some elbow pitch control techniques, open rolls between toms, and single strokes.
Joe Morello from 1961: In a clip with the Dave Brubeck Quartet, Joe solos in 5/4 from "Take Five" (still the best-selling single jazz recording in history). Joe begins the solo playing the kit with his bare hands and then picks up his sticks and moves into some speedy crossovers using doubles, paradiddles, and single stroke combinations - and don't miss that left hand chop!
Art Blakey from 1965: Along with his Jazz Messengers, plays a short solo routine featuring his rolling style and concludes with his group.
Rufus Jones from 1965: You'll learn why he was called Rufus "Speedy" Jones in his extended solo with the Count Basie band.
Louis Bellson from 1969: Check out Louie's incredibly clean chops on his extended solo, in which you'll hear shades of Buddy and Gene. You'll especially dig it when Louie solos with the brushes and his ching-a-ling sticks.
Buddy Rich from 1978: They chose a great solo for this one, featuring all the standard Buddy staples - crossovers, kick drum substitutions, incredible hi-hat stickings, and concluding with his closed roll chop.
Jerry Lewis and Buddy Rich from 1955: In a humorous clip, Buddy copies what Jerry plays but needless to say Jerry (a drum buff himself) finds it impossible to keep up with the master.
Gene Krupa and Cozy Cole from 1957: First, in a clip of the rehearsal followed by the broadcast version of a double drum solo lead-in to a Dixieland version of "When the Saints Go Marching In." The clip ends after the drum solo intro.
Gene Krupa, Lionel Hampton, and Chico Hamilton from 1958: The three drummers are featured trading eights.
Sunny Murray, Elvin Jones, and Art Blakey from 1968: Each takes a turn soloing before joining in to take it out together.
Ed Shaughnessy and Buddy Rich from 1978: Have a great time trying to cut each other trading chops in this clip.
Don't stop the video at the credits or you'll miss the final clip of Gene Krupa with Lionel Hampton on the vibes. And after the credits, stay tuned for the bonus theatrical trailer for the 1958 movie, "The Gene Krupa Story."
A special feature of this DVD is the full-length commentary by drumming great Peter Erskine that can be selected at the viewer's option.
Classic Drum Solos and Drum Battles: The Bottom Line
The only fault I found with this DVD was that it was too short! At 60 minutes, I was just getting into it when it ended. Regardless, this is definitely another one that you should have in your collection. Produced by Rob Wallis and Paul Siegel with associate producer Bruce Klauber, this DVD retails for a reasonable $29.95. From Hudson Music.
Follow the link to buy this online at a discount: Classic Drum Solos and Drum Battles DVD Volume 1 or Buy the 2 Volume Set at a special discount online: Classic Drum Solos and Drum Battles, Volumes 1 and 2.

Stay loose!
Tiger Bill
Become a Free Member of the largest, most Comprehensive Drum Site on the Web
Learn TigerBill's Innovative Tension Free Drumming and take your chops to the next level
Get TigerBill's Free Info-Packed Newsletter, Monthly Chances to Win Valuable Drum Stuff
& Much More...
* S I D E B A R *
Links Related
to this Article
Related Links on Site
.

.

.
.

.

.

.

.

.

.

.

.

.

.

.

.

.

.

.

.

.

.

.

.

.

.
Related Links on Web