Tiger Bill Reviews
The Code of Funk
Book with 1 CD and 2 DVDs
by David Garibaldi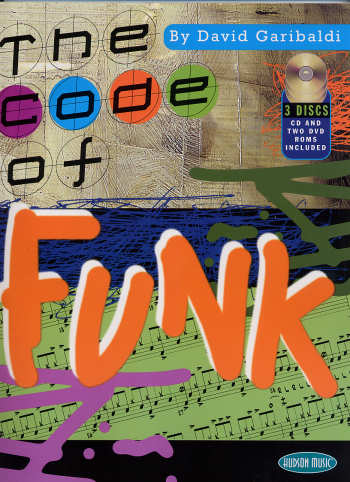 One of the first bands I toured with specialized in cover songs from a group called Tower of Power and, because of that, I became an instant fan of TOP's drummer - David Garibaldi. Back then, he impressed me an an incredible funky drummer with a mastery of odd beat displacement that I hadn't quite heard the likes of before. After an 18 year break from TOP, David Garibaldi is back and, as far as I'm concerned, it's about time. He's as cookin' as ever!
This book features David's transcriptions of eight songs from TOP's most recent album. One Audio CD and two DVD-ROMs make up the remainder of this state-of-the-art educational package. Let's check it all out.
The State-of-the-Art Oakland Zone
The included Audio CD contains the same eight songs transcribed in the book. All tracks are from Tower of Power's album Oakland Zone (from Or Music) and contain the complete band minus the drum track so you can have all the fun of sitting in with TOP.
All audio files are 48 Khz 16-bit in both AIFF format (for MAC users) and WAV format (for PC users). As a quickstart, you can browse all of the included audio files with the media player that comes with your computer, such as Windows Media, Quicktime, or RealPlayer.
The state-of-the-art technology comes into play with the two included DVDs. The first DVD is a Hybrid (DVD Video + DVD-ROM) containing audio file loops that can be remixed, looped, and tempo changed without changing pitch using the appropriate software. Sony's Acid Xpress® is recommended for the PC, mainly because it is available as a free download from Sony if you don't already have it, and GarageBand® for MAC users, because it is bundled with most new MAC computers. (GarageBand® loops are included as pre-saved GarageBand sessions with the files input at the correct tempo all ready to go.) The loops are short segments taken from each of the eight tracks on the Oakland Zone album and feature the band minus drums plus six other tracks of Garibaldi's drums separated into kick drum, snare drum, stereo overheads, and stereo hi-hat/toms sub mix. The DVD also includes an extensive video tutorial and a 'readme' file to help you get up and running quickly. In addition , a Flash player is included that links you to Web sites of the audio software that can be used with these DVDs.
Disc Two is a DVD-ROM that contains Multi-Track files full length versions of the songs from the Oakland Zone album with a stereo music track, stereo overheads, hi-hat/tom mix, kick, and snare. These files can be remixed and used in multi-track software such as Pro Tools®, Nuendo®, and Cakewalk®.
Also included are Multi-Track Audio Stems that include a stereo music track minus drums plus six tracks of Garibaldi's drums that include overheads, hi-hat/toms, kick and snare. When imported into multi-track audio software, you can remix tracks and mute tracks at will. This provides hours of fun and additional study for those who want to breakdown and learn exactly what Garibaldi is playing and/or playing along yourself without drums or with any track or tracks that contain Garibaldi's drum part.
Table of Contents
After a section on Techniques and Tips, where David discusses the development of the various sound levels for the hi-hat, snare, and kick used in funk drumming, there are eight main chapters, one for each song from the Oakland Zone album (included on the Audio CD). Each of these chapters contains the complete transcription of Garibaldi's part, by David himself, proceeded by a breakdown of the basic groove for each song and explanations of any tricky parts.
The final chapter of the book consists of a Suggested Listening list of great funk/R&B drum recordings according to David.
The Bottom Line: The Code of Funk
It was only a matter of time before someone advanced the art of drum education through the use of loopable and multi-track files and this book is a first. I found myself spending hours playing with the included files and they are, along with the written transcriptions in the book, a great help in better understanding one of the greatest drummers in the history of funk - David Garibaldi. The more time you spend with the book and the included files, the more you'll get out of it. I highly recommend it not only for fans of Tower of Power or funk in general but for all drummers, regardless of style.

Stay loose!
Tiger Bill
Become a Free Member of the largest, most Comprehensive Drum Site on the Web
Learn TigerBill's Innovative Tension Free Drumming and take your chops to the next level
Get TigerBill's Free Info-Packed Newsletter, Monthly Chances to Win Valuable Drum Stuff
& Much More...