Tiger Bill Reviews
World Fusion Drumming
By Skip Hadden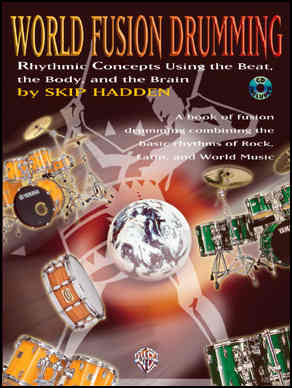 The author of this book, Skip Hadden, uses his experience in performing with artists such as John Abercrombie, Jimmy Smith, Sonny Stitt, Weather Report, and others to bring us his take on World Fusion Drumming. In addition to his practical playing experience, Skip has been a professor of percussion at Berklee College of Music in Boston since 1982.
In this book, Skip separates each main fusion style into three basic components; The Beat (the basic rhythmic pattern), The Body (using the "Mix N Match" system), and The Brain (putting it all together).
Let's Check it out.
The Beat, The Body, The Brain
In each of the six main styles covered (Samba, Baião, Songo, Nañigo, Shuffle, and 6/4 Samba) Skip breaks down the lessons into steps that help you develop each pattern from its basic groove and progressing into various time patterns and fills. He includes many ideas for creating variations using a "Mix N Match" system of combining the various limbs to play different parts of the time and fill patterns.
Also included in each main style chapter are valuable lists of listening examples, video examples, and additional references.
Bonus CDs
The two included audio CDs contain examples of Skip demonstrating his approach to the various steps detailed in each chapter of the book. In addition, Skip plays each of the styles in a musical context with a band of international musicians consisting of Giovanni Hidalgo (congas and percussion), Alain Mallét (piano), Victor Mendoza (vibes), Alberto Netto and Hector Quintañilla (percussion), and Oscar Stegnaro (bass).
World Fusion Drumming: The Bottom Line
This book contains an ideal systematic approach to World Fusion Drumming that allows you to become thoroughly familiar with the grooves, time patterns, and fills in each of the included musical styles.
I recommend it for drummers of all experience levels from beginners through advanced.
This book and dual audio CD combination, from Alfred Publishing, is definitely worth its retail price of $19.95. As always, it can be purchased at a additional discount at:
Until next time: Stay loose.
Become a Free Member of the largest, most Comprehensive Drum Site on the Web
Learn TigerBill's Innovative Tension Free Drumming and take your chops to the next level
Get TigerBill's Free Info-Packed Newsletter, Monthly Chances to Win Valuable Drum Stuff
& Much More...