Tiger Bill Reviews
Jeff Queen Playing With Sticks
DVD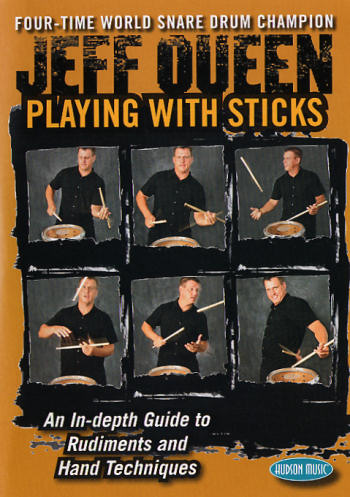 This DVD features four time solo snare drumming world champion, Jeff Queen, with his approach to developing hand technique through rudiments.
Let's check it all out.
Main Chapter Selection
The DVD is divided into three main sections, each of which contain sub-chapters as follows:
--Fundamentals--
#1: Fundamental Concepts - Grip & setup, front & back of the grip, cushioning the stick, and tap hum. Although you may not be familiar with some of Jeff's terminology (tap hum, for example) this segment covers the basics of holding the sticks and listening for the evenness of sound that separates the average banger from the artist drummer.
#2: Height System - Jeff demonstrates the various levels he uses when playing.
#3: Sound Production - Importance of producing even sounding strokes.
--Technique--
#4: Basic strokes - Full Stroke, Down Stroke, Tap Stroke, and Up Stroke.
#5: Moeller Stroke - The traditional Moeller Stroke, explained in detail.
#6: Velocity Stroke - According to Jeff, a very "muscle intensive" stroke.
#7: Moeller vs. Velocity Stroke - A comparison of the two techniques.
#8: Note Groupings - Breaking down any pattern into a series of note groupings.
#9: The Grid & 4-2-1 - The grid is simply a system of moving accents through a particular grouping of notes in order to mathematically produce all possible permutations. Jeff demonstrates the grid using sixteenth notes, triplets, and shows how it can be applied to the drumset.
#10: Timing - 16th note and triplet permutations played separately and together. Includes the basic polyrhythms of 2 against 3 and 3 against 4.
#11: Buzz Control - Developing a good buzz roll.
#12: Diddle Control - Exercises for developing the diddle rudiments.
#13: Flam Control - Tips on developing a clean flam sound for flam rudiments including various grace note interpretations.
#14: Grid II - Adds a diddle to the original accented grid table to create more challenging exercises.
#15: Hybrids - Jeff demonstrates some of his hybrid rudiments, which are simply non-standard rudiments that you can create by adding sticking variations to the standard rudiments.
#16: BackSticking & Tricks - Includes backsticking, stick tosses, stick switching, stick on stick, etc.
#17: Speed Techniques - Exercises for developing faster singles, diddles, and rolls.
--Solos--
#18: Solo Construction - Basic template for constructing your own rudimental-style solo.
#19: Improv/Brainstorming - Tips for coming up with new solo ideas.
#20: Three Camps - Jeff breaks down and performs a standard standard solo classic first at normal tempo and then an ultra fast version.
#21: Downfall of Paris - Jeff breaks down and performs another popular rudimental solo followed by some improvisation using stick tricks and a hi-hat.
#22: Modulation - A solo composed by Jeff.
#23: Tribute - An extended version of the solo Jeff composed and played in competition.
Bonus Section
This contains lots of practice tips, developmental exercises, gear talk, more snare drum solos, improvs, pad solos, commentary by Jeff on selected solos, PDF exercises for PC and MAC computers with DVD-ROM drives, photo gallery, and more.
Playing With Sticks: The Bottom Line
At a total running time of 3 hours and 36 minutes, this DVD provides an in-depth study of rudiments and varioud hand techniques that are especially useful to those interested in drum corps and/or rudimental competitions.
Along the way, Jeff Queen introduces valuable material that all drummers can use to improve their chops, including drumset players regardless of style. I would recommend this DVD to anyone on the basis of the exercises alone.
While an excellent value at its suggested retail price of $29.95, this Hudson Music product is available at a substantial discount from:
Jeff Queen - Playing with Sticks: An In-Depth Guide to Rudiments and Hand Techniques
Until next time: Stay loose.
Become a Free Member of the largest, most Comprehensive Drum Site on the Web
Learn TigerBill's Innovative Tension Free Drumming and take your chops to the next level
Get TigerBill's Free Info-Packed Newsletter, Monthly Chances to Win Valuable Drum Stuff
& Much More...