Tiger Bill Reviews
The Living Art of Brushes
By Clayton Cameron
Brushes Are Back!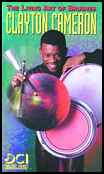 Are there any true brush artists left? Sure, most of the older drum greats still have the touch but as far as the new guys go, it's a pretty disappointing scene. And instructional material that concentrates on brushwork is rarer still. That's why I was intrigued when I first heard about Clayton Cameron's video, The Living Art of Brushes. If you're not familiar with Cameron's drumming, he has worked with the likes of George Shearing, Joe Pass, Joe Williams, and Tony Bennett to mention a few (Refer to the Related Links sidebar for more on Clayton).
I've always liked playing brushes. I find it challenging and a lot more fun to play around with than sticks, especially when backing up a singer on a soft ballad (You can play a lot more fun stuff without the singer yelling at you). Clayton obviously likes the brushes too, as he devotes his entire video to showing us tips, tricks, and techniques strictly for the brushes. Let's check it out.
The Brush Solo
Clayton opens with a sweet and flashy brush solo. Ah, the brush solo is a technique that's sadly missing from the repertoire of many of the newer cats on the scene. Anyway, the solo serves to get your attention and introduce you to the brush techniques you'll be learning later on.
After the opening solo, Clayton explains how the different parts of the brush can be used to create various sounds. He also gives some good tips on how to select a good pair of brushes and even how to prepare a new drumhead to give you the best possible brush sound.
Clayton also throws in some interesting brush history telling us, among other things, that the daddy to our modern brush is the flyswatter!
Basic Brush Patterns
They're just about all here, from basic patterns to some cool ones you probably haven't seen before. Not only are the patterns explained in detail, including on-screen graphics outlining the correct motion, but you're also given tempo recommendations for each pattern. It all adds up to easy to follow and thorough instruction.
Specialty Strokes
Clayton teaches a niece assortment of specialty strokes on this video, including the Rim Roll, Rim Flex, Snap Accent, Trill, Butterfly Flex, Tip Tap, Windshield Wipers, and others. Although some of these techniques require lots of practice in order to perform them properly, you're sure to have lots of fun and learn a lot about brushes along the way.
Practical Performances
Throughout the video, Cameron demonstrates practical applications of the brush techniques in performances with a trio, made up of Billy Childs on piano and James Leary on acoustic bass, who alternates with Reggie Hamilton on electric bass. They play songs from Charlie Parker to Billy Childs.
The Brush Bottom Line
Brush technique is getting to be a lost art and I for one, would hate to see it become totally extinct. Just pick up a pair of brushes and play around with them. Not just on the snare, try them on the toms, the cymbals, and even on the bass drum head. You'll be surprised to find what cool sounds you can come up with.
Clayton Cameron's video fills a definite void in quality brush instructional material and, whether you're a beginner or a pro, I think it's just what the doctor ordered. I'm sure it'll start your creative juices flowing.
Watching his performance throughout the video, you can tell that Cameron has put in some serious brush time in the woodshed. It makes me wanna pick up my brushes and start swinging along. I'm sure it'll do the same for you. And the next time you have to backup a fussy singer on a soft ballad or the club owner gives you that "too loud" look, just pull out a pair of your flyswatter's offsprings and start wailing.
Note: The Living Art of Brushes is no longer distributed by Warner Bros. Publications. Contact Clayton Cameron's Web site (click on Living Art of Brushes in sidebar) for info on availability or check at the following link for a used copy:
Until next time: Stay loose.
Become a Free Member of the largest, most Comprehensive Drum Site on the Web
Learn TigerBill's Innovative Tension Free Drumming and take your chops to the next level
Get TigerBill's Free Info-Packed Newsletter, Monthly Chances to Win Valuable Drum Stuff
& Much More...