Tiger Bill Reviews
Playing with Precision and Power
DVD
By Chris Coleman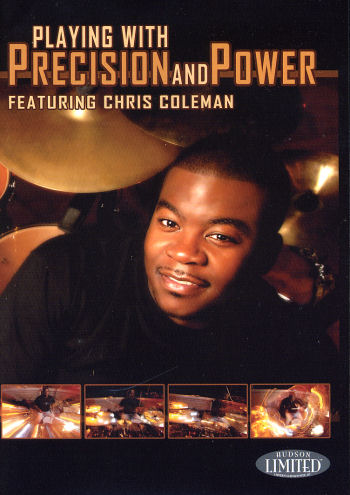 Playing with Precision and Power is a DVD featuring Chris Coleman former Guitar Center Drum-Off winner and Drummers Collective graduate.
Let's check it out.
Main Chapters
Note that the DVDs on the Hudson Limited label are products that have been produced by other companies, such as this DVD produced by Drumworks, Inc., and are distributed by Hudson Music under the Hudson Limited label. Following the introduction by Todd Wilson, the President of Drumworks, Inc., the DVD is arranged into14 chapters as follows.
Agape 4 Afro-Centric - Chris plays this original Latin style tune accompanied by a live band featuring Eddie M. on Sax, Marvin Thompson on trombone, Raymond McKinley on bass, and Natalie Ragins on keys.
Joshua 5:9 - Another instrumental written by Chris and played with the band. This one is in a slow swing style.
Interview with Chris - Part one of an interview with Chris by Todd Wilson, President of Drumworks, Inc., covering motivation, influences, and role models.
Da Hump - A funk style tune written by Chris and played with the live band.
Bayou Bop - New Orleans style tune written by Chris and played with the band.
Interview with Chris - Interview concludes.
Bass & Drums 1 - This instructional segment is specifically for drummers and bass players and features Chris and bassist Raymond McKinley (from Tower of Power). Chris demonstrates how to "listen" to the bass player to enhance the groove without stepping on it and vice versa, with the bass player picking up from the drummer's groove.
Bass & Drums 2 - Concludes with Chris and bassist Raymond McKinley discussing and demonstrating various approaches to playing along with electronic sampler loops.
The "ABC" Method - Chris presents his practice method that he developed to help drummers become more effective players and increase their capabilities on the drumset. This chapter incorporates charts included on the supplemental DVD-ROM section of the DVD. The "ABC" method basically consists of three parts, as follows.
Section "A" - The basic foundations of drumming including rudiments, sight reading, and note values.
Section "B" - Chris applies his "legend" to the book Stick Control by George Lawrence Stone to develop independence using the 5 limbs (which include your mouth for counting).
Section "C" - In the musicality section you learn to use everything from the first two sections in musical situations, which should be the ultimate goal of the drummer.
Jessie Caraballo - This segment features a performance by drummer Jessie Caraballo.
Chris' Drum Solo - The DVD concludes with an extended drum solo by Chris Coleman.
Bonus Supplements: If you view the contents of the DVD on your computer you'll find three PDF files that go along with the instructional portions of the DVD. They include Single Paradiddle notation, Chris' Note Value Chart, and Combination Study.
Playing with Precision and Power: The Bottom Line
This DVD, with its total running time of 117 minutes, is a mix of performances by Chris with a live band of top musicians plus instruction, which leans more heavily toward the performance side. I recommend the instructional section on Chris' "ABC" method for drummers who are interested in expanding their practice ideas and the Drum & Bass segments for beginning drummers who are learning to interact with bass players - the second most important member of the rhythm section!
This DVD, from Hudson Limited, is a good value at its suggested retail price of $29.95 and can be purchased from:
Until next time: Stay loose.
Become a Free Member of the largest, most Comprehensive Drum Site on the Web
Learn TigerBill's Innovative Tension Free Drumming and take your chops to the next level
Get TigerBill's Free Info-Packed Newsletter, Monthly Chances to Win Valuable Drum Stuff
& Much More...