Tiger Bill Reviews
Russ Miller on CD
Question:
What do Ray Charles, Nelly Furtado, The Fifth Dimension, and The Bee Gees have in Common?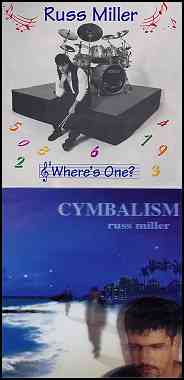 Answer? Russ Miller, who has played drums for all of them and for hundreds of other international superstars. Russ is regarded as one of the world's top touring and session drummers. He is also the author of three books and a video by Warner Bros. Publications. And if that weren't enough, Russ also writes music and has produced two solo albums Where's One? and Cymbalism on his own label, R.M.I. Music Productions, Inc. (Cymbalism is distributed by Warner Bros. Publications.)
Russ is a very versatile drummer who seems to be able to play any style, and that ability shines through on both of these CDs. I recently had the chance to listen to them and this week, I review them both.
Where's One?
The first three tunes on this CD has Russ moving from straight ahead funk on Always There, to a shuffle on a tune he co-wrote called Beantown Boogie, and into a Latin-jazz-funk vein on another tune he co-wrote called Domanica.
Check out a streaming audio sample of Always There
(Don't have RealPlayer? Download it free)
Throughout this CD, Russ seems very much at home in each of these musical genres. I especially enjoyed Russ's original composition Sticks and Tones, which juxtaposes drums and various percussion instruments.
From the cool ostinato pattern in Wildlife to the funky groove of Don't Bust My Chops, another one co-written by Miller, the listener is treated to a wide range of musical styles and emotions. And don't miss the final tune by Russ, Where's One? He must have had a lot of fun with this one, as he constantly shifts the place where we'd expect the beat of one to be.
The world class musicians appearing on this CD with Russ Miller are Ed Calle, Rick Krive, Randy Ward, Greg Drew, Jim McCreavy, Ed Maina, Bobby Pruitt, Richard Bravo, Ramon Casales, John Bailey, Charles K. Santiago. This CD was produced by Carlos Guzman and Russ Miller. Associate Producer was Andrea Kaufman.
Cymbalism
This is the newest CD on Russ Miller's label to date and was produced, engineered, and mixed by Russ himself. Rique Pantoja co-produced.
This one opens up with Russ laying down a funk groove on a tune called Hey Bif. The next one, Mestizo, was written by Russ and has a neat, slow 12/8 funk feel to it. Go Jo provides Russ with an opportunity to play a funky shuffle feel and Beincadeira has Russ pumping out a funky Latin flavor.
Beggin' is a funky ballad featuring Kevin Wyatt and Christine Miller (Russ's wife) on vocals, as Russ plays along on both acoustic and electronic drums.
Salseada is, as the name implies, a salsa-ish tune that has lots going on between the drums, timbales, and various percussion instruments.
Check out a streaming audio sample of Salseada
(Don't have RealPlayer? Download it free)
Frigiano and High Tide are both fun numbers that give Russ a chance to stretch out on some cool fills and musical interactions with the rest of the band.
Cymbalism, written by Russ, is a musical statement using acoustic and electronic drums, percussion, vocal sound bytes, and synthesizer. All performed by Russ.
Buy-Own? This bonus track is a live recording of the Russ Miller Band with Richie Garcia on Percussion, George Shelby on Sax, Jon Papenbrook on Trumpet, Bart Somolis on Bass, and Alan Silva on Keyboards. Written by Russ and Rick Krive, this tune features ample room for Russ to show us what he's got. And he's got quite a lot to show drummers everywhere.
Personnel on this CD include: George Shelby, Rique Pantoja, Guillermo Guzman, Don Patterson, Joe Diblasi, Lee Thornburg, Kevin Wyatt, Richie Gajate Garcia, and Christine Miller.
The Bottom Line
Whether you dig drums or you just dig good music, I think you'll like these CDs. I did. Russ can really play and these tunes give him the chance to stretch out. His drum fills are always right on – neat, clean, and precise. In addition, Russ has employed a cast of top musicians on both of these CDs.
Although I reviewed the standard version, there is also a version of Where's One? that comes with drum charts and without drum tracks, so you can get some valuable play-along practice. Both of these CDs are available directly from Russ Miller's Web site. Check them out. (See the sidebar.)
Until next time: Stay loose.
Become a Free Member of the largest, most Comprehensive Drum Site on the Web
Learn TigerBill's Innovative Tension Free Drumming and take your chops to the next level
Get TigerBill's Free Info-Packed Newsletter, Monthly Chances to Win Valuable Drum Stuff
& Much More...