Tiger Bill Reviews
Pure Energy
DVD
By Tony Royster Jr
A DW DVD distributed exclusively by Alfred Publishing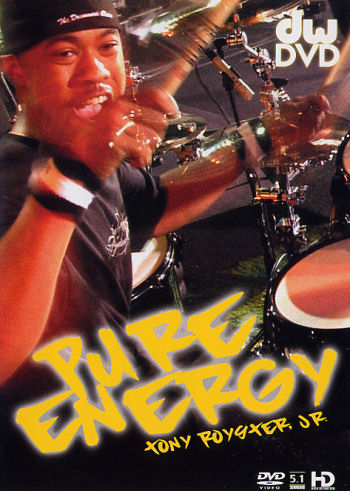 Young drumming sensation Tony Royster, Jr. who, at the age of 14, amazed audiences with his exciting performance on hist first DVD Common Ground with Dennis Chambers, has grown up. He is now featured on a new DVD and his playing is still great and continues to be instilled with Pure Energy.
Let's check out this DW DVD produced in High Definition video and 5.1 Surround Sound.
Education Plus Performance
In addition to the usual Play All menu, the DVD is divided into an Educational Videos and Performance Videos section.
Education Videos
Consists of the following chapters:
Title/Introduction: Intro by Tony.
The Basics: Tony briefly mentions the drumming basics that are most important to him.
Warming Up: Tony talks about the importance of stretching before playing and demonstrates some of his favorite warm up exercises first on the snare drum and then incorporating the toms. Also includes foot warm-ups and hand and foot combinations.
Playing to Loops: Tony's plays to loops at various tempos but there is no option for the listener to play along to the loop minus Tony's drums.
Practicing: Brief tips on making the most of your practice time.
Developing Speed: Tips for developing speed. Includes the Traditional Moeller Method as taught to Tony by Jim Chapin.
Building a Solo: A discussion of Tony's approaches to building an interesting solo.
Tony's Solo: A solo demonstration. Watch Tony for his Right Hand on Snare/Right Foot on Bass Single Stroke Roll, a technique he picked up from Tony William's no doubt! (Check out my Video Speed Lesson on Drummagazine.com for a break down of this particular Tony Williams technique.)
Tony & Nisan Stewart: A give and take solo demonstration between Tony Royster, Jr. and Hip-Hop drumming superstar Nisan Stewart interspersed by interviews with Tony and Nisan.
Mentors & Influences: Tony talks about his mom and dad's influence (his mom plays drums!) and other drummers who provided inspiration.
Closing /Credits: Tony's final tips and thank you to his band Inside Out who provided the music for the performances.
Performance Videos
Consist of the following songs with Tony on drums backed by his band Inside Out featuring Aaron Clay, Derek Scott, and Daniel Moore:
Buddha
Buddha Alt. Angle
Our Way
Our Way Alt. Angle
Sharda
Sharda Alt. Angle
Rekindled
Rekindled Alt. Angle
Tony & Nisan Alt. Angle
Kicksville
Kicksville Alt. Angle
Bonus Features
Include behind the scenes footage, D2 Trailer (The Duets encore performance - Bozzio & Wackerman - DW DVD's first full-length feature release), Tony's Drum Set-Up, Photo Gallery Slideshow, and Alternate Angle access to the entire DVD.
Bottom Line: Pure Energy DVD
The Bottom Line is that the performance section is the strong suit of this DVD. The educational section may provide beginners with some valuable information but won't reveal anything new to intermediate or advanced players.
Fans will be the most likely to get the most out of this DVD as it provides a glimpse into Tony's own practice routines in addition to his excellent ensemble playing and solo performances.
While Royster fans may find enough value in 93 minutes of total content to be worth the retail price of $39.95, others will probably be happier purchasing thos DVD at a discount, which can be found at:
Until next time: Stay loose.
Become a Free Member of the largest, most Comprehensive Drum Site on the Web
Learn TigerBill's Innovative Tension Free Drumming and take your chops to the next level
Get TigerBill's Free Info-Packed Newsletter, Monthly Chances to Win Valuable Drum Stuff
& Much More...