Tiger Bill Reviews
Inspiring Drummer Series: Common Ground
DVD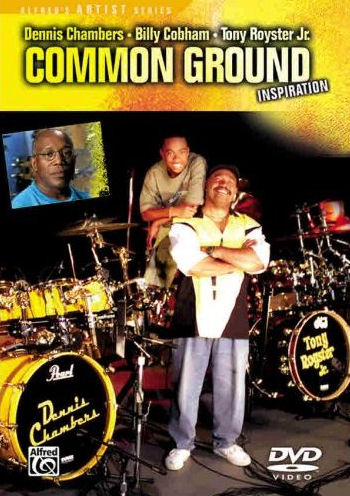 I've always felt that creativity is the single most important aspect of playing any musical instrument, especially the drums. But sometimes drummers get into a rut. For example, guys who love how Buddy Rich plays, often tend to sound like Buddy. And while imitation is the sincerest form of flattery, it's also the fastest way to failure.
If you have ever wished for inspiration, your wish has just come true. This week, I review Common Ground - an innovative DVD/CD package from Alfred Publishing that will inspire you to new heights in practice and performance.
Through interviews and sessions recorded specifically for the video, plus rare live performance clips, Common Ground brings together drummers from three generations who demonstrate their playing styles and reveal the source of their creativity.
The DVD features Funkster Dennis Chambers and Tony Royster Jr., the 14-year-old drumming sensation from Georgia. Drum innovator Billy Cobham joins them via interviews and rare live footage.
Included with the Common Ground DVD is an audio CD that contains two versions of each of the eight songs. The duplicate songs are minus the drum track so you can play along yourself. If you caught my article Music Minus One for Everyone, you know how important I think this type of practice is.
As far as the rest of the package goes, Drummer/Composer Bob Gatzen wrote all of the songs, programmed the music, and produced the video. In addition, Steve Shapiro plays Vibes and Marimba, Jeff Pevar plays Guitar, and Don Wallace plays Bass on four of the tracks. Let's take a closer look at what you get in Common Ground, song by song.
The Inspirational Details
Intro: Dennis and Tony both play on this well-choreographed give-and-take drum filled introduction. After the music, the drummers stress the importance of diversification (See the sidebar for my article, There's Gold in Them Thar' Rhythms!). You're also treated to some clips of Dennis playing with the Buddy Rich Band, P-Funk All Stars, and others.
Alive on 5: Dennis is playing, minus Tony, on this tune in 5/4 time. Listen closely and you'll realize that the complicated sounding sticking patterns Dennis plays, are nothing more than simple paradiddles and other rudiments played with each hand on a separate instrument.
Niles: Tony gets to wail without Dennis on this tune in 4/4 time. His use of offbeat Jazz-Funk type syncopated rhythms shows the influence of mentor Chambers. Following this one, Tony's parents offer tips on how to deal with a gifted child like Tony. (I appreciated this info, as I've got a 10-year-old of my own who's smokin' up the skins).
Mort Pepper: Tony is again the lone drummer on this straight-ahead Funk tune, with plenty of "holes" for Tony to fill and show off his solo ability. After this one, we're treated to a rare clip of Billy Cobham playing with the Mahavishnu Orchestra on his set of Fibes see-through Crystalite drums. (You older dudes should remember those). We even get Billy's take on how to get opportunity to come knocking on our door.
D-Man: Here's a Jazzy groove where Dennis gets his turn to fill over the programmed music track. This is followed by separate interviews with the three drummers, where we get their takes on inspiration (which according to Cobham comes from "Cartoons"), gratification, innovation, motivation, and staying positive. The two seasoned drummers also offer some advice to young Royster.
The Trip: Tony again takes center stage, cookin' over a simple, rhythmic background pattern and filling in all the right places. If you watch carefully you'll see Tony give a quick twirl of the stick, showing that he knows how to please both the visual and auditory senses.
6 or 4: Dennis is alone on this one and seems to have lots of fun with it. Great stuff.
Tony Drum Solo: Royster plays an extended drum solo here (5 minutes and 20 seconds), and shows impressive technical ability - especially considering that the kid is 14-years-old! Unlike some other drum videos that are marred by innovative and awful camera angles, the camera work on this video is excellent. You get to see exactly what you want to see, from close-ups of Tony's hands down to his double bass drum feet.
Dennis Drum Solo: Chambers gets to stretch out (for 5 minutes and 6 seconds), and is a pleasure to listen to. Again, kudos to the camera work that lets us see exactly what's going on.
Outro: Tony and Dennis take it home in this outroduction. They trade two's for a while, and then Dennis lays down the background beat as Tony solos to the end.
Common Ground: The Bottom Line
If you are looking for specific ABC-123 type exercises to develop your ability on the drum set, you won't find it here. But if you're looking to pick up some new ideas and be inspired and motivated to play better, Common Ground is for you.
I highly recommend it for anyone, from beginner to pro. Aside from respect for the ability of the kid from Georgia, and an opportunity to see the talented Cobham and Chambers in action, this package really gives your your money's worth! For $39.95 you get more than an hour of video plus an audio CD, which includes the original mixes along with drum-less ones you can jam with.
Check it out. These days there are way too many skimpy drum videos that make you wanna say, "Hey, where's the beef?" With Common Ground you get all beef: A thick, juicy filet mignon. Hmmm. Now I went and made myself hungry.
For an even better bargain, purchase this online at a discount: Inspiring Drummers Series: Common Ground

Stay loose!
Tiger Bill
Become a Free Member of the largest, most Comprehensive Drum Site on the Web
Learn TigerBill's Innovative Tension Free Drumming and take your chops to the next level
Get TigerBill's Free Info-Packed Newsletter, Monthly Chances to Win Valuable Drum Stuff
& Much More...