PAS Connecticut Day of Percussion 2003
Part One
About the PAS
The Percussive Arts Society (PAS) is "a music service organization promoting percussion education, research, performance, and appreciation throughout the world."
Members of the PAS receive many benefits and privileges, including: Subscription to Percussive Notes and Percussive News; discounts to PASIC; notification of annual competitions, contests, scholarships, and local chapter activities such as the annual Day of Percussion that features the world's top drum and percussion talent. I support the PAS through my membership and I encourage you to do the same. There's even a special online ePAS membership available. (Check out the Percussive Arts Society in the sidebar for more details.)
The Connecticut Chapter Day of Percussion was hosted by PAS chapter President Jim Royle (and owner of the Jim Royle Drum Studio), at Fairfield High School. Along with a terrific lineup of drumset artists, I was looking forward to a performance by James Walker (our own online Mallet Forum moderator) was going to be using his Xylosynth, by Wernick Musical Instruments, Inc. Here, in words, photos, audio, and video, is the scoop for those of you who could not attend.
After impressive opening performances by Elementary and Middle School Percussion Ensembles, the pros took to the stage.
Note: All video clips below require Windows Media Player, which is normally installed with the Windows OS or you can download a free copy here. All audio clips require the RealPlayer, which you can download for free from here.

Nick Petrella
Dr. Nick Petrella is not only a professional percussionist but also the Director Of Education for Sabian, the cymbal makers. Nick's informative clinic covered his area of expertise, multiple percussion.
He challenged the audience to get rid of old paradigms and think about percussion in a new light. To drive his point home, Nick performed a piece on Marimba and then pointed to the instrument and asked the audience how many instruments they saw. The correct answer? Not one, but 61 separate instruments. Nick explained that each bar should be considered a separate instrument.
This multi-percussion clinic included information for beginners and advanced players alike. Here is just a sampling of what Nick covered in his one-hour session:
Various styles of music notation that today's multi-percussionist needs to be familiar with, including spatial and graphic notation.
How to choose effective substitutions for instruments originally recommended for a musical piece and how concert hall acoustics affect instrument selection.
Tips and tricks on multi-percussion instrument setup.
Tips for constructing your own mallets to improve your performance of difficult percussion pieces.
Reasons that mallet and percussion players should learn all four major grips: Cross Stick, Musser, Burton, and Independent.
How the use of fluid body motion can greatly improve the performance of a multi-percussion piece. (Nick's own training in Kung Fu is what led him to develop this method and he suggests that every percussionist study a Kung Fu or Tai Chi style martial art as a way to improve their percussion playing.)
Musicality: Nick revealed the subtle secrets that can take the average percussionist to the expert artist level.
Here are some video excerpts from Nick's clinic performances:

Video excerpts of Dr. Nick Petrella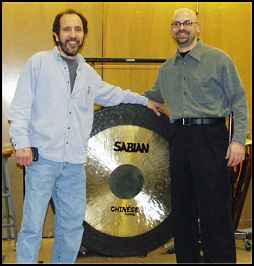 Tiger Bill and Dr. Nick Petrella
See the sidebar on this page for more about Dr. Nick Petrella.
Johnny Rabb
Next up was Johnny Rabb. I first became aware of Johnny when he, using a device called the Drumometer, won the title of "World's Fastest Drummer" for the Guinness Book of World Records. Since then, he has always been on the move. He travels the world doing clinics, he has performed with artists such as Tanya Tucker and Hank Williams III, and that's just for starters. He has published his own instructional drum videos, books, and a solo CD. He's also the designer of The Rabb Pack cymbal set (for the Meinl company), and he invented the RhythmSaw drumstick. Johnny, along with his former partner, also shared in the design and manufacture of drumsticks and accessories sold under the name of johnnyraBB Drumsticks. However, according to Johnny, his partner decided to call it quits and the company is now out of business. But "minor" obstacles like this are nothing for Johnny because he's a man with a mission.
Check him out in this exclusive footage that I shot of Johnny's performance (thanks again to Johnny for granting me the video permission):

Video excerpts of Johnny Rabb
Although the basis of what Johnny calls his FreeHand Technique has been around for many years, I have never seen anyone who has developed it to the degree that Johnny has. When I asked him how long he had been working on the technique, he had this to say: "Since 1995 I've really been working on it, but now I need to start taking it further. I have a video out on it now but I'm also doing a DVD with Warner Bros. on it because I want to make it more in-depth." I definitely can't wait for that DVD to come out and, as I told Johnny, I'll be the first to review it. Here's a sample of Johnny's FreeHand technique in more exclusive video from his clinic:

Exclusive! Video of Johnny Rabb Demonstrating His FreeHand Technique

Video of Johnny Rabb demonstrating his RhythmSaw Sticks
Also, during the clinic, Johnny introduced me and the rest of the audience to a cool gadget called the MadPlayer. What is it? It is truly a "unique" device (and I don't use that word lightly) that allows you to create royalty free music from a box that looks like a Game Boy Advance! (I'm "playing" with this terrific gadget right now and I'll soon be posting a detailed review on it. Stay tuned.)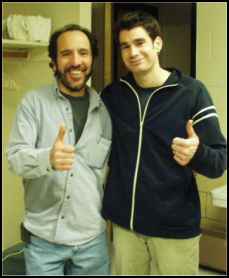 The Tiger with Johnny Rabb
What more can I say about Johnny? The excerpt of his performance speaks for itself. Plus, he's a great guy to boot. If you ever get the chance to catch Johnny Rabb live, don't miss him!
Jim Royle Drum Studio & WSCU Percussion Ensembles with Special Guest: Liam Teague
This concert performance included talented students from Jim Royle's Drum Studio (refer to the sidebar for more info), the WSCU percussion ensemble, and Liam Teague. Liam, currently on the faculty of Northern Illinois University, is an expert in Steelpan and has been called the "Paganini of the Pan." Check out the Liam Teague Steel Drum Clinic in part 2 of this feature article for my interview with Liam.
This concert showed the results of hard work, as it literally defined the word "ensemble," with all players in perfect precision. Impressive. Here are some sample audio clips:

Audio Clip of Liam Teague performing with the Jim Royle Drum Studio and WSCU.
(Don't have RealPlayer? Download it free)
Dave Smith & the Western Connecticut State University Percussion Ensemble
Dave Smith and the Western Connecticut State University Percussion Ensemble were next up and they gave a terrific performance, with solid support from Trevor Somerville on the drumset.
Click the following link for Connecticut PAS Day of Percussion 2003: Part 2!
Become a Free Member of the largest, most Comprehensive Drum Site on the Web
Learn TigerBill's Innovative Tension Free Drumming and take your chops to the next level
Get TigerBill's Free Info-Packed Newsletter, Monthly Chances to Win Valuable Drum Stuff
& Much More...