Sabian Vault Tour 2004
For the first time in history, Sabian brings their Cymbal Vault to YOU!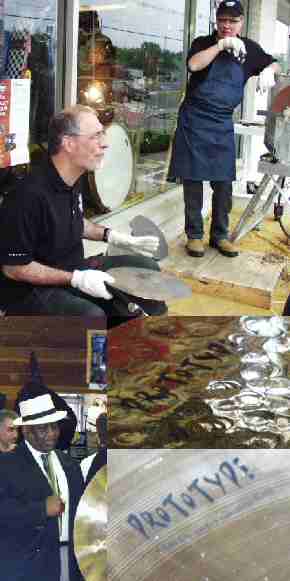 Clockwise starting in the upper left is Dom Famularo trying his hand at hammering a cymbal, Master Cymbalmaker Allie Cougle, and the legendary Bernard Purdie.
(Photo by www.TigerBill.com)
One of the main reasons that SABIAN produces such great sounding cymbals is because they listen to the DrumHeads of the world - not only the 'famous' ones but all DrumHeads, everywhere. Although the basis of their technology is an ancient art, they realize that times are changing and cymbals have to change too and they aren't afraid to try new ideas. That's why I'm proud to be a SABIAN user and endorser myself. And that's why I was excited to hear about this latest SABIAN venture.
The SABIAN Vault Tour 2004 is another example of a company that isn't afraid to try new things. SABIAN has literally taken their entire factory on tour (echoes of TigerBill's DrumBeat on Tour?) and it couldn't be cooler for drummers everywhere! Now, you have the chance to sample all the same prototype cymbals that only artists visiting the SABIAN factory in Canada used to have access to. And SABIAN has pulled all the stops for this tour from constructing a mini-version of their cymbal lathe so you can see exactly how the cymbalmaking process works, to having Dom Famularo perform.
But enough of the text talk. Click on the video link that follows to witness a sampling of the SABIAN Vault Tour 2004 for yourself.

Video of SABIAN Vault Tour 2004
Was that cool or what? Click on the links in the sidebar on this page to find out when the SABIAN Vault Tour will be coming to a music store near you. When it does, don't miss it! It's even better in person than on video.
And speaking of video, I'd love to get up to the SABIAN plant in Meductic and film the actual full-sized lathe, ovens, vault, etc... Now all I need is an invitation. Hmmm.
Many Thanks!
I'd like to thank the entire SABIAN crew for allowing me to videotape their event and a special thanks to Bill Zildjian for taping me while I played with all those cool prototypes!
Until next time: Stay Loose.
Bill
Become a Free Member of the largest, most Comprehensive Drum Site on the Web
Learn TigerBill's Innovative Tension Free Drumming and take your chops to the next level
Get TigerBill's Free Info-Packed Newsletter, Monthly Chances to Win Valuable Drum Stuff
& Much More...