Best of Summer NAMM 2003
About NAMM
NAMM was originally established in 1901 as the National Association of Music Merchants but is now referred to as the International Music Products Association. It is a trade show for music products retailers, manufacturers, publishers, wholesalers, and distributors. The main purpose of NAMM is to help businesses become successful through education.
Twice each year, in January and July, NAMM members attend a trade show to display their products. For the past 11 years the Summer NAMM trade show has been held in Nashville. This year, I attended the show for two reasons: Coverage for my Web site and as a performer. Following are my choices for the best products of the show.
Note: All video clips below require Windows Media Player, which is normally installed with the Windows OS or you can download a free copy here. All audio clips require the RealPlayer, which you can download for free from here.
Best of the Summer NAMM Show
There were many products to see but the following half dozen really caught my eye (and ears) as truly exception!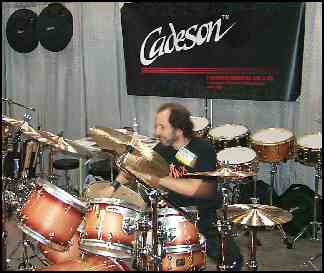 Tiger Bill checks out Cadeson drums
(Photo courtesy of Thomas Vaughan)
I have to thank Web site member Thomas Vaughan for turning me on to Cadeson drums. He had just purchased a set and wanted my opinion of them, so I went over to the Cadeson booth to play them a bit. They sounded great! The hardware is the studiest I've seen and the drums are beautifully finished giving the look of extremely expensive custom-made drums. When I saw the retail price I was really sold, as I'm sure you will be. Their highest priced 7-piece kit currently retails for $2,560.00! Their lowest priced 5-piece kit retails for $469.00! The reason prices are so reasonable is because Cadeson manufacturers everything themselves except their drum heads, which come from Remo.
For all of the prior reasons, Cadeson was my choice for best acoustic drumset of the show. When I sat down to capture the Cadeson gear on video, I originally intended to play about 5 or 10 minutes. However, I was having so fun that I got carried away and ended up playing for over 20 minutes. Although the floor of the trade show is quite noisy, as you'll notice on the following video, you can still hear the sound of these incredible instruments cutting through. Here are some video clips excerpted from my extended test demo . They have been separated into shorter clips to make for speedier downloading and viewing.

Tiger Bill puts Cadesons to the brush test
Although the trade show floor noise level is high you can still hear the sound of the beautiful Cadeson snare drums cutting through even when played with brushes.

Tiger Bill tests Cadeson cymbals and snares
Cadeson not only makes all of their own drum gear in-house, they produce quality cymbals too.

Tiger Bill extracts various sound textures Although I lost the use of the double bass drum pedal during the test (it was not initially attached correctly), it didn't stop me from getting lots of sound textures from this high-quality gear.

Tiger Bill just can't stop!
I was having so much fun I could have played all day – and I almost did!
Click the Cadeson link in the sidebar on this page to visit their Web site.
THUMPERS: Best New Drum Gadget
At one time or another, every drummer has hassled with blankets, sheets, and pillows stuffed inside the bass drum. I'm surprised that no one has ever come up with a viable solution for this universal problem until now. Chip Norris, the inventor of THUMPERS, has improved on the standard bass drum pillow and has created dampening devices that not only stay where you put them, but also produce that nice deep pro-splat sound while killing annoying rings and overtones.
Tim "World's Fastest Feet" Waterson first told me about THUMPERS and, after trying them for myself at NAMM, I can understand why he's crazy about them. Never again will I have to fool with blankets and loose pillows constantly shifting inside my bass drum. With Chip's unique patented pillow designs, I can make my kick sound great while dampening annoying overtones and rings. Even the sympathetic vibrations that used to cause my toms to ring are now gone! Plus, the velcro design means that the pillows will stay put no matter how hard I kick my kick!
Chip has created specially designed pillows for Performance and for Studio playing conditions. Check out the following video clip of Tim Waterson demonstrating the sound of THUMPERS:

Tim "World's Fastest Feet" Waterson demos Thumpers

Click the THUMPERS link in the sidebar on this page to visit the site.
The Best Electronic Drums
I knew about the new Pintech Visual Series drums prior to the NAMM show and was so excited about them, that I contacted Pintech offering to do some demonstrations in their booth at the show just so I could try them out! I wasn't disappointed. Their new Visual Series e-drums look and sound great and were a pleasure to play. They have my vote for the best looking electronic drums currently on the market. I'm looking forward to more great things from this company in the future.

Tiger Bill Demos Pintech's Visual Series Drums
Note: A combined high noise level on the trade show floor and a low-powered PA system is what accounts for the poor overall sound level coming from the Pintech drums. They sounded much better live!

Terry Lee Bolton checks out the Visual Series
The Best Overall Music Tool
I brought this device to the show myself but, because I have found nothing like it elsewhere, I had to include it here. It is the single most useful tool to come along in years for use by music composers not to mention its value as a practical replacement for a drummer's metronome.
The MadPlayer generates original, royalty-free music that you can use as is or modify to create your own compositions and that's only the beginning of what this unique device can do.
All of the music that accompanied my demos at the Pintech booth was supplied by the MadPlayer and, following the demos, I held a contest giving away a MadPlayer to any drummer who could play my Visually MAD Groove. The groove not only proved to be MAD but also too DIFFICULT for most drummers to play, until I took them aside and showed them how to break it down. Below are two drummers who successfully executed my groove and won a MadPlayer: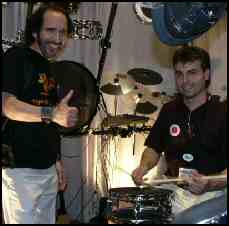 Tiger Bill with MadPlayer winner Jeff Wald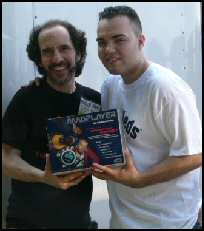 Tiger Bill with MadPlayer winner Jotan Afanador, who also happens to hold the current record for "World's Fastest Drummer."

Tiger Bill Demonstrates the Pintech Visual Series double-triggered snare and the MadPlayer
The demo I'm playing on the snare is not my Visually MAD Groove but, afterwards, you'll see some drummers going MAD attempting to play my groove, including Pintech endorser Pete Walters (seated on the drumset on the right side of the screen).
The Best Acoustic Percussion Innovation
When I first saw the Giovanni Compact Conga at the LP booth, I was floored by the huge sound coming out of this little drum. It looks like a practice pad and is about the same size but it sounds like a Conga drum. It's terrific for us drummers who want to add the sound of an acoustic Conga to our kits but don't have the room for the full-sized version. No wonder LP won the 2003 M.I.P.A Award (Musikmesse International Press Award) for most innovative instrument.
Click the Compact Conga link in the sidebar on this page for more info.
The Best Show at Summer NAMM 2003
I had the most fun at the NAMM'S International Fastest Drummer Competition, which drew a large audience of drummers from beginners to pros from every age group. Follow this link for coverage of the event including exclusive video clips.

Bonus Video: Check out this exclusive clip of the great Lee Oskar, background drumstick accompaniment provided by me, Tiger Bill. Next time, I'll be sure to have one of those Compact Congas with me!

I'll See You at the Next NAMM!
Those were my half dozen favorite picks from Summer NAMM 2003. I can't wait to see what exciting new products will be released at the upcoming Winter NAMM show in LA. See you there!
Become a Free Member of the largest, most Comprehensive Drum Site on the Web
Learn TigerBill's Innovative Tension Free Drumming and take your chops to the next level
Get TigerBill's Free Info-Packed Newsletter, Monthly Chances to Win Valuable Drum Stuff
& Much More...