Rudiments Around the Drums
Not For Marching Only!
Drum rudiments were used in fife and drums corps over 400 years old, so does that mean that rudiments are outdated or good for marching percussion only? No way! Rudiments can greatly enhance your Drum Set playing, no matter what style of music you play. This first part, of a 5-part series, will show you how.
There used to be 26 standard Rudiments, according to the now defunct NARD (National Association of Rudimental Drummers). The PAS (Percussive Arts Society) now recognizes 40 rudiments. (You can browse the rudiments online or download a PDF file from the PAS here.)
This week, I'll give you some ideas on how to apply three of the most basic rudiments to the drum set.
Single Stroke Roll
You can play the basic, unaccented Single Stroke Roll on your Snare Drum but that's not very exciting. Try accenting it and moving it around the Drum Set for a better sound, as in the examples below.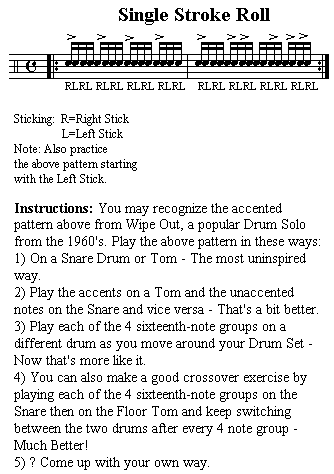 Double Stroke Roll
The Double Stroke Roll can also be applied to the entire Drum Set, as shown below.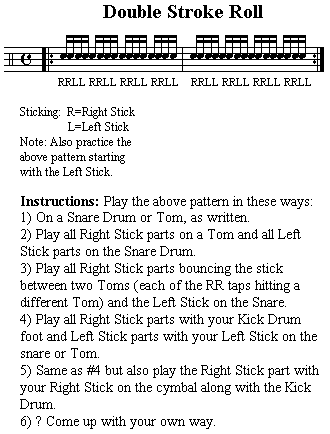 Single Paradiddle
You can have a lot of fun with Single Paradiddles on the Drum Set. Here are just a few ideas to get you started.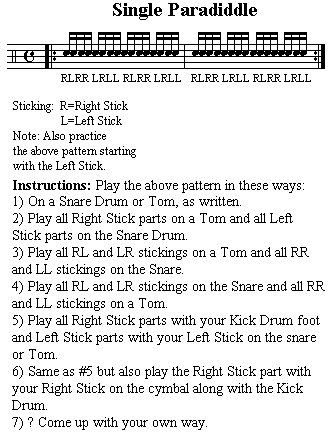 I encourage you to experiment with the three rudiments covered today. Get creative. Practice is the time to try everything and anything. It's the time to learn what sounds good and what sounds bad. Then, if you can remember to use the good stuff on the gig and NOT the bad stuff, you'll be ahead of the game.
As I said earlier, there are either 26 or 40 basic Drum Rudiments, depending on what "standard" you go by. This is the first in a series of articles that will show you how to apply many of these rudiments to the entire drum set.
Until next time: Stay loose.
Click the link for Rudiments Around the Drums: Part 2
Become a Free Member of the largest, most Comprehensive Drum Site on the Web
Learn TigerBill's Innovative Tension Free Drumming and take your chops to the next level
Get TigerBill's Free Info-Packed Newsletter, Monthly Chances to Win Valuable Drum Stuff
& Much More...