The Tiger Interviews Larry "Mr. Sticks" Crockett
Inspiration Plus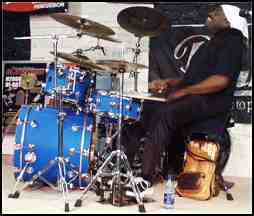 Larry "Mr. Sticks" Crockett
When Larry was a young child he had a dream that he would, someday, tour Europe playing the drums. When he grew up, his dream came true. As a matter of fact, he has toured Europe every year for the past 15 years!
All of Larry's dreams have come true and then some. Not only has he become an international recording and touring drummer, but a clinician, author, and bandleader too. Over the years he has played with Elton John, U2, the Four Tops, Martha Reeves, and many other greats. He is also leader of the Crock Pott Jazz Band.
Larry held a drum clinic for the New Jersey Chapter of the PAS at Glenn Weber's Drum Shop, housed in the New Jersey School of Percussion at 14 Northfield Ave. in West Orange. Video coverage of his informative clinic will be coming in a future feature but for now, check out my interview with "Mr.Sticks" in your choice of new streaming audio or plain old text.

Click for Streaming Audio of Tiger Bill's Interview with Larry "Mr. Sticks" Crockett
(Requires RealPlayer. Don't have it? Download it free.)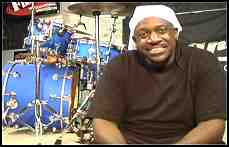 Larry "Mr. Sticks" Crockett
TB (Tiger Bill Meligari): When you first started drumming, were you self-taught?
LC (Larry "Mr. Sticks" Crockett): Yes, for about the first two years or so. My father was a bass player and he had a band that I used to watch rehearse in our house all the time. The drummer in the band was a great groove drummer and I loved to watch him and that's how I started.
TB: What was your first big break in the music business?
LC: My first break came from an audition that Michael Carvin, my teacher at Rutgers University, got for me with Martha Reeves, from the Motown group Martha Reeves and the Vandellas. I passed her audition and two weeks after I graduated college, I was on the road with Martha. It lasted for 10 years.
TB: Wow, what a gig! Larry, do you play any other instrument besides drums?
LC: I play a little bass and I play piano, which I had to play when I went to school for music at Rutgers, but my main instrument is the drums. That's how I pay the bills, playing the drums.
TB: Do you have any favorite style of music?

LC: I think my favorite would be modern jazz with a funk flavor. I love funk and I love contemporary jazz and the combination is something that I really love.
TB: I understand that you have an instructional drum video called "Tips for the Beginner." What does that have to offer for beginning drummers?
LC: It contains topics that I think are important for drummers starting out. I also have some exciting road footage of a concert with Martha Reeves where I took a drum solo and I have a drum solo in the studio. I think the backstage footage and footage of the festivals and stadiums in all the places we traveled makes the video entertaining as well as educational.
TB: What's your latest project?
LC: I just came out with a book called 101 Keys to Success in Music and in Life. It's a small pamphlet that gives motivational and practical things that someone can do to take their career or their drumming to another level. That just came out. What I'm playing around with now is a new drum book but I'm not quite sure if I'm going to do the book or another idea I have for a DVD. My idea is to make it different from the usual, more on the entertaining side but I haven't finished the script for that so I'm not sure which one will take place first.
TB: This is a tough question but I have to ask it. Is there any one particular gig that you played that stands out in your mind as something really special?

LC: That is a tough question because each gig has its own specialness, if that's a word! There was one gig when I was about 19 years old. I played in someone's backyard and to this day, I don't know what I played. I felt so incredibly good and there was a connection of mind and body that I felt like I was not even there. What I played was totally unorthodox but it was great and I wish to God I had a tape recorder. That's the one gig that stays in my mind. I don't know what I played but I felt it was the best playing I ever did.
TB: Larry, do you have any parting words of inspiration for all of the DrumHeads who visit this site who are trying to make it in music?

LC: Yes, this is exactly what I talk about in my book, 101 Keys to Success. The biggest thing is to take action consistently. Everybody wants to be successful but it's the person that takes action day in and day out and believes in themselves. They're the ones who are going to be successful and you can do it, you can definitely be what you want to be if you're consistent and believe in yourself. Everyone's starting the same way you started out so just have a little faith, keep your head up, and stay focused. You can do it. You can definitely do it!
End of Interview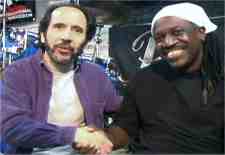 Tiger Bill Meligari with Larry "Mr. Sticks" Crockett
Thanks to Larry "Mr. Sticks" Crockett for taking the time after what had to be an exhausting drum clinic to "sit still" for my questions. If you're interested in Larry's new book 101 Keys to Success in Music and in Life, you can purchase it on his Web site along with his instructional video and audio CDs. (See the sidebar for Larry's link.)
Larry "Mr. Stiicks" Crockett endorses the following products exclusively: DW Drums, SABIAN cymbals, Vater sticks, Aquarian drum heads, and Protector cases.
Stay loose!
Tiger Bill
Become a Free Member of the largest, most Comprehensive Drum Site on the Web
Learn TigerBill's Innovative Tension Free Drumming and take your chops to the next level
Get TigerBill's Free Info-Packed Newsletter, Monthly Chances to Win Valuable Drum Stuff
& Much More...