Drum Workshop Presents:
Alex Acuña The Rhythm Collector
DVD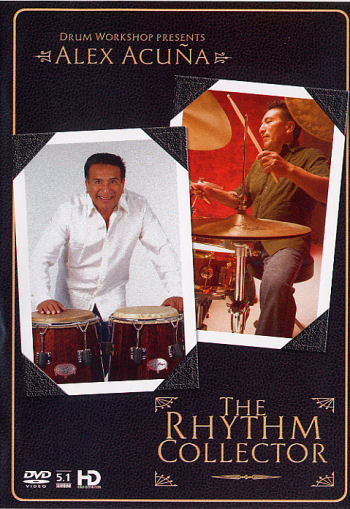 Alex Acuña is one of the most respected percussionists and drummers in music. From classicial music to movie soundtracks to jazz to rock to world rhythms, Alex has done it all and has played with some of the world's most respected artists. This DVD features Alex in performance and demonstrations of his many percussive skills but it relates the story of his rise to fame in the music industry. Let's check it out.
Contents
Around the World - Opens with Alex performing on a variety of percussion instruments from around the world concluding with the drumset.
The Gift is Born - Alex Acuña begins teaching himself to playing the drums at the age of four. At ten, he was already playing with many popular bands, later becoming one of Peru's most in-demand session drummers.
Peru and The Cajon - Alex performs on this instrument and demonstrates three of the most popular Cajon rhythms.
United States - Lucking out at the age of 18, Alex is hired to play in the USA!
Puerto Rico - After moving to Puerto Rico, Alex spends ten years there studying and playing the music. Here he demonstrates authentic Puerto Rican rhythms with the help of an authentic percussion section.
The Weather Report - Alex goes back to the USA with $1200.00 in his pocket, a wife and 3 kids - and plays with some of the greatest artists in the business including Elvis Presley and a jazz album with Weather Report!
Jazz Drum Solo - Alex demonstrates his jazz chops on the drum kit.
Canela - A May 18, 2006 performance recorded live featuring Alex playing with his jazz group Canela, featuring Patrice Rushen, Juston Almario, and Abraham Laboriel.
Brazilian Rhythms - Alex improvises with fellow percusionists. Also demonstrated is the Brazilian Martial Art/Dance Capoeira.
Kinky - Alex performs live with the Mexican band Kinky, whose main influence was Alex's work with Weather Report.
My Gift - Concluding words of encouragement including Alex's personal formula for success.
Bonus Features
Peru - Festejo
Festejo on Drums
Cajon Techniques
Uruguay Rhythm
Domican Rhythm
Merengue on Drums
Alex's drum and percussion setups
Alex Acuña - Rhythm Collector: The Bottom Line
Alex considers himself a Rhythm Collector because he has been collecting various styles of rhythms from all over the world during his career of more than 50 years. Indeed, Alex Acuña is one of the world's most versatile percussionists. Through this DVD, Alex not only shares his rise to fame but he shares some of the favorite rhythms that he has collected over the years.
I highly recommend this DVD not only to percussionists but to drumset players of all styles. It will considerably expand your own collection of rhythms.
This Drum Workshop DVD is distributed exclusively by Alfred Publishing and, along with its booklet containing Alex 's favorite rhythms in standard music notation, represents a good value at the $39.95 retail price. You can purchase it online at a discount by following this link: Alex Acuna The Rhythm Collector

Stay loose!
Tiger Bill
Become a Free Member of the largest, most Comprehensive Drum Site on the Web
Learn TigerBill's Innovative Tension Free Drumming and take your chops to the next level
Get TigerBill's Free Info-Packed Newsletter, Monthly Chances to Win Valuable Drum Stuff
& Much More...