Australia's Ultimate Drummers Weekend
2004
DVD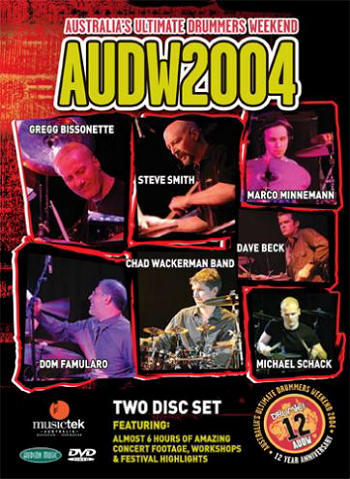 On June 5th and 6th, 2004, Drumtek presented its 12th Annual Australia's Ultimate Drummers Weekend - AUDW. The original creator of the event, Frank Corniola, continues to do a consistently fine job year after year. This 2-DVD set, from Hudson Music, contains nearly 6 hours of footage from AUDW 2004. Let's check it out.
Disc One - Concert
Features highlights from the concert performances.
Marco Minnemann - Marco plays along to some of his trademark odd-time signature tracks and an extended solo featuring his double bass drum chops and coordination skills.
Michael Schack - Michael opens accompanying himself with a musical number on his electronic Roland kit followed by an extended solo. Michael then demonstrates the capabilities of the Roland TD-20 Sound Module along with triggered samples from the Roland SPD-S.
Chad Wackerman Band - Chad opens with an extended solo featuring various hand patterns against a foot ostinato on double bass followed by some grooving with his band, which features James Muller (guitar), Daryl Pratt (vibes & percussion), and Leon Gaer (bass).
Dave Beck - Dave works out on some rock and jazz grooves along with Stephen Magnusson on electric guitar.
Gregg Bissonette- Gregg's spot consists of a lengthy extended solo incorporating some tasty grooves in a variety of musical styles utilizing both brushes and sticks. At one point, Gregg reverses his snare drum to play on the snare side and makes use of the wire snares as an additional sound source.
Dom Famularo - Dom opens with an extended solo starting on the cymbals and moving to the rest of the kit. The solo demonstrates Dom's control over the kit as well as his taste for fine dynamic levels. His trademark single-handed "Rodeo Routine" brings cheers from the crowd.
Steve Smith - Begins stage front seated behind a lone snare drum. He gives the audience a class on brush technique, singing a 12 bar blues progression as he plays along.
Moving to sticks, Steve demonstrates the different sound qualities caused by playing on various areas of the snare head. The audience responds with applause as he incorporates a little FreeHand Technique, ala Johnny Rabb.
Next, Steve moves onto a small drumset he calls his "Jungle" kit playing the melodic style waltz originally done by Max Roach (The Drum Also Waltzes). Steve then demonstrates his implied metric modulations with help from the audience who clap in twos and threes as he plays against them.
Steve moves to his big kit for an improvisational extended drum solo.
Steve closes the show sitting stage front demonstrating a hi-hat solo that he explains came from something he saw Max Roach play that really impressed him. He calls the routine "Mr Hi-Hat" and breaks up the crowd when he bounces a single stick with his opposite hand as he rolls it down his arm and the instep of his foot, in a rousing tribute to two masters of the Hi-Hat, Jo Jones and Max Roach.
Disc Two - Workshops
Features highlights from the workshops and the remainder of AUDW, including interviews with the featured artists and more.
Steve Smith - Steve's workshop covers his approach to playing the drumset, the foundation of which is based on the jazz feel. Includes a discussion on stick rebound.
Marco Minnemann - Marco explains and demonstrates his concepts of advanced polyrhythmic independence.
Dom Famularo - Dom demonstrates his approach to drumming, which includes his use of natural stick rebound, the Moeller Stroke, open-handed style, and, as always, his unique sense of humor!
Interviews - With Chad Wackerman, Gregg Bissonette, and Steve Smith.
Dom & Friends - Dom takes the stage with his drum friends for a fun filled session of sharing favorite chops!
Dom Famularo "One For Jeff" - Dom plays along to a track that he dedicates to the late, great Jeff Porcaro.
Dom Famularo "Buddy Story" - Dom relates a story about his first meeting with Buddy Rich.
Marco Minnemann Rehearsal Track - X-Mas CellPhones - More incredible grooving, Marco style.
Drum and Percussion Expo - Clips of highlights from the Expo floor.
John Reynolds Raiders Drum Corps - Performance.
Australia's Best Up & Coming Drummer Competitions - Highlights from the Junior, Intermediate, and Open Divisions. Overall, an incredible display of talented DrumHeads, as young as 12 years off age!
Previous AUDW DVDs - Features highlights from two other Australia's Ultimate Drummers Weekends, AUDW 2002 and 2003, that are available on DVD from Hudson Music.
AUDW2004: The Bottom Line
In 2004, when I put on my first DrumBeat Fest, I handpicked each artist based not only for their performance capability but their ability to teach as well. I've always felt that a Drum Fest should entertain and provide the audience with valuable instruction that they can take home with them.
Watching this AUDW event I can only assume that its creator, Frank Corniola, feels much the same way. The performances on this DVD will definitely inspire drummers of all styles while the workshops will provide lots of practical material for DrumHeads to woodshed.
I highly recommend it!
Even at its suggested retail price of $39.95, this 2-DVD set from Hudson Music is a bargain as it provides nearly 6 hours of footage. Purchase it here online: Australia's Ultimate Drummers Weekend 2004 - DVD

Stay loose!
Tiger Bill
Become a Free Member of the largest, most Comprehensive Drum Site on the Web
Learn TigerBill's Innovative Tension Free Drumming and take your chops to the next level
Get TigerBill's Free Info-Packed Newsletter, Monthly Chances to Win Valuable Drum Stuff
& Much More...