Billy Ward: Voices in my head
DVD & CD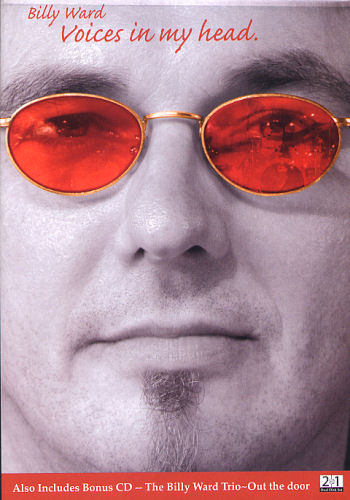 Voices in my head is the follow up to Billy's award winning DVD Big Time and includes nearly three hours of instruction plus the bonus audio CD Out the Door, which features the Billy Ward Trio. The DVD itself contains four main sections along with two bonus extra segments. Let's check it out.
Section One: What is Jazzy-Ness?
Billy opens by demonstrating the various styles of the premiere drummers of jazz starting with Baby Dodds. As he delves further into what makes jazz jazzy, Billy explains and demonstrates his training method of "Practice Playing" that helps one develop a natural, practical jazz feel. Covered are Billy's use of one stick and a shaker, stick and a brush, bare hands, rudiments appropriate for jazz, and more. Interspersed throughout all four main sections of the DVD are comments and musical thoughts from musicians such as Shawn Pelton.
Section Two: Jazzy-Ness in Real Life
This section covers grooves used in the Blues, sixteenth note grooves, slow brush and stick groves, applying knowledge of jazz to pop and rock grooves, etc.
Section Three: Songs From Billy's CD "Out The Door"
Billy demonstrates his approach and the various techniques he used on his trio CD "Out The Door." This section concludes with Billy stretching out on a drum solo.
Section Four: Students
Billy in demonstration and discussion with three students concluding with a wood on wood solo!
Bonus Features
Features DVD replay with Billy's commentary.
Extras #1 include Billy in duet with Barry Coates (composer of tunes on "Out the door"), improvisation, Billy drilling Chaz on Practice-Playing, Billy's approach to Time, Billy's gear, and Billy at DW factory test driving drum gear.
Extras #2 feature 1/2 speed playback of segments from the main DVD.
Special Bonus
Along with the instructional DVD is the audio CD "Out the door" featuring the Billy Ward Trio with Barry Coates on Electric Guitar Synth, Bill Urmson on four and five string bass, and Billy Ward on drums.
Bottom Line: Voices in my head DVD/CD
Billy Ward has an infectious and effective teaching style and the practical information on this DVD is of value for drummers of all genres but especially for those interested in improving their jazz interpretation.
The additional of the bonus audio CD featuring Billy's Trio "Out the door" is just icing on the cake.
Considering that you receive a DVD with nearly three hours of instruction plus a full-length audio CD, it is well worth its retail price of $39.95. I highly recommend it. You can also purchase it at a discount online: Billy Ward: Voices in My Head

Stay loose!
Tiger Bill
Become a Free Member of the largest, most Comprehensive Drum Site on the Web
Learn TigerBill's Innovative Tension Free Drumming and take your chops to the next level
Get TigerBill's Free Info-Packed Newsletter, Monthly Chances to Win Valuable Drum Stuff
& Much More...