Tiger Bill Reviews
The Drummer's Complete Vocabulary
as taught by Alan Dawson
By John Ramsey
Book with 2 CDs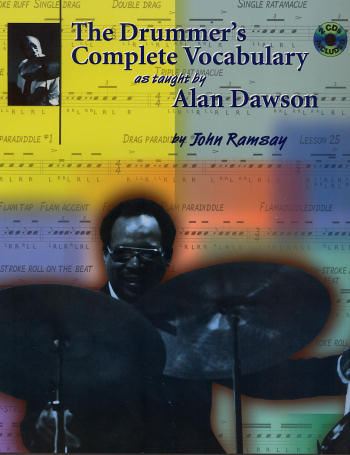 Some of the greatest drummers in the world have studied with Alan Dawson. Although he is no longer with us, his recorded music and his students are his legacy. This book/CD was produced by John Ramsay, a long-time student, who provides us with a compendium of Dawson's teachings allowing all of us the chance to study with the drumming legend.
Let's Check it out.
Alan's Lessons
After an introduction by the author John Ramsay, Alan's bio by Dean Anderson, and a discography by Michael Haggerty, the book is divided into four main chapters. Each chapter covers a different facet of Dawson's lessons in detail.
Chapter 1 - Rudiments: Alan was big on rudiments in his lessons and author/student Ramsay not only includes the rudiments that Dawson taught but the actual work schedule that Dawson supplied for his students to follow. Included are Dawson's chopbuilding exercises and his "Rudimental Ritual" in which he had his students practice rudiments using brushes on the drumset over a boss nova foot ostinato.
Chapter 2 - Four-Way Coordination: I've always loved taking drum books and figuring out ways to modify them for new challenges. A while back I wrote a four-part series of articles for Modern Drummer Magazine on the subject. John Ramsay tells us that Dawson had more than forty ways of interpreting the eight pages of syncopated exercises in Reed's Syncopation. In this chapter, Ramsay provides us with a good cross section of Dawson's variations.
Chapter 3 - Single-Stroke Roll Exercises: According to Ramsay, Alan Dawson described the single-stroke roll as being the most difficult of the American rudiments. This section contains some of Alan's exercises for developing the single-stroke.
Chapter 4 - Soloing: "Alan was always mindful of trying to balance his lessons and studies equally between technique and musical ideas" says Ramsay. One of the ways Dawson did this was to have his students practice soloing over standard song forms while singing the melody out loud. In addition to soloing over song forms, Ramsay includes examples of many of Dawson's own solo and fill ideas including "Boston Eights" taken from a tape of Alan's 1987 performance, Alan trading solos with the Sonny Rollins Trio in 1965, and others.
Audio CDs
Many of the exercises written in the book are included on the two included audio CDs and, as a bonus, some of the audio examples are verbally demonstrated and performed by Dawson himself. (They were taken from the original audio cassette tapes made when Ramsay studied with Dawson.) Lots of great information here as Dawson speaks about the "time" feel, playing with the metronome, and more.
The Drummer's Complete Vocabulary as taught by Alan Dawson: The Bottom Line
This book, with its two audio CDs, is the closest you'll come to being able to actually take lessons with the drumming legend himself who is no longer with us. The inclusion of Dawson talking about and demonstrating some of the lessons himself, is the icing on the cake.
Whether or not you are a fan of Alan Dawson's style, you'll find something of value in this book. Not only will it help improve your sight reading skills but it will increase your overall technique and four-way coordination as well.
I highly recommend it for drummers of all experience levels from beginners through advanced.
This book and dual audio CD combination, from Alfred Publishing, is well worth its retail price of $24.95.
Purchase it at a considerable discount online: The Drummer's Complete Vocabulary As Taught by Alan Dawson

Stay loose!
Tiger Bill
Become a Free Member of the largest, most Comprehensive Drum Site on the Web
Learn TigerBill's Innovative Tension Free Drumming and take your chops to the next level
Get TigerBill's Free Info-Packed Newsletter, Monthly Chances to Win Valuable Drum Stuff
& Much More...