Tiger Bill Reviews
Easy Rock Drum Beats:
No Reading Required
DVD
By Stan Mitchell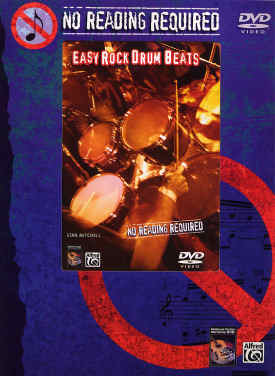 In addition to lessons on posture, breathing, sticking, vocalizing, and counting, this DVD teaches you to play basic rock beats and fills without having to read music. Let's check it out.
No Reading Required!
After a brief intro by Stan Mitchell, he covers the importance of good posture, solid drum throne, holding the sticks and striking the drum correctly. The remainder of the DVD is divided into six main chapters.
The Systems: Sticking-Vocalizing-Counting. Basic rudimental sticking patterns are covered on the pad and as applied to the drumset. Includes techniques for vocalizing what you are playing and the ability to count as you play.
The Beats. In this section Stan teaches the following basic patterns but provides live demos of each of them with a band that consists of Stan on drums, Johnny Hawthorn on guitar, and Greg Hyatt on bass:
Two-Beat
Four-on-the-Floor
Eighth-Note Beats and Variations
Sixteenth-Note Beats and Variations
Double-Handed Sixteenths with kick and snare Variations
Triplets: Counting in Three. This chapter covers patterns that are played in triplet form. Stan demonstrates them alone and then plays them with his band:
Slow Blues
The Shuffle
Jazz Swing
Other Beats. Stan demonstrates the following additional patterns:
On-Beat Snare
Leaving Out the "Two" on the Snare
Surf The Rumba
The Train Beat
Fills. Covered is the two-handed Pump and sixteenth-note fills.
Articulation and Dynamics. Various Snare and High-Hat dynamics along with accenting is covered in this chapter topped off with a demonstration of a Drum Solo.
Easy Rock Drum Beats: The Bottom Line
Instructor Stan Mitchell does a good job of presenting the basic beats and fills and the band performances are a welcome addition as well. The only slight problem I noticed was a shifting of the audio quality that changed the sound of the drums and cymbals from time to time. Although I'm especially sensitive to quality issues like this, I doubt if it would bother the beginner drummer concentrating on learning the material.
As such, I recommend this DVD to any beginning rock drummer and especially to those who have not yet become familiar with reading music.
Easy Rock Drum Beats is a good value at its retail price of $14.95.
Purchase this DVD at a discount online: Easy Rock Drum Beats (No Reading Required)

Stay loose!
Tiger Bill
Become a Free Member of the largest, most Comprehensive Drum Site on the Web
Learn TigerBill's Innovative Tension Free Drumming and take your chops to the next level
Get TigerBill's Free Info-Packed Newsletter, Monthly Chances to Win Valuable Drum Stuff
& Much More...