Horacio Hernandez at Modern Drummer Festival 1997
The Video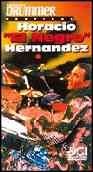 On May 17-18, 1997 Modern Drummer Magazine held its 10th Anniversary Festival Weekend, featuring performances and clinics by some of the world's top drummers. The selected highlights from that weekend are available on the Alfred Publishing"Highlights" video. Alfred has also (very wisely) released a series of videos dedicated to selected artists appearing that weekend (See the Related Links sidebar).
This week my review covers one of those videos, Horacio "El Negro" Hernandez at the Modern Drummer Festival. Throughout the video El Negro intersperses his performances (both solo and with special guest John Patitucci on bass) with a drum clinic, which covers his approach to drumming. Although you can learn much from this video alone, when combined with El Negro's book, Conversations in Clave, it provides you with detailed instructional material that will help you develop your own style of Afro-Cuban independence. For this reason, I suggest that you take a look at El Negro's book too.

Our Family
The tune "Our Family," written by John Patitucci, opens with El Negro playing his trademark left foot clave rhythm and builds from there. After the performance, El Negro informs us that his approach to drumming is more like a language than simply a collection of memorized drum patterns. He explains how the clave pattern can be filled in with feels of six and four at the same time. He demonstrates by playing the clave rhythm in his left hand while playing triplets and sixteenth-notes against it with his right hand and vice versa. Then he plays the clave on his left foot against triplets and sixteenths in his right hand.
El Negro explains how the clave comes from the rumba and, prior to the invention of the one-man drum set, it was originally played by three people on three separate percussion instruments. What we need to do, as drum set players, is to simulate those separate parts by playing the different instruments with our various limbs on different parts of the set. He also tells us that the clave is simply a melody and that we should work on creating a conversation with ourselves when attempting to play patterns against the clave.
Rumbatella
This tune, written by El Negro, has him switching back and forth between his left foot clave pattern and his left foot bass drum pedal. He later continues his explanation of how the various percussion instruments (batas, congas, timbales, bongos, etc.) have to be simulated by the drum set player.
Tumbao
Tumbao, a tune written by El Negro, demonstrates him playing various percussion patterns on top of John Patitucci's bass tumbao. After, El Negro discusses the importance of cascara patterns. He also compliments a master congeuro by saying that conga players used to listen to drummers, before Giovanni Hidalgo. Since Giovanni, drummers now listen to conga players.
Puerto Rico
The video concludes with a tune called "Puerto Rico," a collaborative effort between El Negro and Patitucci. Dig some of the beautiful patterns El Negro plays on this one.

The Bottom Line
El Negro's Modern Drummer Festival video goes well with his book/Audio CD Conversations In Clave. The video allows you to see and hear what he's doing, while the book and accompanying audio CD breaks it down into easily digestible pieces. If you're an intermediate or advanced player who is interested in Afro-Cuban music, four-way coordination, or both, you'll be sure to find something of value here. Considering that the video retails for $29.95 and the book/audio CD retails for $24.95, you're getting a wealth of information for about the price of one professional drum lesson. In my opinion, El Negro has done a great job and Alfred Publishing deserves credit for releasing two more high-quality products for us Drumheads to enjoy.
Update:
Unfortunately, the above VHS Tape is no longer available but there are other alternatives that you will be sure to enjoy. Check them out in the sidebar.
Become a Free Member of the largest, most Comprehensive Drum Site on the Web
Learn TigerBill's Innovative Tension Free Drumming and take your chops to the next level
Get TigerBill's Free Info-Packed Newsletter, Monthly Chances to Win Valuable Drum Stuff
& Much More...