Tiger Bill Reviews
Evolution
VHS Tape
By Akira Jimbo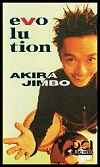 Drum innovator isn't a term I toss about loosely but that's exactly what comes to mind whenever I hear the name Akira Jimbo. If you're not familiar with him, this Tokyo musician started playing drums late in life - He was 18. But Akira caught on fast and has gained an international reputation as a drum innovator due to his experimentation with the blending of acoustic and digital percussion. As a solo artist, he has released more than 10 albums and four instructional videos. This, his fourth video for Warner Bros. Publications, is the culmination of many years of his experimentation with Yamaha trigger systems.

Akira's Performance
Evolution contains only pure Akira Jimbo performances and has no verbal explanations. These are supplied in the accompanying six-page booklet.
Throughout this video, all the sounds you hear come from Akira and his Yamaha DTX Trigger System (see Sidebar), Yamaha Beech Custom drums, Zildjian cymbals, and the rest of his gear in real time. He uses no sequencer and no backing track. Everything on the video was produced, composed, programmed, and performed by Akira himself.
Desert Rain
The opening tune begins with the sound of wind and Gamelan Bells triggered by Akira's snare and tom-toms. He then solos off of a funky pattern.
So Distant
This short piece opens with Akira playing a Tumbao pattern on his kick drum, which he repeats throughout the tune. He then applies the Yamaha DTX "Alternate Function," which is capable of creating a scale of up to five notes in order. This is neat and very powerful stuff.
Wherever You Go
Here, Akira lays down a basic African rhythmic pattern based on a 3-3 clave. The interplay between his drum rhythms and melodic lines triggered from his Yamaha DTX System is incredible.
RhythmTherapy
Akira says that he "prefers to compose tunes with the concept of the fusion of Afro-Cuban rhythm and the Dance Club-taste." This tune is a good example.
Panorama
Check out the distortion Guitar Akira uses on this one, it's incredible. Also, watch as Akira plays his drum solo against a 3-2 Rhumba clave played with his left heel. Then the tempo increases and the pattern changes to an 8-6 African rhythm.
Magic Touch
This dance club tune opens with Akira triggering voices wishing us a "Good Evening" and telling us to "Party." Throughout the video the handy little booklet offers some explanations of what Akira is playing as well as transcripts of some of the critical patterns he's playing.
Open Mind
Whether or not you like Akira's playing or the tunes he writes, I suggest that you keep an open mind while watching this video. Let your creativity soar. Think of what YOU could do with a system setup like Akira's.
Communication Breakdown
This is a good, solid cooker that includes bass and sax sounds triggered from Akira's right hand, chords triggered from the left hand, and some sampled guitar triggered from his snare.
Good Moon Bad Moon
Akira slows the pace a bit here with a tune that begins with some vibe sounds and, of course, a number of cool drum fills sprinkled throughout.
Eternity
This tune starts out with the sound of Balafon, moves to a Krupa-like tom-tom solo, then onto some Rudiments played with one hand on a cow bell and the other on a tom-tom, and ends with a free form drum solo complete with strings.
Mine of Imagination
This is a medium tempo number unique in that no one section ever repeats itself. Akira goes from Middle-Eastern sounds to a funky synth-brass melody line triggered by his kick drum. This tune demonstrates more of the endless creative options available with Akira's Yamaha DTX Trigger Setup.
Meteor Shower
Here's a club music type sound, this one based on an Afro-Cuban rhythm with a cool combination of Songo and bells.
Inner Galaxy
Closing the video, this tune starts out with a straight-ahead medium beat that progresses into a fast Reggae in the drum solo and just when you think it's all over, Akira shifts from high to low-gear and ends it on a soft, melodic note.
Evolution: The Bottom Line
I can honestly say that I've never seen a video quite like Evolution. You owe it to yourself to check out what Akira is doing with his custom Yamaha DTX Trigger System. With his kind of setup, drums no longer have to be stuck in a rhythm-only world. You can now add melody and harmony and all sorts of high-quality sampled sounds to your normal bag of tricks.
And it really doesn't matter if you like Akira's playing or not. Think about what YOU could do with a setup like his.
This kind of stuff is the future of drumming and Evolution is the key that can help you unlock your own creativity. At a retail of price of $39.95, I recommend it.
This VHS Tape (it's not yet available in DVD format) can be purchased online at a discount: Evolution [VHS]

Stay loose!
Tiger Bill
Become a Free Member of the largest, most Comprehensive Drum Site on the Web
Learn TigerBill's Innovative Tension Free Drumming and take your chops to the next level
Get TigerBill's Free Info-Packed Newsletter, Monthly Chances to Win Valuable Drum Stuff
& Much More...