Tiger Bill Reviews
David Garibaldi Tower of Groove Complete
DVD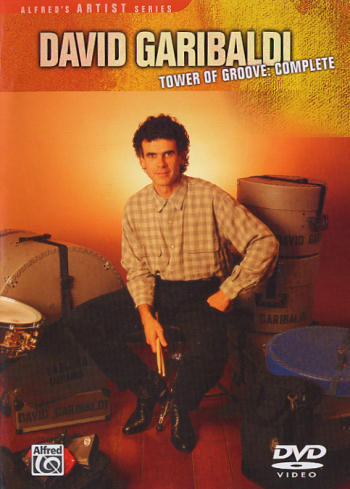 This DVD contains everything that was on the original two-volume VHS tape set plus more. Let's check it out.
Tower of Groove: Part One
David explains his basic drumming concept while playing to live and pre-recorded tracks. Throughout, David emphasizes what he considers the most important voices on the drumset, which are the hi-hat, snare, and bass drum.
This section includes David's performance and analysis of the songs 4-N Matter, Soca/Rhumba, Black Nine, and Escape from Oakland.
David also demonstrates the grooves he played on his Tower of Power hits including those from the tunes Man From The Past, Squib Cakes, On The Serious Side, Soul Vacination, and Vuela Por Noche.
Tower of Groove: Part Two
David covers his approach to drums, cymbals, and tuning. He also performs and analyzes the songs Lakeside Shuffle, The Box, Cobra, and Color Complex.
The live and pre-recorded tracks on both chapters of this DVD feature the following musicians: Norbert Stachel (saxes, flute), Peter Horvath (keyboards), Ray Obiedo (guitar, keyboards), Benny Rietveld (bass), Michael Spiro (percussion), Jesus Diaz (percussion), Dave Matthews (keyboards, organ solo on Black Nine), and Curtis Ohlson (bass on Black Nine).
Special Features
This section features an improvised lesson called "3 Bell Funk" where David explains his approach to combining funk with Afro-Cuban rhythms, a video clip from On Tour In Europe with RAD, instructions for accessing the companion PDF file of exercises that go along with this DVD, and more.
David Garibaldi Tower of Groove Complete: The Bottom Line
I highly recommend this DVD to fans of both David Garibaldi and the Funk genre. In addition, drummers of all styles will be able to find useful information among the nearly three hours of performance and instruction included here.
While this DVD, from Alfred Publishing, is worth its retail price of $29.95, it can also be purchased at a discount online: David Garibaldi -- Tower of Groove Complete (DVD)

Stay loose!
Tiger Bill
Become a Free Member of the largest, most Comprehensive Drum Site on the Web
Learn TigerBill's Innovative Tension Free Drumming and take your chops to the next level
Get TigerBill's Free Info-Packed Newsletter, Monthly Chances to Win Valuable Drum Stuff
& Much More...