Tiger Bill Reviews
Gene Krupa The Pictorial Life of A Jazz Legend
Book and CD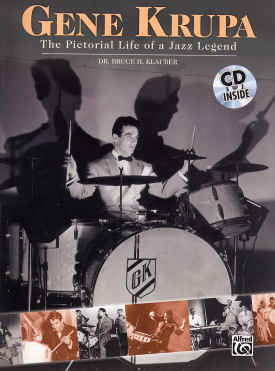 Gene Krupa, AKA Drummin' Man, was the most famous musician ever to sit behind a set of drums. Gene not only played great but he looked great, which helped make him not just a drum star but the first true matinee idol ever produced by jazz!
Gene was a consummate showman who singlehandedly popularized the drumset as a solo instrument. Listening to Gene on record is to miss half the experience. You must experience the visual side. And that's what this book, Gene Krupa: The Pictorial Life of a Jazz Legend, is all about.
Written by Dr Bruce H. Klauber, who has produced many works on the legends of jazz drumming, the book is short on text but long on photographs. Many of them rare photos that should please Krupa fans of all ages.
Gene's Life in Over 200 Photos
The foreword of the book, which was excerpted from the late Bobby Scott's autobiography, offers some valuable insight into Krupa - the man and the musician. Bobby, who was only 17 in 1954 when he started working in Gene's Quartet, was a jazz pianist, vocalist, arranger, and composer probably most famous for writing "A Taste of Honey" and "He Ain't Heavy, He's My Brother."
After an Introduction by author Bruce H. Klauber, a number of famous drummers share their insights on Krupa. This chapter will give you an idea of just how great an influence Gene had on drummers of all styles, not just jazz!
Although the remaining chapters mainly cover Gene's life in photographs, there is sufficient text to provide you with the "real" story of Gene Krupa, which is quite different from that of his life story as portrayed in the 1959 movie "The Gene Krupa Story."
Although I consider myself a Krupa fan, as Gene was the first and biggest influence on my own drumming career, I wasn't aware of the fact that Gene was responsible for a number of manufacturing innovations at the Slingerland Drum Company. That and other information is included in a chapter on "Endorsements."
Bonus Audio CD
The book includes an audio CD containing eight tracks that coincide with the five decades of Krupa's drumming, from the 1930s to the 1970s. Songs include "Wire Brush Stomp," "Stompin' at the Savoy," "Sing, Sing, Sing," and more.
Gene Krupa The Pictorial Life of a Jazz Legend: The Bottom Line
Author Bruce H. Klauber, who is a writer, editor, producer, jazz educator, and drummer in his own right, has compiled many excellent works on jazz drumming legends. The book, with its companion CD, is no exception. It is another fine tribute to the man responsible for influencing more drummers than any other personality in the history of the instrument.
I highly recommend it! Not only to fans of Gene Krupa or jazz drumming, but to fans of drumming in general. Regardless of the style of music you play.
The book and CD package retails for $26.95, a good deal for what you get. You can purchase it online here: Gene Krupa: The Pictorial Life of a Jazz Legend

Stay loose!
Tiger Bill
Become a Free Member of the largest, most Comprehensive Drum Site on the Web
Learn TigerBill's Innovative Tension Free Drumming and take your chops to the next level
Get TigerBill's Free Info-Packed Newsletter, Monthly Chances to Win Valuable Drum Stuff
& Much More...