Tiger Bill Reviews
Getting Started on Drums
DVD
By Tommy Igoe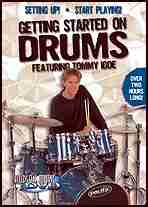 Tommy Igoe, son of famous drummer Sonny Igoe, has become famous in his own right as a drummer, teacher, author, and solo artist. When I met Tommy, at the Modern Drummer Festival, I found him to be an excellent drummer and a humble guy as well. So I was really looking forward to reviewing his DVD Getting Started On Drums. The DVD is divided into two main sections: Setting Up and Start Playing. Here's what I found.
Section One: Setting Up
Tommy starts off with instructions on how best to unpack and layout the parts of your new drum kit. Then, you get to follow Tommy through the detailed setup of a drum kit; from installing the tuning rods and claws onto the lug casings, to tuning up the heads, to the setting up and adjustment of each and every drum and piece of hardware including:
Bass Drum
Bass Drum Pedal
Drum Stool
Rack Tom-Toms
Floor Tom
Snare Drum (does not detail mounting of wire snares)
Hi-Hat
Cymbals and Stands
Although the rack Tom mounting instructions happens to be specific to a particular make of drums (Pacific Drums), beginners shouldn't have much trouble successfully setting up any brand of drum kit by following Tommy's lead.
Also included is a discussion of what Tommy calls the "Power Square," which details the proper setup of your drum kit in relation to your sitting position. Tommy closes this section with some head tune-up tips.
Section Two: Start Playing!
In this section, Tommy gets the beginning drummer up and going with some basic drum beats and fills.
Grip-Hands-Sticks
Tommy first shows you how to choose good quality drum sticks and then explains how to play with them, using the Matched Grip.
Pedals
Covers various techniques for controlling your bass drum and hi-hat pedals.
Private Lesson
Tommy lets you sit-in as he teaches a private lesson in basic coordination and encourages you to join in and play along with the video.
Grooves
This section covers three basic rock grooves including some variations of each to help you develop basic 3-way and 4-way coordination.
Fills
Tommy starts out by stressing his rule of drum fills: "I will never play a fill because I want to!" You are then shown how to play four basic fills including the bar-b-q chicken fill!
Play Along Time
Using the grooves you were taught in the previous section, you now get to apply them as you play along to three songs that include appropriate spots for you to add fills.
What's Next
Tommy offers tips on how to take your drumming to the next level in this final section. Then, he closes the DVD by playing a tune to demonstrate what a drummer with more than 20 years of experience can do.
The Getting Started Bottom Line
As you may know, if you've ever read any of my reviews, I'm a stickler on video camera work and this DVD definitely gets high marks in that department. Throughout the video, the camera work is high quality and makes excellent use of dual screen views that show what Tommy is playing with his feet as well as his hands. Good job, as usual, from the folks at Hudson Music.
As a bonus to the material on the DVD, you can download the music minus drums versions of the three play-along songs from the Hudson Music Web site for further practice. A thoughtful touch.
Tommy set out to produce a video that takes beginners all the way from initial drum kit assembly and setup, through playing basic drum grooves and fills. I believe he has reached his goal. In addition, the DVD is 140 minutes in length and retails for $29.95, which is a bargain.
This is one of the best videos for beginners that I have seen and I highly recommend it to beginning drummers of all ages.
Follow the link to buy this online at a discount: Getting Started on Drums Featuring Tommy Igoe DVD.
Or save even more when you buy both of Tommy Igoe's DVDs at a huge discount: Tommy Igoe: Getting Started on Drums and Groove Essentials DVDs

Stay loose!
Tiger Bill
Become a Free Member of the largest, most Comprehensive Drum Site on the Web
Learn TigerBill's Innovative Tension Free Drumming and take your chops to the next level
Get TigerBill's Free Info-Packed Newsletter, Monthly Chances to Win Valuable Drum Stuff
& Much More...