The Tiger Reviews
Groove Essentials The Play-Along Book/CD by Tommy Igoe
from Hudson Music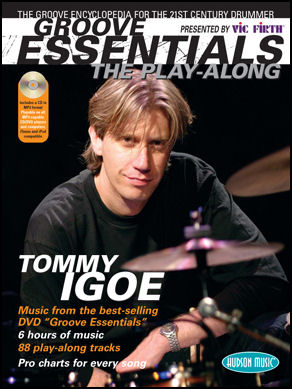 The original Groove Essentials DVD was a collection of Rock, Jazz, R&B/Hip Hop, Funk, and World Ethnic drumming styles originating from a poster that was developed by drummer, teacher, and author Tommy Igoe along with Vic Firth. This new Book/CD, Groove Essentials The Play-Along, is a companion to the DVD and includes Pro drum charts, groove variations, and over six hours of audio tracks for play-along practice.
Let's check it out.
Main Chapters
Each of the 5 main chapters contain both slow and fast tempo versions (on the included CD) for each of the grooves that appeared on the original DVD. Playing along with the professional 'skeleton' drum charts provides you with real world experience. Included are variations of each of the main grooves along with a listing of artists and drummers who are most widely known for that particular style. Extremely useful as a starting point for expanding your knowledge of a particular style of music.
Chapter 1 - ROCK Grooves: This chapter covers three different Rock grooves: Eighth-note, Sixteenth-note, and Half-time grooves.
Chapter 2 - FUNK Grooves: Three Funk grooves are demonstrated along with variations.
Chapter 3 - R&B/Hip Hop Grooves: Includes quarter note and sixteenth note based grooves and variations.
Chapter 4 - JAZZ Grooves: In this chapter you get to play-along with 18 charts in Tommy's Trio (piano, bass, and drums). Grooves include comping in 4/4, 3/4 jazz waltz, shuffle patterns, 2-feel, and enough variations to indoctrinate jazz newbies while giving pros lots of practice.
Chapter 5 - World/Specialty Grooves: This segment includes Disco, Classic Two-Beat (slow and fast), New Orleans 2nd Line (slow and fast), Reggae (slow and fast), Calypso, Soca, Bossa Nova, Slow Samba, Medium Samba, Fast Samba, Baião Samba (slow and fast), Batucada (slow and fast), Merengue, Cha-Cha, Bolero, Mambo (slow and fast), Songo (slow and fast), Nañigo (slow and fast), Mozambique, Salsa, Tango, and Beguine.
Chapter 6 - Global Tours: Tommy's final chapter consists of three charts along with three audio tracks that you can use to practice your ability to flow (hopefully smoothly!) from style to style. Each 'Tour' contains five styles. The last chart/track in this chapter is a piece that explores three grooves called "Endure," which was written and performed by Tommy at the end of his Groove Essentials DVD.
Bonus Tracks: The included audio CD contains two bonus tracks. The first has Tommy teaching you how to read a drum chart (just like taking a private lesson) while the second is something Tommy calls his "21-minute Jazz Romp." This is a track (Tommy gives to his advanced students) that starts slowly (75 bpm) and increases in tempo (by about 10 bpm) every other chorus until ending up at 350 bpm. Very cool!
All tracks on the included CD are in high-quality MP3 format, which are playable on all MP3-capable CD/DVD players and computers, and are iTunes and iPod compatible. This is how they were able to fit over six hours of music on a single CD!
Groove Essentials Play-Along: The Bottom Line
The world of drumming has changed radically since I started out in the business. When I was 15 years old, I was already spending my summers gigging 6 days a week at major resort hotels throughout New York's Catskills and Pennsylvania's Pocono Mountain circuit. Not only was I well paid for it but I received free room and board too. And talk about on the job experience? A different act would come in every night with their own charts for a brief rehearsal before showtime. While some acts had good charts, most had very poor charts and some acts had no drum charts at all! But it was all a tremendous learning experience.
Unfortunately, most of these resorts (like Grossingers) no longer exist and those that do, no longer hire live musicians. So a huge opportunity for drummers to gain experience in becoming versatile musicians by playing a variety of musical styles in various bands is gone.
What Tommy Igoe has done with his previous DVD Groove Essentials and now with this companion book/CD, is bring back the 'good old days' to every drummer on the planet. He invites young up-and-coming drummers, as well as seasoned players, to throw a chart up on the music stand, sit in with a band, and play!
I highly recommend this new book/CD as well as the original DVD it is based on. With both of these projects, Tommy has put together practical, worthwhile materials that will help drummers of all experience levels and styles become better, more well-rounded musicians. And that's well worth the small price of admission.
This book/CD, from Hudson Music, is a great value at its suggested retail price of $24.95. It is also available at a discount online where you will find its companion Groove Essentials DVD at a discount as well. Check out the links below.
Here's the Groove Essentials DVD:
Here's the Book/CD Groove Essentials: The Play-Along:
Until next time: Stay loose.
Become a Free Member of the largest, most Comprehensive Drum Site on the Web
Learn TigerBill's Innovative Tension Free Drumming and take your chops to the next level
Get TigerBill's Free Info-Packed Newsletter, Monthly Chances to Win Valuable Drum Stuff
& Much More...