Tiger Bill Reviews
Jeff Salem
A Rhythmic Twist
Triplet Concepts for Drumset
Book/Play-Along MP3 CD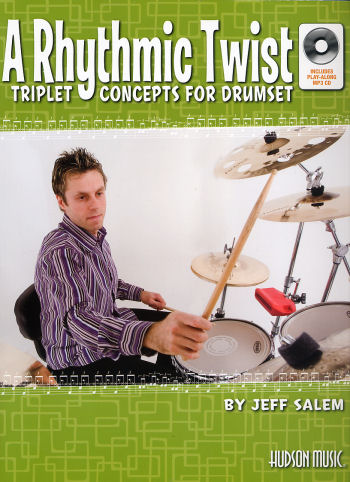 This book is basically for drummers who have grown up listening to straight-eighth-note-based rock, metal, and pop music and want to become more proficient when playing triplet-based grooves or styles.
Let's check it out.
Main Contents

Author Bio
What Are Triplets: Includes triplet warm-up exercise.
Triplet-Based Grooves and Styles
Includes 12/8 Grooves, Shuffles, Jazz, Hip-Hop, World, and Eighth-Note Triplets and variations plus lists of recommended songs to listen to for each style.
A Rhythmic Twist Concert
A creative approach to triplet-based fills and grooves.
CHAPTER 1 - Fills with Alternate Sticking and No Rests
CHAPTER 2 - Fills and Grooves Adding One Bass Drum Note
CHAPTER 3 - Fills and Grooves Adding Two Bass Drum Notes
CHAPTER 4 - Paradiddle Ideas
CHAPTER 5 - Combination Fill and Groove Ideas
CHAPTER 6 - Fills with Rests including Foot Ostinatos
CHAPTER 7 - Thirty-Second Notes To Sixteenth-Note Triplet Ideas
CHAPTER 8 - Combination Ideas, Fills, and Grooves
Grooves and Applications
Triplet grooves based on several styles including blues, shuffles, jazz, reggae, Afro-Cuban, New-Orleans, double bass and ghost note applications.
Recommended Books and DVDs - Featuring Triplet-Based Grooves, Fills, and Play-Along Songs.
Bonus Play-Along MP3 CD
Contains every example in the book demonstrated by Jeff Salem and play-along tracks in different styles that allow you to practice all the concepts you've learned.
A Rhythmic Twist: The Bottom Line
A great book and CD combination for anyone looking to learn more about the triplet-based grooves and fills used in R&B, jazz, hip-hop, blues, and Afro-Cuban music.
While an excellent value at its suggested retail price of $14.99, this Hudson Music product is available at a substantial discount online at the following link:
A Rhythmic Twist
Until next time: Stay loose.
Become a Free Member of the largest, most Comprehensive Drum Site on the Web
Learn TigerBill's Innovative Tension Free Drumming and take your chops to the next level
Get TigerBill's Free Info-Packed Newsletter, Monthly Chances to Win Valuable Drum Stuff
& Much More...