Tiger Bill Reviews
Jotan Afanador's Drum Clinic Video
2002 Guinness Book World's Fastest Drummer Record Holder in His First Video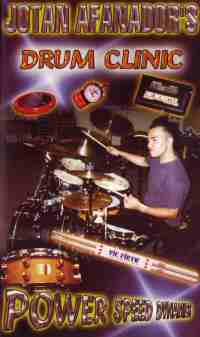 If you've been following the World's Fastest Drummer events, I'm sure you're familiar with Jotan. If you're not, Jotan is the guy who broke Art Verdi's record to gain the WFD title in 2002. (Jotan broke his own record again at Summer NAMM 2003.) But there is much more to this drummer than a pair of fast hands. Jotan developed an interest in drums at an early age and has been gigging, professionally, since the age of 12! Over the years he has learned to adapt to many musical styles, which has brought him work with artists such as Dave Valentine, Nestor Torres, James Carter, Phil Hamilton, Tito Puente's Big Band, Marc Antony, and many others.
The following is my review of a videotape of one of Jotan's Clinics that was filmed in Pensacola, Florida a few years back. Let's check it out.
The video opens with Jotan playing a free form solo that shows off his creativity as he works the kit first with mallets and then sticks.
Cymbal Technique
Discussing his opening solo, Jotan explains his approach to using cymbals to bring out different textures and colors. He also covers the proper way to mount cymbals to allow maximum sound projection.
Posture & Position
Jotan talks about the importance of proper posture when sitting behind the drumset and how it affects your energy and power. He also explains his approach to arm positioning in relation to playing drums and cymbals. Before watching this video, I thought Jotan was strictly a matched grip player but he is also adept with traditional grip as well.
Seating Position
Many drummers have questions about proper seating height behind the kit and Jotan offers his advice here. If you are having problems with dented drumheads, Jotan's tips on proper drum positioning will help you.
Wrist & Finger Technique
In this segment, Jotan explains his approach to drum chops and demonstrates his use of wrist and finger technique.
Using a Pillow
Using a pillow helps to build your playing muscles and, here, Jotan shows us his method for developing open rolls and paradilddles on a pillow.
Tuning the Snare Drum
Jotan demonstrates his method for tuning drums and also shows how using a DrumDial can make tuning fast and easy.
Practicing With Drumometer
Jotan covers the use of the Drumometer in his practice routine for developing wrist and finger technique.
Using Rudiments
Single strokes, double strokes, paradiddles, and flams are explained and demonstrated in various tempos.
Traditional Grip
Jotan shows how he develops his left hand in the traditional grip position.
Hi-Hat Technique
Explaining that he feels there is no right or wrong way to foot technique, Jotan demonstrates the use of the heel-up/toe technique that he prefers to use on the bass drum and hi-hat. He also covers the use of singing your drum beats as a way to help you feel them and make them easier to play.
Applying Rudiments Around the Drumset
The application of rudiments around the drums, both in solo routines and incorporated as part of the groove, are covered in this section. Jotan discusses the Rhumba and Son Clave patterns and the meaning of 3:2 and 2:3 variations, and demonstrates left foot clave against various drumset patterns. Jotan also plays his favorite Samba patterns, developed to mimic the sound of various percussion instruments, along with some variations on the basic Dumbao.
Applying Different Styles and Rudiments Around the Drumset
In this final segment, Jotan explains his approach to playing rudiments between his hands and feet and incorporates them in the context of a solo framework.
Jotan's Drum Clinic: The Bottom Line
This video was filmed during one of Jotan Afanador's clinics in Florida and was shot with a single, static camera, so there is no fancy camera work or multiple screen shots here. Production values aside, I give it a big thumbs up as the material Jotan covers here is of great importance to beginning drummers and more experienced players may pick up some valuable tips as well.
This video is available directly from Jotan Afanador.
Until next time: Stay loose.
Become a Free Member of the largest, most Comprehensive Drum Site on the Web
Learn TigerBill's Innovative Tension Free Drumming and take your chops to the next level
Get TigerBill's Free Info-Packed Newsletter, Monthly Chances to Win Valuable Drum Stuff
& Much More...