Tiger Bill Reviews
Making Music with
Carter Beauford and Victor Wooten
DVD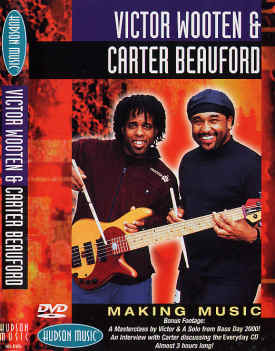 Making Music is a DVD that features bassist Victor Wooten and drummer Carter Beauford. It features an inside look at the development and recording of two great songs by two great talents.
Let's check it out.
Main Chapters
Opening: Victor and Carter discuss working together and the making of the songs that were filmed for this DVD.
Zynergy: Intro.
Zynergy Session NYC May 31, 1999: Victor and Carter are shown working on this multi-time signature tune, which Victor had been playing for quite some time but Carter had to learn while at the session. Throughout the DVD, both musicians take a part sections of the tune and explain what they're playing and why.
Yin Yang Sessions in Nashville March 1, 1999: Another session at the studio.
Zynergy: Final take remix.
Bass Punch-Ins: Victor spices up the track.
Turnarounds and Musicianship: This segment opens with Carter and Victor demonstrating turnarounds on a 12/8 tune followed by explanations of how they approach playing with other musicians including the avoidance of overplaying. Good information here on general musicianship for all musicians.
Funk Improvisation: The title says it all. Victor and Carter demonstrate and explain funk improvs.
Resolution: Rehearsal.
Resolution: Final take remix.
Resolution NYC May 31, 1999: Victor and Carter play the tune alone. Carter then breaks down some of the patterns he uses on the track.
Styles and Musicianship: Opens with the duo playing a straight shuffle groove. Victor explains his approach and Carter adds his take on shuffle grooves.
Special Features: This section includes a Victor Wooten Masterclass, Carter Beauford Interview, Photos, Web links, and info on Paul Siegel and Rob Wallis, the founders of Hudson Music.
Making Music: The Bottom Line
This DVD not only provides a glimpse into the genius of two stellar musicians but gives us a ringside seat to the interactions that take place during a recording session.
I recommend it to any DrumHead or BassHead, beginner or pro.
While this DVD is a good value at at its suggested retail price of $29.95, it can be purchased at a substantial discount online:
Until next time: Stay loose.
Become a Free Member of the largest, most Comprehensive Drum Site on the Web
Learn TigerBill's Innovative Tension Free Drumming and take your chops to the next level
Get TigerBill's Free Info-Packed Newsletter, Monthly Chances to Win Valuable Drum Stuff
& Much More...