Tiger Bill Reviews
Modern Drummer Festival 2010
2 DVD Set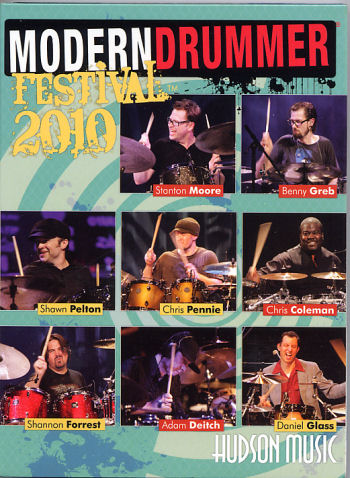 Modern Drummer Magazine produced its very first Drum Festival back in 1987 starting a trend that many have mirrored since, including my own DrumBeat Fest. The MD Fest started out as a one day event held at Montclair State College and later expanded into the two day MD Fest Weekend. A few years ago MD Fest left Montclair State College for larger venues. This year the MD Fest comes full circle by going back to a one day event and coming back home to Montclair State College.
And as has been the norm over all those years, Hudson Music was there to record all of the action on video. Let's check it out.
Disc One
Contains performances by Chris Pennie, progressive stylist from Coheed & Cambria and Dillinger Escape Plan, Nashville session player Shannon Forest (Faith Hill, Brooks & Dunn, Rascal Flatts), and Shawn Pelton (Saturday Night Live, Brecker Bros., Bruce Springsteen) and his band House of Diablo. Also included is the morning Master class of Daniel Glass (Royal Crown Prince).
Disc Two
Contains performances by Adam Dietch (John Scofield, Lettuce), Benny Greb (3erGezimmeR), and Stanton Moore (Galactic, Irma Thomas, Joss Stone) and his trio. Also included is the morning Master Class of Chris Coleman (Prince) and a printable eBook containing transcriptions of select performances and other educational info.
Modern Drummer Festival 2010 - 2 DVD Set: The Bottom Line
I'm a big fan of performance when it's combined with education and, as such, I was happy to see MD Fest include Master Classes this year. And although MD Fest was back home at Montclair, I couldn't help but be a bit nostalgic for the days of the Modern Drummer Fest Weekend as opposed to a single day. I guess it's a sign of the economy.
The two DVDs in this set cover the entire day MD Fest 2010 in the same high-quality that we've come to expect from the folks at Hudson Music who filmed, edited, packaged, and now distribute the event.
Modern Drummer Festival 2010 is a great value at its retail price of $29.95 for over 5 1/2 hours of footage but is available at an even better savings online:
Click Here for Lowest Price on Modern Drummer Festival 2010

Stay loose!
Tiger Bill
Become a Free Member of the largest, most Comprehensive Drum Site on the Web
Learn TigerBill's Innovative Tension Free Drumming and take your chops to the next level
Get TigerBill's Free Info-Packed Newsletter, Monthly Chances to Win Valuable Drum Stuff
& Much More...