Tiger Bill Reviews
Modern Drummer Festival 2000 DVD
The First of Its Kind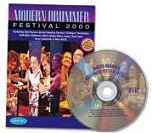 Trade shows and festivals are always cool but the Modern Drummer Festival is among the best because it's all for Drumheads! (A DrumHead is not only something that you hit; it's also a term for people who are crazy about drums - like you and me.)
I recently took a look at Hudson Music's new DVD release of the Modern Drummer Festival 2000 and I can't wait to tell you about it. Not only is the content cool, this is the first time I've gotten a chance to review a Drum DVD. Why? Because this is the first of its kind.

The DVD Format
For those of you not familiar with DVDs, the neatest thing about them is their nonlinear capability. The content is split up into separate "chapters" that you can immediately play at the touch of your DVD's remote control. No more winding and rewinding through a videotape to find the spot you're looking for. This is a great idea for both educational and entertainment type material, such as this release.
The other great feature of DVDs is their large capacity. For example, this DVD holds the same material that was previously available on two videotapes. (Note: The review that follows, with the exception of certain DVD specific features, also applies to the videotape version.)
Now, on to the review.
Saturday Performances
Tony Medeiros
Modern Drummer holds an annual contest to find the best "Undiscovered Drummer" in two age categories. The Saturday night performance opens with the spotlight on Tony Medeiros, the undiscovered drummer in the over 18 category. Nothing groundbreaking in his solo effort, but there's some good stuff happening here. If you'd like find out more about Tony, see the sidebar.
Street Beats
Here's precision drumming taken out of the Drum Corps and onto the streets. From ensemble rolls and triplets to showy synchronized arm strokes and even an impressive synchronized ritardando, these five guys from Nashville are a treat to see and hear. For more on Street Beats, check out their Web site in the sidebar.
Dave Lombardo
The ex-Slayer and current Grip, Inc. drummer not only solos but offers advice for becoming a better drummer, such as: Play from the heart, develop your own personality, and learn from listening.
He also talks about his approach to practicing with double bass drums and explains how drummers are the key figures in any band, the ones most responsible for the chemistry. Good stuff. Refer to the sidebar for more on Dave.
Paul Leim
Paul is a versatile drummer who has done it all: Number one records, hit motion pictures, television, and live performances. Here, he discusses his Shania Twain gig and includes a demonstration of what it's like to play in a Nashville studio with the Nashville Number System.
He also offers tips from playing precisely, "like a drum machine," to tips on studio drumming: "Records are about feel and precision, not about chops." Great advice. See the sidebar for more about Paul.
Don Brewer
Don says he's not a technical drummer, just a "garage band" drummer, but how many drummers wish they could have played in HIS garage band? (Grand Funk Railroad!) Here Don plays and sings along with recordings of his classic hits "I'm Your Captain/Closer to Home" and "We're an American Band." He also talks about the big change (NOT for the better) in today's music scene and how creativity is stifled compared to the way it was in Don's heyday.
He also suggests that you play with your heart, energy, and enthusiasm, and you'll see all of that come through in his performance here. Check the sidebar for more on Don and his tour with the new Grand Funk.
Horacio "El Negro" Hernandez
The Saturday festival concludes with El Negro playing a Latin cooker called Lada 78, with Marc Quinones on percussion, Michael Brecker on tenor sax, Hilario Duran on piano, and John Patitucci on bass. Check out El Negro's trademark left foot clave work throughout this number.
Sunday Performances
Mike D'Angelo
The second and final day of the festival continues with a performance by the winner of the MD "Undiscovered Drummer" Contest in the under 18 group. Twelve-year-old Mike D'Angelo plays a solo and, although looking a bit nervous, seems to enjoy every minute of it. He demonstrates chops beyond his years. Check the sidebar for more on Mike.
Akira Jimbo
Akira explains and demonstrates his Yamaha drum setup, including the custom MIDI triggering technique he is noted for. He can sound like a drummer or an entire band and he can play it all by himself, in real time without layered sequences. You've got to check this out. Cool stuff.
Akira's advice to drummers is to have an open mind and have fun. See the sidebar for more on Akira Jimbo.
Billy Ward
"Music is not like a track and field event, you don't have to be the fastest." This is advice from Billy, who solos on his set of Drum Workshop drums, which includes a big 28" kick drum woofer! He also demonstrates some barehanded drum set technique, as he plays around with shaker-type percussion instruments. Billy also offers some important advice on setting up your drum set properly. He concludes his segment by playing a tune called "Shelf Life" with Jon Poucette-Dart. Check out Billy's Web site in the sidebar.
Hilary Jones
Hilary stretches out on a solo and recommends that you practice the mechanics of drumming so you can get to the point where you can hear something in your head and simply be able to play it, without having to figure it out up front. This, by the way, is what the very best drummers are capable of doing. For more info on Hilary, check out her Web site listed in the sidebar.
Vinnie Colaiuta
Vinnie receives his "Best All Around Drummer" award from Modern Drummer Magazine and then performs three songs with his band Karizma, which is made up of David Garfield on keyboards, Michael Landow on guitar, and Neil Stubenhaus on bass. If you aren't familiar with it already, dig the tune "I'm Tweaked." It's basically in 4/4 time except that Vinnie leaves out a 16th note every so often. Count along with it and see if you can figure out where. Get more on Vinnie in the sidebar.
Contents of the MD DVD
The Modern Drummer Festival 2000 DVD contains:
Saturday Performances
Sunday Performances
Performances - Separate chapters that take you directly to each performer's segment.
Drum Cam - This feature allows you to switch between two different camera angles as you watch the performance, one being the edited main performance and the other being the angle shot from the Drum Cam. On paper, a great idea. In practice, the results depend on how the performance was originally taped. I had expected to see the Drum Cam dedicated to the drummer's performance, which would have made that view constantly different from the main performance. However, switching between the main performance and Drum Cam angles rarely yielded any change in view at all. Although this feature has great potential, I was disappointed in the implementation of it on this DVD.
Play Along - This is an excellent feature that let's you play your drums along with two of the songs minus the original drums. You can also download both of the drum charts by going to the Hudson Music Web site and clicking on Transcriptions. You can view the charts on screen in GIF format or download them in PDF form. A thoughtful option is the ability to download the entire chart, which could take a while on a slow connection, or a page at a time. Don't expect to see full drum part transcriptions here, these are basic charts similar to what you'll find in the real world. This is an excellent learning tool and one I would like to see more of on future DVD releases. Note: This option also allows you to choose between Stereo Dolby Digital sound and Dolby Digital 5.1 Surround Sound.
WWW - This section gives you direct one-click access to the Web sites of the performers. Note that the automatic feature functions only on a PC. Mac users will have to manually key in those Web addresses.
Upgrading to DVD
If you already have a computer with a DVD drive and surround speakers, you're set to go. If not, you can either upgrade your computer or get a dedicated DVD player. They're already priced under the $200 mark and will soon be as inexpensive as a VCR. As a plus, a dedicated DVD player gives you the beginnings of a home theater surround sound system.
The DVD Bottom Line
What did I think of the Modern Drummer Festival 2000 DVD? The content has something to offer players at all levels and I, personally, love the fact that it's on DVD. As I said earlier, this same material is also available on two separate videotapes. But when you consider that the tapes each retail for $29.95, the $49.95 retail price of the DVD is a bargain. Especially when you consider the additional DVD features.
The bottom line is if you have a dedicated DVD or computer DVD player, get this DVD. If you don't have a DVD player, get one, and then get this DVD!
You can purchase the Modern Drummer Festival 2000 on DVD right here:
Until next time: Stay loose.
Become a Free Member of the largest, most Comprehensive Drum Site on the Web
Learn TigerBill's Innovative Tension Free Drumming and take your chops to the next level
Get TigerBill's Free Info-Packed Newsletter, Monthly Chances to Win Valuable Drum Stuff
& Much More...