Tiger Bill Reviews
Modern Drummer Festival 2005 DVD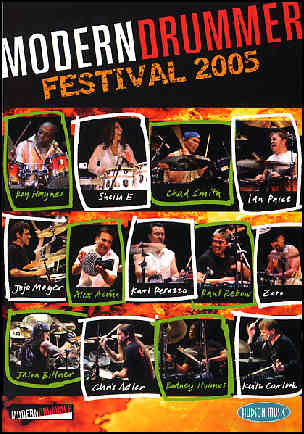 The world's most prestigious drum festival not only relocated to a state-of-the-art facility this year, but the weekend was captured on video by producers Paul Siegel and Rob Wallis of Hudson Music.
Let's check it out.
Disc One - Saturday
Jason Bittner: The drummer with Shadows Fall was voted as the best metal drummer in the 2005 MD Readers Poll. Metal fans will love his performance.
Rodney Holmes: The drummer with The Steve Kimock Band demonstrated chops and creativity to spare. His performance was one of the most impressive at this year's fest.
Keith Carlock: Formerly with Sting, Steely Dan, and numerous others, he appears on this DVD with fusion guitarist Wayne Krantz and bassist Time Lefebvre.
Chad Smith and Ian Paice: These two classic drummers teamed up for a fun filled festival performance.
Disc Two - Sunday
Chris Adler: Drummer with Lamb of God, Chris performs with his brother Willie Adler, who is also the Lamb of God guitarist.
JoJo Mayer & Nerve: First performing at the 1998 MD Fest, JoJo is back with his incredible chops and his band, Nerve.
Zoro: Four-time winner of #1 R&B Drummer title in the MD Readers Poll, Zoro's performance not only displayed his in-depth groove-ability but his chops as well.
Latin All Stars Featuring Sheila E, Alex Acuña, Raul Rekow, and Karl Perazzo gave an impressive improvisational performance as they worked off each other's rhythmic patterns.
Sheila E: Recognized worldwide as a solo artist, Sheila has also worked with Phil Collins, Mariah Carey, Quincy Jones, Kenny Loggins, Stevie Wonder, and many others. Alex Acuña: Gained international fame as the drummer for Weather Report and has performed with many of the world's greatest artists including Ella Fitzgerald, Elvis Presley, Al Jarreau, The Yellowjackets, Herbie Hancock, Chick Corea, Paul McCartney, and many more.
Raul Rekow and Karl Perrazo: Widely known as the percussive team behind supergroup Santana, Raul and Karl are masters of their art.
Roy Haynes: This drumming legend has played with all of the greats for over six decades. At 80 years of age, his excitement and energy behind the kit continues to defy the laws of aging!
Disc Three
This disk contains backstage interviews, demonstrations, practice routines, and commentaries by Jason Bittner, Rodney Holmes, Keith Carlock, Chad Smith and Ian Paice, Chirs Adler, Jojo Mayer, Zoro, Walfredo Reyes Sr, and Jon Willis.
Also included are artist setups, Web links and photos.
Modern Drummer Festival 2005: The Bottom Line
If you attended the drum festival, like I did, this DVD will bring back memories of a terrific weekend. If you couldn't make it, this DVD is the next best thing to being there and better, due to the extensive backstage interviews and demonstrations. The only performance missing, due to certain legalities, is that of Danny Carey & Volto featuring Kirk Covington. Other than that, it's all here. Over 7 hours of material with something of interest for every drummer.
I recommend this DVD, which is a good value at its suggested retail price of $49.95. It can also be found at a discount at:
Until next time: Stay loose.
Become a Free Member of the largest, most Comprehensive Drum Site on the Web
Learn TigerBill's Innovative Tension Free Drumming and take your chops to the next level
Get TigerBill's Free Info-Packed Newsletter, Monthly Chances to Win Valuable Drum Stuff
& Much More...