Tiger Bill Reviews
Hard Rock Academy: Performance Vocals
DVD
Singing TIps from the Pros with Marcus Miller and Kenn Hicks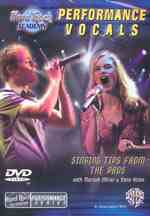 Although this DVD departs a bit from our usual review of drum and percussion material, I thought I'd give equal time to all of our singing DrumHeads!
The Hard Rock Academy is located on the back lot of Universal Studios in Orlando, Florida, and has programs to educate students in all facets of the music industry. This DVD is part of the Hard Rock Academy Performance Series and was produced in association with Warner Bros. Music. The DVD features Grammy Award winning producer/musician Marcus Miller who has appeared on nearly 500 albums to date and world famous tenor and vocal coach Kenn Hicks, whose many clients include Mary J. Blige, Jodeci, Sting, Elton John, Vanessa Williams, and Jennifer Lopez. It promises to "Take your performance to the next level" and to that end, we get to watch and listen to Kenn as he trains a male and female singer throughout the video. If he is successful, they should sound like pros at the end of the video. Let's check it out.
Finding Your Flava
According to Kenn, the first step in finding your "flava" is to know who your influences are. Then, providing your influences match your own vocal chops, you'll be well on your way to finding your own flava. If your influences don't match your vocal chops, then you'll need to go back to the drawing board.
Breath Control
We're taught the importance of three kinds of memory: Image, Auditory, and Sensory. Also covered are techniques that teach us to sing while keeping our breath low. Who knew?
Warming Up
Kenn believes that warm ups, just like singing, should be fun. He starts his singers out in the low range and gradually works his way up to higher ranges. Along the way he stresses the importance of feeling that your voice is traveling to the back row of the room. And the higher you sing, the lower you should be thinking in your mind while keeping the upper body, shoulders, and throat relaxed. (In other words, stay loose! It works for singing as well as drumming.)
Covered are the importance of singing scales to even out your voice, singing out instead of up and down, timing, phonetics, and the differences between head voice and chest voice.
Included are valuable tips for taking care of your voice properly from the best forms of exercise to the best liquids to drink prior to a performance.
Making Your Song Yours
In this segment Kenn stresses the importance of choosing songs that match your personality and your voice. As Kenn puts it, "Strive for action and activity in your vocal lines to add life to your song. Sing the song in your mind. Know where you're going before you get there. After you learn the notes and lyrics, begin adding emotion and flava to your song."
Performing Live
This is an area not often covered in the average vocal lesson but I guess that's why this DVD is called Performance Vocals! Kenn offers lots of tips here from proper breathing during dance moves to letting the words of the song convince you to move to using proper microphone technique to the importance of avoiding "mincing" and feeling your space on stage.
The Wrap
Kenn offers some final tips designed to help you take your voice to the next level.
Performance Vocals Bottom Line
In the (far distant) past, I've done my fair share of singing behind the drumset. Who knows, if I had a video like this back then, I might have become another Phil Collins!
I liked this video and, although I'm far from an expert on the art of singing, I can say that following Kenn's tips and techniques have helped me improve my singing tremendously, as they did with the "Real" singers Kenn trained throughout video. All I can say is watch out Phil!
This hour-long instructional DVD has been discontinued by the manufacturer but is still available at:
Until next time: Stay loose!
Become a Free Member of the largest, most Comprehensive Drum Site on the Web
Learn TigerBill's Innovative Tension Free Drumming and take your chops to the next level
Get TigerBill's Free Info-Packed Newsletter, Monthly Chances to Win Valuable Drum Stuff
& Much More...